Michigan Museday Meets Michigan Replay, Part 2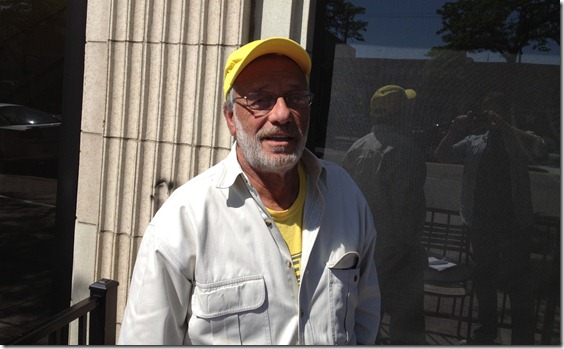 Bob Lipson: awesome
Part I of my interview with Michigan Replay producer Bob Lipson be here, and covers the history of the show up to Bo's last year as head coach.
At that time Don Canham had recently stepped down as athletic director and Schembechler had taken over.  For the first 15 seasons of Replay there had been one coach and one athletic director; now would begin a series of new ADs Liposon would have to sell the show all over again. This was no small thing. The show was a considerable side job for the coach, and it needed access to the locker room and players to interview that no other outlet got, and all of this was predicated on the AD's trust of the show's producer. For now, no big deal, right? The new AD was the longtime star of the show, so maybe lose Budweiser as a sponsor and carry on? Not so, as Bo was not as hands-on as AD as he was as football coach, and that wasn't the expectation for him. Bo still made the big decisions, e.g. firing the basketball coach in '89, but behind the scenes, the nuts and bolts of the department at that time were handled by then-senior associate director of athletics Jack Weidenbach.
Canham liked television but was never in love with the show, after 15 years however he had adjusted to it. Weidenbach, who would follow Bo as AD in 1990, maybe liked the show a little less, and wasn't resigned to anything. Jack had been around the program longer than Schembechler, and in that time had controlled everything from OSHA compliance to marketing. He knew the department inside and out, but he didn't know Bob that well.
Twenty Tons of Turf (1989-1994)
For awhile now the show was being taped on Saturdays after the games so it could run on Sunday mornings. "Fourth" network Fox had taken over Channel 2, moving CBS to 62. Feeling bold, they put in a bid to have the NFL's NFC games, and to the astonishment of many (considering the might of the other networks) won it. Fox offered Lipson the 11:30 a.m. spot right before the Lions pre-game show, a perfect lead-in for them, and a perfect place for Michigan Replay to capture more fans as they settled down for Sunday football.
But college football was now leaving the once-hallowed 1:00 p.m. standard. Driving to Detroit and back every Saturday night after a game was trial enough for home games, but on away trips it was torture. It was for Bob as well, who would sit watching games and call in which plays he wanted. If they couldn't get it in before, taping Saturday night increasingly meant waiting until the studio was done with the 9:00 news. Routinely they'd be taping from 2 a.m. to 4 a.m. After a game in the dump that Minnesota used to play in (Bob's words for the Metrodome, not the author's) a late taping was a guarantee.
Attributed by Bob to their live background, they would shoot the show straight through, seldom making a mistake and almost never re-shooting something. Occasionally the coach (remember: this is at 3 a.m. after a game day in another city) would refer to "today" instead of "yesterday" but that was about it. "In 33 years we maybe had to stop five times," Bob estimated. Since there were no re-dos, the coaches on the show got a lot of practice at speaking off the cuff for posterity; perhaps this attributed to the rarity of speaking gaffes by Bo or his successors when so many NCAA coaches stumbled over the adjustment to 24-hour television.
This was the routine: taping late at night with Bob and his universally beloved terrier Zipper keeping everyone's spirits high (Michigan wouldn't listen to students' attempts to formalize a mascot but there was no doubt who filled that role for Michigan Replay).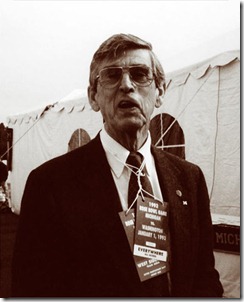 Michigan's bleary-eyed head coach would be deposited back in his bed around 5:00 a.m., and the next morning millions would tune in to see what he had to say.
Weidenbach (right/UMHistory) had good reason to wonder if the show was worth it for the '90s. On the other hand, given the positive, semi-national exposure and the increasingly substantial bottom line the show provided, he had good reason to like Bob Lipson. Bob was about to give him another one.
Canham had put turf in the stadium in 1969. That was very cool at the time—the Astrodome opened in 1965—but by 1990 it was falling out of fashion, in part due to the negative effects it was thought to have on players' joints (I've heard suggested on boards, but not substantiated, that other coaches were using it to recruit against Michigan). One of Weidenbach's first moves was to return the Big House to dirt and grass. The turf came up after the '90 football season, was rolled, and put into storage.
Nobody knew what the hell to do with it. On one hand it was 30-year-old Astroturf sitting around being all useless and in the way. On the other hand this was hallowed ground where Bo had beaten Woody's best team in '69 and Anthony Carter had caused Bob Ufer to reference Fielding Yost and Viking folklore in the same sentence.
So Lipson told Weidenbach "You give me the turf and I'll find something to do with it." Bob came up with three items he could cut it into: coasters, picture frames, and floor mats. He used his connections from years of selling ads around the state to find companies who could manufacture these items, used his connections from years of acquiring schlock for the set to make them available to the public, and came back with $800,000 for the athletic department. Today this seems like a drop in the bucket next to department runs a profit up to 20 times that, but this was a serious windfall for the university from something that had been just taking up space. As some of you may have been told on your orientation tour, Weidenbach gave half of that to the library, figuring nobody really donates to the library. The other half went into the improvements the department was making to Michigan's facilities. Bob took home a grand total of $0.00 from the project. It was a magnificent gift to the university that he loved.
Lloyd Protector (1995-'07)
You're awesome. No You're awesome!
In 1995, Lloyd Carr became the head coach of Michigan and Michigan Replay gained a guardian angel. Bo overshadowed anybody you put him in a room with. Mo looked like an uncle trapped at a family event two hours after giving his wife the first "let's go" signal. In reality Moeller was less enthusiastic about the show even than he appeared. Yet the man who succeeded him may have been the most important single personality for Michigan Replay other than Lipson himself. With Lloyd the chemistry with Brandstatter was immediate and palpable. Here were too good buddies, both with evident love for their topic, chatting the same way their viewers had been during the game.
Of the people Bob says nice things about (too many to mention) the kindest words are reserved for Carr. Carr in turn had plenty of nice things to say about Bob's show. Despite more late-night tapings than any of his predecessors due to afternoon games or worse (e.g. flying home after a West Coast game)
Lloyd was the show's biggest fan. What he loved about it was that the high school coaches loved it. Across the country wherever the show was on, athletes' parents and coaches saw Michigan's clean-cut, well-spoken players (and Carr's apparent honesty and affability to anyone not in a press room or a Sun Belt referee uniform), and equated Michigan with this idyllic student-athlete experience. Recruiting regulations at this time were piling up as quickly as coaches could think of new ways to pitch their programs, and then here's this big syndicated program (now at 11:00 a.m.) that's in its way a big Michigan commercial reaching Carr's target audience.
As '97 was the apogee of the Bo era, so was it the last peak of the show. Bo of course wasn't on it anymore, but episodes after the Penn State, Ohio State, and Rose Bowl victories that season were some of the most-watched in its history.
Despite its popularity with fans—mostly an older crowd—some in the athletic department were ready to throw out Replay with the rest of the anachronisms of the Canham era. Bob gave me little in the way of explanation for why a vintage Carr defense was necessary—perhaps he wasn't so sure what the fuss was about either—but he left little doubt there were people in the athletic department who were not fans of the show.
If I have to venture a guess, it was the result of several administrations coming through in quick succession, all with their own goals, versus this independent program they weren't really sure of their affiliation with, and which had gotten by all of these years because Bob Lipson had ingratiated himself with the principals. Gone already were the guys who remembered the turf thing, and gone too were their replacements. Now the athletic director was Tom Goss, a Michigan footballer of the pre-Bo era (he graduated after the '68 season) who had spent years in beverages and merchandising. Goss was determined to make not only the Big House but Crisler into a modern facility, and embarked upon the first of the modern round of renovations. The better known result of this was the stadium halo and what Bob eloquently called the "refrigerator magnet" letters on the stadium my freshman year (1998), the baby of a guy named Shapiro though Goss fell on the sword for it.
How this affected Michigan Replay was that the renovations came with a bigger video board and, importantly, a studio within the complex to take advantage of it. Summoning every ounce of goodwill he had left, Bob went to the athletic department to beg that they use the opportunity to build an honest-to-goodness TV studio, as opposed to the mini-booth they were planning. Perhaps with the intervention of a guardian angel (or guardian legend), this was approved. No more driving back and forth to Detroit, and the two hours out of the coach's game day it lost.
Bo used to sit on a stool, taping live in a Detroit TV station across from that network's (Sparty-inclined) sports anchor, while an intern flipped the reel and made Rick Leach look right-handed; now Lloyd Carr and Jim Brandstatter had leather chaise loungers in a tricked-out, purpose-built modern studio inside the Crisler complex. But Goss wouldn't long survive his expenditures, and while new A.D. Bill Martin didn't feel too strongly one way or another about the show—his job as he saw it was to fix the department's finances—more people in his department wanted to kill the show, and they were less shy about saying something. These people carried weight with Martin, and as the 2000s progressed so too did the seriousness of their opposition. What kept it going was simply Lloyd Carr, who would see Michigan Replay end over his retired body.
In 2007, ten years after his national championship season, Carr retired.
That's All the Time We Have (2008)
"Keep this replay going." –Lloyd Carr
People have come up with a lot of theories to explain the sudden and abrupt conclusion of Michigan Replay after 2007. Many claim Rich Rodriguez didn't want to do the show, either out of sansdeference for the well of Michigan or simply because his tantrumic post-loss regimen probably wouldn't play any better on TV than it did in John Bacon's Three and Out. More savvy Web browsers can discover the athletic department hired a new marketing company around that time, and extrapolate that the new agency shirts didn't think two guys sitting across from each other in lounge chairs and cutting through the mysteries of football were the right thing for the brand. There's even an erroneous reference on Wikipedia to "retiring the show in honor of Lloyd," which is impossible to reconcile with Lloyd's words to Brandy on their last show together.
Doubtless the end of Michigan Replay coinciding with the coaching change for fans created the sense that it was one more unnecessary break from Michigan tradition. Those who didn't like Rich Rod went with the reason that blames him. Those who hated Bill Martin went with that. Nature abhors a vacuum, so the public filled it with whatever fit the narrative of what they thought was going on in the erratic and nonsensical late-term Martin athletic department.
What happened was far more simple: folks in the athletic department wanted to be rid of the show long before, but Lloyd Carr had been holding them off. Said Bob, "When I lost Lloyd, I lost my protector."
He made this very clear to me and I'll try to be as clear here: Rich Rodriguez had nothing to do with the show being canceled. He wasn't any more thrilled with the idea of it than Moeller was, and he would only do it Sunday mornings, not Saturday nights (given the amount of late games Michigan now played and his post-loss demeanor, this was smart). The difference was Rich Rod had no idea of its recruiting power, didn't know Brandstatter, and didn't have the sentimental attachment to the show that Lloyd had. Rodriguez upon arrival didn't know the politics inside Martin's department, and certainly had no way of knowing the only thing that could save the show was nothing short of him demanding they keep it in his contract. The sum total of blame on Rodriguez for the end of Michigan Replay is nil.
Minus Lloyd, the elements inside had their way, and the show was canceled. Bob was rightfully sad to see his life's work suddenly ended, but stressed that he wasn't bitter: "There's nothing on television that lasts 33 years!" That's not entirely correct, since of his class of '75 we still have Wheel of Fortune, Saturday Night Live, and Good Morning America. But: Wheel of Fortune, Saturday Night Live, and Good Morning America! Lipson's idea for a chitchat with the local college coach survived exactly as long as Michigan's coinciding bowl streak, and (three channels, remember) was just as impressive.
Last year, under yet another new athletic director, David Brandon (who graduated from Michigan just two years before the show began), Lipson was invited back, this time for the Big Ten Network. However he declined, and also declined to give over the name of his show, hence "Inside Michigan Football." Bob's reasoning had nothing to do with who could control it, or when it would be taped, or anything like that. What had happened over the last three years was that Bob for the first time in his life found what a joy it is to sit on a bench surrounded by his grandchildren inside the Big House, and watch a game of Michigan football. And there's nothing in the world, he says, that's could be better than that.
Q&A and Errata
Seth: What do you think of Brady Hoke and his staff, and how do they compare to the coaches you worked with?
Lipson: I like Brady. I liked him very much during his time as an assistant…the players loved him. I don't know that much has changed now that he is the head man. I choose not to compare!!!
Seth: Something something Dave Brandon and the current state of the program/college football in general?
Lipson: Bo would not be happy. He believed games ought to be played at 1:00 p.m. and wouldn't like the night games and all of the other things. Dave Brandon is the antithesis of Canham in some ways, but that was a different era with different expectations and even though Bo wouldn't like it, there's a lot of things Bo wouldn't like. I think Brandon is doing the right things for Michigan, and that's what he should be doing.
Seth: This is WRONG!!!:
This is RIGHT!!!:
This is a question! ?
Lipson: When I switched songs I received a ton of negative mail and comments saying to go back to the original. After 3 years I did return. Much of the negative comments came from Doug Karsch during his days at WTKA.
Seth: "Whoa cool license plate!"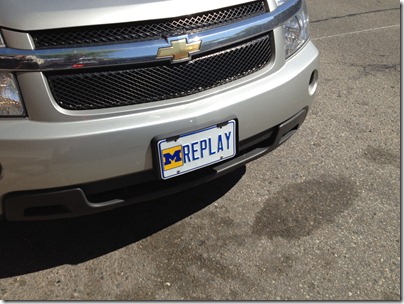 Lipson: The wife of a couple who sit next to us at the games [had that made for us]. She works at Jackson prison and had the plate made by convicts. We joke and say it was made by Kwame Kilpatrick during his stay there.
Gratitude rendered
To WolverineHistorian for putting up most of the videos I linked to. To D.A. from my office (not sure if he wants his name out there) who provided the contact. To the readers who suggested questions (Bob read them all by the way) and shared their memories on that thread a few weeks ago. And to the incomparable Bob Lipson, for taking the time to humor a blogger with his story. Thank you!