Mailbag: Stats Love Us, Saban Manball Canary, Substitution Style, Cole Absence, Playcalling Approach
On S&P+
S&P+

Number 3? For the statistically challenged, what do you think of this methodology?
S&P+ is as good as any other ranking system that drills into play-by-play data to get a clearer picture of a football game than scoring margin alone can give you. Bill Connelly, the guy behind it, also runs Football Study Hall. He does a lot of smart things. S&P+ is a valuable look at who is playing the best.
Unfortunately, it can only go on the data that exists and in early-season college football that's always going to be sparse. Meanwhile some folks will dispute lot of the assumptions S&P+ makes, primarily that turnovers are super random and not major factors in the rankings. It also values all games evenly in ways that humans aren't always big fans of. Utah is significantly below Michigan because:
the Michigan-Utah game was about even down to down and turned on turnovers
Utah did not significantly outgain Utah State or Fresno State
Michigan yardage-murdered everyone other than Utah
S&P+ is not trying to be a descriptive ranking (ie: these teams have had the best season so far) but rather a predictive one (ie: if these teams were to meet who would win). Michigan has performed like an elite team so far according to S&P+, and I can see why it thinks that.
FEI, the other major ranking that takes more than score into account*, is more skeptical than S&P, but I think that's because that still bakes some preseason assumptions into the ranking.
*[AFAIK Sagarin only uses the final score.]
Can we manball it when even Saban flees to spread-type behavior?
It seems that Nick Saban has recently admitted that his current style is a bit outdated, that he needs to adjust to the recent trends in college football. It is pretty obvious that teams like OSU, Oregon, TCU, Baylor, even BGSU are seeing a lot of success by utilizing both up-tempo and featuring quick guys in space.

Can you speak to offensive philosophies such as Alabama and Stanford and how this may or may not be a concern for us going forward? I understand that "smashmouth" football is not mutually exclusive with up-tempo and quick guys in space. But it just seems to me that Harbaugh's style doesn't seem to emphasize either of these current successful trends.

Thanks,
UNCWolverine
Given how the season has gone so far I actually think Michigan might occasionally run into the opposite problem. They've been absolutely lights out against six consecutive spread offenses. (Not very good spread offenses, sure, but Michigan isn't holding these guys to 20 points and high-fiving afterwards. They are crushing opponents.) Meanwhile the Harbauffense is winning plays against teams that aren't always comfortable putting heavy D packages on the field or filling all the gaps Harbaugh creates.
Saban's move to a more spread and tempo oriented offense is a reaction to the many times his defense has been blown out of the water by those kind of attacks over the past few years. When the Tide get to line up against one of the remaining "pro style" offenses, the results are generally ugly. Ask Georgia.
Michigan might not have that issue. Durkin seems very comfortable devising ways to neutralize spreads. I will have trepidation when and if Michigan does come up against… well, pretty much just Alabama.
On and off and on and off
Brian or Ace-

Do you know, or, if not, could you ask someone, why Dan Liesman (I think that is who it is, at least according to my Mini-Program; it is #54) comes out a few yards onto the field between plays almost every time when we are on defense. It is as if he is not sure whether he is going in or not, but since he NEVER goes in, it is obviously for some other reason. Is there some rule about substitutions that this relates to, are we trying to confuse the opposition, or does he just like to pretend he might be going in? There has to be a reason, and I would think most MGoBloggers would love to hear it. Thanks

David
We've seen Ross and Gant also do this. It's just a substitution strategy. After the play Michigan sends guys who may or may not be in the defensive package, depending on what the offense does, to about the numbers. (Any farther could get you an illegal substitution penalty.)
If opponents send in two or more blocky-catchy types, the linebacker will stay in and a DB will be removed. Since every team Michigan has played almost never uses two or more blocky-catchy types the LB heads back to the sideline almost all the time.
Liesman specifically is interesting because Michigan usually has Ross available; I haven't noticed if sometimes he is poking his head on the field when Michigan's already in a 4-3. That would imply Michigan has a heavy package in case someone tries to manball them.
Someone was confused.
Mr. Hammond

I wanted you to know how much I appreciate and enjoy your broadcasts of Notre Dame football.  Your kind deference to Our Lady's University is a beautiful expression of the christian love that infuses your broadcast persona.  Thank you so much!  You are a good man.

May God bless you and yours.

Andrew V.
I did flip over to the Notre Dame-UMass game when it was interesting for a minute and heard Hammond's dulcet tones. He's missed.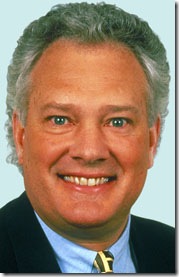 I assume that guy who made the Tom Hammond tie is in Congress by now.
[After THE JUMP: early drives allowed, Harbaugh's playcalling system, a search for superclusters.]