Unverified Voracity Wears Fedora
Men wearing hats. And bandanas.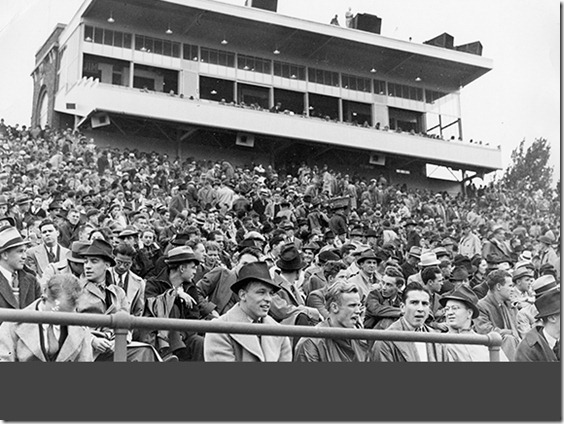 LS&A magazine collects Bentley photos of old-timey Michigan games to the present-day to examine what people wore to the things. This is from 1936; I think I recognize the guy in the glasses in the front row.
Don't look at the Ark, dude.
Things didn't really fall off a cliff until the 80s.
Probably DFW on the left there. Probably.
All the Kwiatkowski features. The AD must have offered people free nachos for articles about senior walk-on TE and MGoFave-Rave Mike Kwiatkowski, because you can't throw a rock this week without dinging one on the head. The Daily version:
It's fine to recognize how unlikely it is that Kwiatkowski rose from regular student to scholarship starter in a matter of three years — but don't call him a walk-on.

"I actually despise that label," Kwiatkowski said. "Because like you said, there's been a number of (walk-ons) who have played, and just because you weren't given a scholarship doesn't mean you aren't as capable. Obviously there's some exceptions to that, of people who walk on and don't end up playing.

"I guess that's the rule, if anything."
Er. Senior Brain, Behavior, and Cognitive Science major Mike Kwiatkowski. MLive also features Kwiatkowski.
Denard QB controversy stuff. There's really no controversy, everyone strains to point out; unfortunately it seems like there's really no expectation it'll even be relevant. This is where we're at:
If Denard Robinson can't go, Hoke will consider single, symbolic play

That would be something I would think about, but to be honest with you," Hoke said. "The seniors and the guys and the people who are truly Michigan fans, I think they understand the significance he's had."

He was asked about using Robinson in another role Saturday. The injury has caused numbness in his right hand and made it difficult to grip the football.

"Oh, I don't know," Hoke said on 97.1. "The health of him and all those things are what we're concerned about."
At this point I'm not expecting him against Iowa, except in that ceremonial role. If it's two weeks on from the Nebraska game and he's still throwing ducks in warmups, as he was before the Northwestern game, it doesn't seem likely he'll get better before the bowl game, if then. John Niyo:
…chances are, we've seen the last of Robinson as Michigan's starting quarterback. The ulnar nerve injury that has sidelined him since the first half of an Oct. 27 loss at Nebraska takes weeks to heal, if not months, or surgery. And coach Brady Hoke's cat-and-mouse games with the media notwithstanding, that reality — along with Robinson's NFL prospects — figures to leave the senior stuck in this new dual-threat role: as an extra coach and cheerleader on the sideline while Devin Gardner succeeds him under center.
At least Gardner is doing well, the considerable silver lining in pretty much the worst way for Denard to go out.
Halfway to a final verdict thing. The MZone's Season Tickets vs Stubhub feature concludes with resounding victory for the scalper, especially for primo seats which could be had at a 40% markdown on the secondary market. This is the easy year, though: a home schedule featuring Nebraska/ND/Ohio State is not likely to end up with the scalper in the black. How close will a two-year total be? Tune in next year to find out.
I'm guessing it'll be pretty close to break-even overall, but once you take the ND game out of the equation… well, Arkansas probably isn't going to cut it.
Talking with Mo. MVictors sits down with Gary Moeller:
One of the greatest times I had after I came back was when we watched Michigan football together in the press box.  One day up there I found out how much he truly loved this university.  He said, "Hey Mo, come here. I wanna show you something."  The band was already out on the field and the players were coming out of the tunnel, and they're playing The Victors and all that stuff. Bo said, "Now there—isn't that the most beautiful thing you've ever seen in your life?  Look at the fans, look at band and look at this team coming out here. That's what Michigan is all about." It was as though he was just painting a portrait that was in his mind of something that he was so proud of.
"One of the greatest times I had after I came back was when we watched Michigan football together in the press box. He said, 'hey, come here' and told me to listen to this generic Nickelback ripoff cheese by a band named Porpville or something. Bo said 'Now there—isn't that the most beautiful thing you've ever seen in your life?' Then Zombie Nation came on, and we wept in each others' arms."
-conversation that did not happen
Iowa: not good. Win percentage chart from the Purdue game showing how Iowa stayed in the game:
It may not be much of a comfort to anyone, but Iowa was actually very fortunate to lose to Purdue on a last-second field goal. Or to put it another way, Iowa was lucky to be in the game at all. If Purdue could have just gotten out of its own way on a couple of occasions, they would have won by two touchdowns or more. Every time it looked like the Boilermakers were going to go ahead decisively, they managed to make an egregious blunder -- a fumble, a penalty, a missed field goal -- that kept Iowa inexplicably and unjustly still in the game. If we look at the win probability chart for the game, we can see exactly where these moments occurred (WP here refers to Iowa's chances of winning):
That's how you lose by a field goal despite getting outgained almost 2 to 1.
Tie that running back to the train tracks. Northwestern defensive lineman Sean McEvilly: we need to have a talk.
Sir. You are named Sean McEvilly. You do not pronounce this like you are Scottish adverbial evil, nor do you have a luxuriously nefarious mustache. In fact you look about as evil as a schnauzer.
I'm nice.
Also, what is the deal with this?
Good attitude on the practice field.
This should read "conspires to tie pretty debutantes to Venric Mark." At least you are majoring in economics.
I'm sure you feel, like I do, that this is a missed opportunity. Look at Jake Ryan: he grows his hair out and becomes Clay Mathews. To ensure a ticket to the NFL, you need one of these:
Please acquire one posthaste and accept the internet glory that surely awaits.
This isn't Canisius anymore, Toto. Michigan can throw it up, and someone can catch it and rain thunder down. This is… intriguing for John Beilein:
The alley-oop: the most exciting play in basketball.

For the first time in his 35 years of coaching, Beilein now incorporates the alley-oops into his practices.

"I realize it's a really good play," he noted Monday, pausing before he finished, "if you have athletes."
"…I have just discovered that men like Glenn Robinson III exist, and whoah."
Policework objection. BWS takes on the long Mark option discussed in the defensive UFR:
before the ball is even snapped, you can see a huge problem: Michigan is badly outnumbered to the boundary side of the field. From the offensive center toward the boundary, Michigan has only four defenders. Nebraska has four men on the line of scrimmage, Colter, and Mark. There's absolutely no way Michigan can defend this play toward the sideline.
It's tough, sure, but doable. I clipped this exact play a bit later and Michigan executed better. Beyer and Kovacs combined to impact Mark near the LOS; the pile fell forward for four.
Also note Ross's presence. The key is for that defensive end to stay on the LOS and widen out. Beyer at the pitch on the first one versus the second:
Beyer doesn't get as far upfield, is a step or two further outside, and is turned to chase on the pitch, which gets him to the back as Kovacs contains. Michigan's alignment there can get the job done, and if you don't slide to the field they'll have opportunities out there. That's what the spread does—requires you to make plays without the advantage of numbers. Michigan's trying to get that back by using the sideline as their 12th guy.
One of Michigan's main issues against the option in this one was the defensive ends giving themselves up one for one quickly. We saw them get a little better at that as the day went on; they'll have to rep it a lot next week in preparation for Ohio State.
Etc.: Northwestern analyzes its doom, needs bigger screenshots. Classic Ufer nicknames.  Super Toe! The only Iranian I know who wears cowboy boots! For best results, play Indiana. Rich Rodriguez on Denard. Orange Bowl contract finalized, ND gets significantly less than everyone else if they participate. Senior salute from M&GB. Holdin' The Rope on Denard.