Lax Weekend Report: Directional Michigan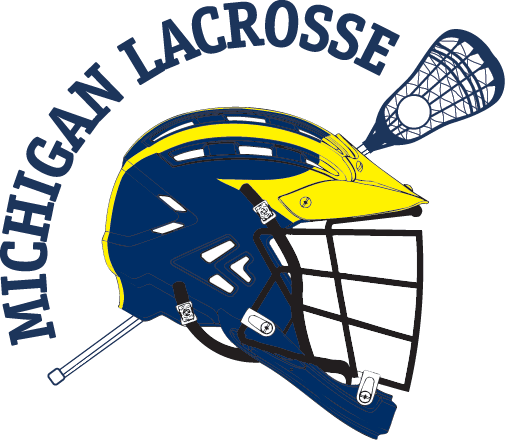 The Michigan Men's Lacrosse team took on a pair of in-state (and in-conference) opponents this weekend, squaring off against Western Michigan Friday night, and Central Michigan on Saturday. As is often the case against weaker opposition, the Wolverines took no prisoners, pounding both teams. I was only able to make it to Friday's game, the that report will be in a little more detail.
Western Michigan
In front of a packed house at Oosterbaan Fieldhouse, the Wolverines struggled to start the game. Though they finished the first quarter with a 7-3 lead, expectations are a bit higher against lower-tier CCLA squads. Michigan responded with a strong second quarter, outscoring the Broncos 11-1, while taking 11 shots to the Broncos' 3, winning 10 of 12 faceoffs, and holding Western to 3/7 on clears.
Freshman goalie Conor McGee took over for Mark Stone after the break, but the second half was no different, as Michigan continued to dominate, putting up 11 goals, while holding Western Michigan to just one - the first score of the half. The half was not as high-scoring as the first two quarters, as Michigan was content to keep the Broncos from scoring, and dominate possession of the ball - as well as try a number of behind-the-back passes and shots.
As should be the case with such a dominant performance, there were a number of statistical firsts and season-highs. Freshmen Sean Sutton and Joe Hrusovsky each recorded their first career goals in Michigan uniforms, while their classmate Thomas Paras collected career-highs in points (11) and goals (6). Senior attack Josh Ein set a career high in points with eight, as did midfielder Jamie Goldeberg, with with five.
Also the Wolverines did the old man-up-hidden-ball trick to score. Twice.
Central Michigan
On Saturday night, the Wolverines made for their slow Friday opening frame by blitzing Central Michigan with seven goals in the first seven minutes, fueling a 19-1 blowout over the Chippewas. Junior goaltender Andrew Fowler got the start in net (more on the goalies later), yielding to McGee for the fourth quarter.
Trevor Yealy (pictured at right) notched one assist to go along with seven goals, giving him an even 200 scores for his career after the weekend. Joey Hrusovsky scored for the second consecutive game, and his big bro Anthony tied his career high with three assists.
The Wolverines dominated statistically, winning 22 of 24 faceoffs (including a perfect 8-for-8 by Edward Ernst), taking more than four times as many shots as Central, collecting a 62 to 29 advantage in Ground Balls, and riding the Chips to a dismal 8-20 success rate on clears.
Weekend Thoughts
It's always nice to see the team dominate a pair of lesser opponents, not only because that's what a squad of this caliber should do, but also because it gives young guys a chance to step up and show their stuff. With Michael Bartomioli and Clark McIntyre out injured, some youngsters were going to get a chance to prove themselves either way, but improving the depth by giving bench players some experience is always a positive.
While talking about young guys, I'd better point out that Thomas Paras looks like he's going to be a special player. just a freshman, he is a huge threat to score at any time, and he's significantly more likely than other attackmen to rack up big assist numbers as well. When Michigan returns to full strength, the number of offensive options will be astounding.
As for the goalies, I'm still a little confused as to what to rotation is. Andrew Fowler seemed like the better goaltender last year until he suffered a foot injury midway through the season (though he would come back healthy by the end of the year). That confidence was shared by the coaches, as he went wire-to-wire in the National Championship game, despite a poor first half. This year, Mark Stone is the clear #1, and I'm not sure if it's because Fowler regressed, Stone improved, or some combination of the two.
Up Next
Next weekend, the Wolverines hit the road (as they've been doing a ton this year, with only four home games out of a 13-game schedule) to take on Colorado and Colorado State. Colorado is pretty bad this year, but a win over the Wolverines could spark a run to salvage their season. With #2 Chapman falling to Oregon, Colorado State will likely be the #2 team in the country going into this weekend, for a huge #1 v. #2 matchup in Fort Collins.
I'll preview both teams in more depth in a diary later this week.