Draftageddon 2015: It Starts! You Cannot Prevent It!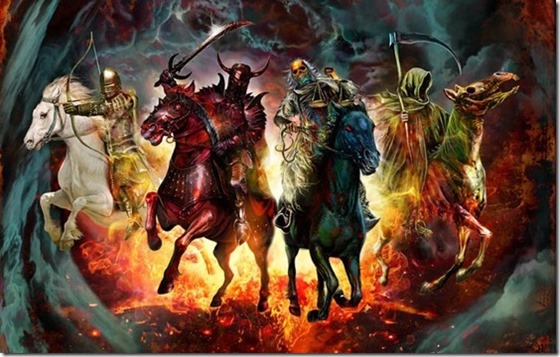 Well... crap. We have this tradition where we seek to irritate every last one of our readers. We could not do that, but then the readers win. The readers cannot win. We are the only site on the internet. We have them in the palm of our hand. We must crush them.
So let's draftageddon again.
You are not going to be happy about this. Let's just state that going in.
RULES
Everyone drafts a team from available Big Ten players consisting of
A QB, five OL, and six skill players on offense. Usually this breaks down in to a RB, three WR, a TE, and a wild card but things tend to get weird.
4 DL, 3 LB, 2 CB, 2 S and one wild card on defense.
A punter and a kicker.
Standard serpentine fantasy draft.
Once three teams have filled a position group the final team must do so at most three rounds later. This is mostly intended to prevent someone from waiting on a QB until the end of the draft and occasionally results in hilarious things like "Nathan Scheelhaase goes in round 8".
Seth will take an injured Northwestern player over any available Heisman contender.
Everyone will make fun of me for an excellent pick that ends up going in the middle rounds of the NFL draft.
The winner will be the person with the most impressive team.
As randomly determined by RANDOM.ORG the order is
Adam
Seth
Ace
Brian
Adam, you are on the clock. BryMac is on the email chain to throw out haymakers randomly.
BRYMAC: KURTIS DRUMMOND
-----------------------------------------
ADAM - Round 1, Pick 1: J.T. Barrett, QB, Ohio State
"Will I even play" is an interesting question to ask the TOP PICK IN THE DRAFT
OFFENSE: JT Barrett (OSU).
ADAM: I'll play Buckeye roulette against my better judgement. Picking a quarterback who has a 33% chance of starting is terrifying for a risk-averse person such as myself, but that 33% is assuming all of OSU's quarterbacks have an equal chance of winning the job.
Braxton Miller returns, but he's coming off of multiple shoulder injuries and already had a tendency to turn into Delmon Young when he had to throw deep. Circling back to the risk-averse thing, that gets a big "nooope" from me. Cardale Jones was superb during OSU's playoff run, but he's reportedly behind Miller and Barrett as of now. Silly though it may be to put much weight on an imaginary July depth chart, it's enough for me to look in a different direction.
That leaves Barrett, who completed 64.6% of his passes while averaging 9.0 YPA. On top of that, he brings the dual threat capabilities I'm looking for; in 2014 he ran 14.25 times per game and averaged 5.49 YPC. Overall, Barrett accounted for 7.78 yards per play while throwing 34 touchdowns and rushing for 11 more. It's easy to see why he was named the 2014 Big Ten Quarterback and Freshman of the Year.  Now I just have to hope he actually plays.
-----------------------------------------
SETH - Round 1, Pick 2: Connor Cook, QB, Michigan State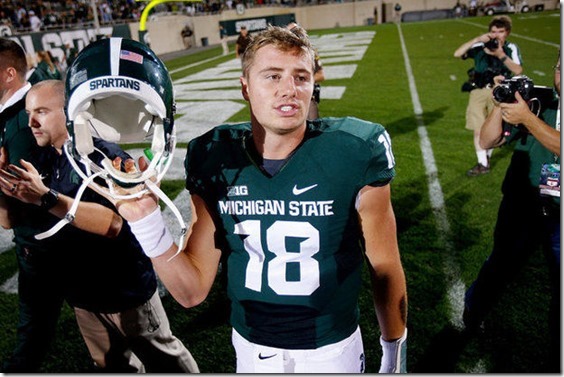 SETH: I am committed to not doing the insane things this year, among which I include filling the most important position with a guy who's 67% likely to not start. And hell, if Cook played for the other rival, maybe we're be talking about the "next Alex Smith" instead of guessing which of the three stooges gets to drive Urban's war machine to New York.
When Connor took over in 2013 the State offense went from laughable to good enough/safe. When they took the apron strings off in the Big Ten Championship, the INT rate went from 1.41% (best in the country) to 2.12% (Tom Brady), while his YPA shot up to eight against Ohio State and Stanford. Yet I remained a skeptic, until Cook repeated those numbers over an entire season, capped by beating Baylor in a shootout. All told, MSU finished 6th nationally last year in pass S&P+, 10th in YPA, and 11th in turnover rate. Everybody else in range ran a vicious spread or had access to elite talent; Cook did this while working for Jim Bollman.
He won't have Lippett to make him look good this year but Cook made even State's pedestrian receivers look Lippett-esque--Keith Mumphery had 11 yards per target last year; Macgarrett Kings had nine. Arm accuracy is merely good, but it's functionally extraordinary because of a lightning release. His legs aren't up to "dual threat" level but they're enough to extends plays, and State even added a zone-read veer to the playbook last year. I think I've found my quarterback. And despite the ugly green/chrome/bronze/hellenistic helmet, I think Harbaugh would approve.
-----------------------------------------
ACE - Round 1, Pick 3: Joey Bosa, DE, Ohio State
Looks like Joe Dirt, plays like Mean Joe Green
OFFENSE:
DEFENSE: Joey Bosa (OSU).
ACE: With the two elite quarterbacks off the board, assuming Barrett wins the OSU job (which I think he will, or I'd be bringing the snark much more heavily), I'll happily take the guy projected higher on most early NFL draft mocks than he went here. I don't need to spend much time or effort justifying this selection. Bosa had 21 TFLs and 13.5 sacks last season; both marks led the conference by a healthy margin. He earned unanimous first-team All-American honors. A lengthy section of his official OSU profile is dedicated to the 37 points the Buckeyes scored as a result of Bosa forcing or recovering fumbles last year; 30 of those points came after Bosa forced a fumble on the opposing quarterback. He did all this as a true sophomore.
On top of all that, Bosa is a solid run defender, already able to two-gap blockers to shut down rushes to his side. So, sure, I guess I'll build my defense around the best player in the conference.
[After THE JUMP: A lot more Buckeyes. Sorry.]