I Don't Hate Your Corpse Any Less And I Don't Want Store Credit
11/3/2018 – Michigan 42, Penn State 7 – 8-1, 6-0 Big Ten
The jarring thing was this: they didn't seem drunk. There were two dudes crossing Stadium at about the same time I did, and they were not drunk, and they were singing something very loud. It was a faintly familiar verse, the kind of thing that tickles the back of your brain and, if left unaddressed, leads to the kind of frantic wikipedia search that either relieves you of your memory burden or leaves you staring at a list of defenestrations, wondering which rabbit holes you'd fallen through to arrive at this place.
Fortunately(?) this was not required. The verse led into a chorus that is intimately familiar to anyone who is extremely online. It culminated, with elaborate hand gestures. It was beefy, hammy. You may already hear this in your head: "GIVE ME YOUR HEART, make it real, OR ELSE FORGET ABOUT IT."
Across the street, people booed. They were being Smooth-rolled. It seemed like they'd just parted, and this was a parting shot. As I veered off onto the side street that held my car the dudes chortled to each other, victorious.
This was not a black pit. It was… it was a brightly lit mesa of trolling your friends with Santana/Robb Thomas collaborations.
Nine weeks ago those guys were not merrily inflicting music-type substances on their friends. They were sitting in a dark basement, saying nothing, grateful that the other guy had enough damned sense to say nothing. When the moon rose the men silently, separately resolved to destroy it.
------------------------------------
Elsewhere: fulminations. Jim Harbaugh challenged a fourth down catch with three minutes left in a 42-0 game, causing the "harbaugh class" search to disgorge great heaps of rotted fish onto the internet. Penn State scored on that drive, so the camera had cause to cut to a defensive coordinator in the process of holding a ranked opponent under 200 yards for the third straight game. This is what he looked like:
He looked grim. Disappointed. 58 minutes of wholesale obliteration was not enough. Don Brown is a hater.
Don Brown keeps receipts. In the run-up to this game he and his players repeatedly mentioned Penn State running plays up 42-13 with under 40 seconds left, and how that stuck with them. Brown didn't send his second team line out until the last gasps, and film review will be hell for them this week.
Donovan Peoples-Jones keeps receipts, and increases the volume of his hatin-ass touchdown celebrations weekly. He will fire the cannon if when he scores against Rutgers.
Chase Winovich keeps receipts, and will tell anyone that yes, that is our little brother, and yes, this is our revenge tour, and yes he very respectfully stole Trace McSorley's celebration and he's apologizing for nothing.
Rashan Gary keeps receipts. He keeps them on his face.
[Fuller]
Rashan Gary's mom keeps receipts. Some of you on the internet are in trouble.
So yes, this is a petty team. This is an angry team. This is a petty, angry fanbase with a petty, angry DJ. Nobody is apologizing for anything. Michigan is handing out receipts itself, because it's got too damn many to deal with right now. Hold some of these along with the L.
It is time to hear the lamentation of their message boards. It is time to belt out the chorus to "Smooth" at maximum volume no matter how damaging it is to the souls around you. We've sat in the dark plotting the downfall of celestial objects for too long to have any dignity about blowing up the moon.
Someone else can be angry for a time now. Someone else can sit in the black pit of negative expectations after one drive with Michigan players pouring through the line, seemingly untouched.
---------------------
The postgame handshake between coaches was brief and seemingly cordial, but afterwards James Franklin stopped and turned back to Harbaugh. Harbaugh was already jogging into the tunnel. Franklin stared a hole in his back for a good five seconds before turning back to the field, seething. It was like the end of Lost In Translation, if Bill Murray had said something that made Scarlett Johansson into a barely-contained ragebot.
I wonder what it was. I keep inventing pettier, crueler things. The exact content is irrelevant though, because the thrust is this: we regret nothing. We have many more receipts.
AWARDS
Known Friends and Trusted Agents Of The Week
[Upchurch]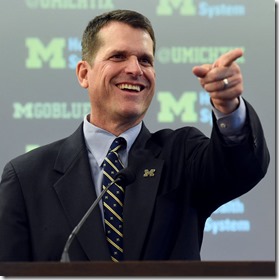 you're the man now, dog
#1(t) Chase Winovich and Josh Uche. Thunderous back-to-back sacks on Penn State's opening drive set the tone, and the pressure did not stop until they got pulled late. Winovich made PFF's team of the week, nationally, and Uche probably missed largely because of snap count. Two points each, made up and don't matter.
#2(t) Jon Runyan Jr and Ben Bredeson. Very little pressure from PSU's DL and Michigan mashed their run defense with a heavy emphasis on the left side of the line.
#3 Shea Patterson. Only 17 attempts but 144 yards and 2 TDs on those attempts, plus 10 carries for 50 yards. Seemed to get pull/keep decisions right the whole day, and juked a couple guys to pick up chunks.
Honorable mention: Karan Higdon had a Chris Perry kind of day. Shea Patterson had ups and downs but his legs are now a thing. (Don't tell any DCs about that.) The OL got another collective W.
KFaTAotW Standings.
10: Chase Winovich (#1 ND, #3 SMU, #1 NW, T2 MSU, T1 PSU)
5: Karan Higdon (#1 WMU, #3 Nebraska, #3 Wisconsin), Shea Patterson (#3 WMU, #1 Maryland, #3 PSU).
4: Devin Bush(#3 ND, #1 Nebraska), Rashan Gary(#2 WMU, #2 Nebraska), David Long(#2 Wisconsin, T1 Michigan State), Josh Uche (T2 NW, T2 MSU, T1 PSU), Jon Runyan Jr (T1 Wisconsin, T2 PSU).
3: Zach Gentry(T1 SMU, #2 Maryland), Juwann Bushell-Beatty(T1 Wisconsin), Jon Runyan Jr(T1 Wisconsin), Donovan Peoples-Jones(T1 SMU, #3 MSU).
2: Ambry Thomas (#2 ND), Josh Metellus(#2 SMU), Brandon Watson(T1 MSU), Lavert Hill(T1 MSU).
1: Will Hart (#3 NW), Mike Dwumfour (T2 NW), Kwity Paye (T2 NW), Khaleke Hudson(#3 Maryland), Ben Bredeson(T2 PSU).
Who's Got It Better Than Us(?) Of The Week
Brandon Watson intercepts a ball to absolutely no one, returns it for a TD, and puts the final nail in an already extensively-nailed coffin.
November 3rd, 2018: Brandon Watson intercepts the pass and returns it 62 yards for a TD against Penn State. pic.twitter.com/b59c4gQ0MR

— Michigan Moments (@UofMMoments) November 5, 2018
Honorable mention: Eight-play all-run TD drive to kick things off; Patterson finds DPJ on a throw that may indicate he's getting more comfortable; Uche and Winovich slash into the backfield; DPJ nearly brings back two punts.
​MARCUS HALL EPIC DOUBLE BIRD OF THE WEEK.
PSU escapes the shutout.
Honorable mention: Blocked FG momentarily provides PSU a touchdown. Uh… the end?
[After THE JUMP: chaos reigns]