Tailgater's Guide to Ann Arbor
What this is: This article is meant to be a living reference for anyone planning to tailgate for a Michigan football game. Please add your own suggestions in the comments and I will edit the main body at intervals.
-----------------------------------

​
Sponsor Note: Tailgater Concierge has sponsored MGoEvents in the past and is still doing their thing. If you need to put together a tailgate for a reunion, a bachelor party, or a corporate event, you can have Tailgater Concierge do all that for you, including setup and takedown. They have several excellent locations near the stadium, and packages can include everything from Zingerman's to Satellite TV . Hit the links, call 888-301-2190, or email [email protected].
They have also been sending Kyra Kirkwood around Ann Arbor this year to pick up tailgating tips for Ann Arbor. She submitted her findings and I edited/rewrote it and submitted my own to create this.
-----------------------------------
According to the latest census, the City of Ann Arbor has a population just under 114,000. On Saturdays in the fall, Michigan Stadium can fit that many with room to spare. The city estimates its population more than doubles when Michigan has a home game, and until kickoff most of them are tailgating. That's where I come in. I carry a fork.
1. Parking
You're in car country so you're most likely driving to the game. Michigan Stadium is part of a vast athletic campus cornered on Stadium and Main Street. The school keeps an inventory of official parking. Those lots open between 6-8 a.m. on game days, and close approximately two hours post-game. Many are permit-only, but some are available for cash on game day. Spaces are first-come-first-served.
If you're not parking in the school's lots—and this is important—make sure you plan which direction you want to come from. The Big House is aptly named, and when you consider it's attached to the Crisler Center as well it can be quite an obstacle to walk around if you're parked on the opposite site from the tailgate you're trying to get to. The other giant walking obstruction is the train tracks that angle southeast (the red line on the map below):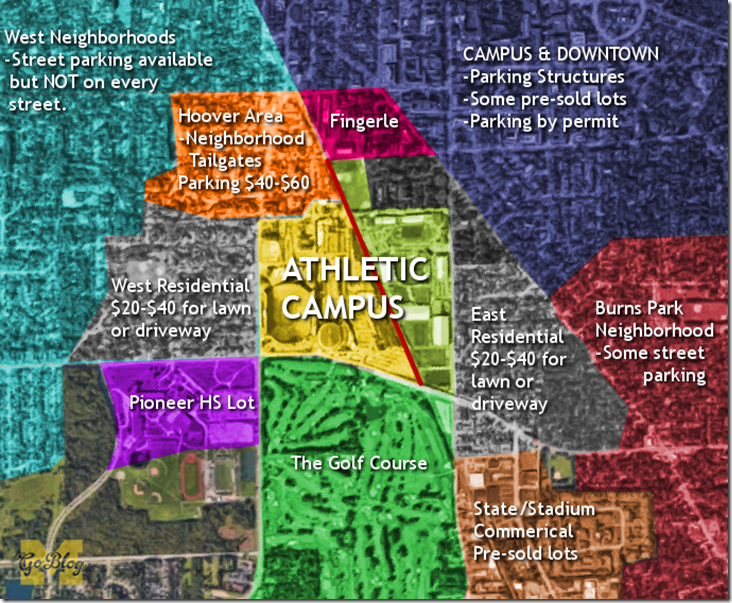 The neighborhoods tend to fill up for two miles around the stadium, and many Michigan fans have their favorite streets. Which one depends mostly on how you want to get out: Stay out of Burns Park unless you live off US23 (onramps to M-14 and I-94 tend to back up), and don't try the West Neighborhoods unless you want to get to West M-14 and I-94, etc. Street parking tends to fill up early because the locals will take them the night before to save their driveways and garages for guests. Unless you want to arrive early in the morning or walk a very long distance you should probably plan on paying for parking.
The key is to park in an area on the same side of the tailgate you want to attend, and preferably near the gate that's closest to your seat. The direction you need to get to matters as well. If you're coming from the Detroit suburbs, campus or the West neighborhoods might be best for you because your way in and out of town is M-14 and you can skip US-23. If you're coming from the south, the Golf Course and Pioneer are excellent choices since you can get right back on State Street or sneak out on 7th street. West-siders can often park at the myriad bars down Stadium or Liberty and shuttle to and from the stadium.
Getting a Ride to the Game
If you're tailgating near the stadium you can park in a lot near the highway and take a hired ride. There is a dedicated Uber/Lyft drop-off location on Hoover Street that's well-located for getting to most tailgate locations.
You can also take the bus. Copy-pasting this from their writeup on MGoBlue:
The Ann Arbor Transit Authority (AATA) also offers shuttle service between Michigan Stadium and Ann Arbor hotels and motels, U-M Parking Structures and lots, the Michigan Union, and downtown Ann Arbor. The Football Ride runs approximately every 20 minutes beginning two hours before game time and drops off passengers at Gate 2. Shuttles run for approximately 60 minutes after the game and pick up passengers at the assigned location on the south side of Michigan Stadium. During inclement weather, such as rain or heavy snow, the shuttle will run throughout the game. For more information on the Football Ride, call AATA at (734) 973-6500 or visit the AATA site.
[After the JUMP: the first draft of what I hope will become the definitive document on M tailgating.]