9/13/2015 – Michigan 35, Oregon State 7 – 1-1
AND YOU WILL KNOW HIM BY THE TRAIL OF DEAD [Eric Upchurch]
When Michigan got the ball back up 28-7 in the fourth quarter, the game was already over. Oregon State hadn't budged on offense since their first drive. If they were going to push towards making it a game it would have come after they intercepted Jake Rudock; instead they went nowhere and punted. That punt was waving the white flag, something Michigan fans have gotten used to over the last couple years. 
Michigan took that flag and rammed it down Oregon State's throat. At one juncture they hit a bit of a snag and had to employ Ol' Skillet Hands Ian Bunting to get past the obstruction; afterwards it was smooth sailing. The end result was a 14-play touchdown drive featuring 13 runs and no trace of the Beavers' flag of surrender unless you want to count a palpably uncomfortable crimp in the Beavers' gait.
I used to think that was boring.
Back in the long long ago when "This Is Michigan" meant "this is an unstoppable factory of offensive linemen and tailbacks who will go too high in the NFL draft," they'd get the ball back from a reasonable team and proceed to do to the fourth quarter what time-lapse photography does to glaciers. It was a pleasant sort of boring, to be sure, but it was also a signal that the football had concluded. All that was left was to hear the muffled squeaks.
Part of the reason it was boring was that it was unsatisfying. I came of age during the Moeller era, when Michigan dropped four games a year, and except for the occasional deviation when Michigan had a killer defense(1997, 2006) games that featured boa constrictor drives like Saturday's were false positives. The most bonkers stat about the Lloyd Carr era is the one where the team was more likely to win if it entered the fourth quarter with a small deficit than a small lead, but #2 is that during Lloyd Carr's tenure Michigan finished in the top 30 in yards per carry once. You'd think a run game featuring Mo Williams, Steve Hutchinson, Jeff Backus, and Anthony Thomas would be able to crack the top 30 by accident. Not so much.
Carr's teams were consistently good and had an amazing knack for getting off the mat, but there was a persistent frustration in the fanbase. It felt like Michigan was not getting the most out of its talent. When Rich Rodriguez came in, he had three functioning offensive linemen, a freshman and a walk-on at quarterback, and freshmen everywhere else. That his 2008 team's ground game would have been one of Carr's better ones was evidence enough that the frustration was warranted.
So I was encouraged by the general splattening of a bad team; I was more encouraged by the fullback traps that saw Sione Houma thunder through the line trailing a wildfire of hair. Harbaugh's run game is diverse and weird. By the end of that game Oregon State didn't just feel physically beaten but also confused as hell.
You can't just line up and do the one thing you're good at a lot and expect to succeed anymore. Harbaugh doesn't do that. It can look like he's doing that, but his run game is closer to Paul Johnson's than Lloyd Carr's. Johnson is constantly tweaking his blocking schemes. If you stick to one pattern to defuse his flexbone option he will eventually send one of his guys in a different direction and all of a sudden there's a dude ripping down the sideline. Harbaugh uses all those tight ends because they give him the ability to add gaps where defenses don't expect them—and this goes double in an era when teams are increasingly reducing their options on the interior.
Michigan is on a long path to being both good and confusing. If the coach has a nuclear meltdown on the sidelines—because he's right about something—as an amuse bouche, all the better. Of course, it does not do to get ahead of ourselves. They're not going to be able to do this against top-end defenses right away. We saw that against Utah.
Saturday wasn't the opening credits to this year's movie. But as a preview of coming attractions it felt pretty pretty good.
AWARDS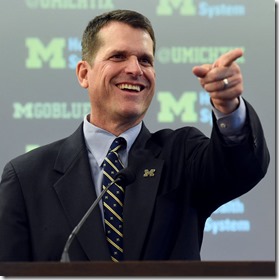 Yet To Be Named Harbaugh-Themed Guys Who Did Good Award.
you're the man now, dog
#1 Chris Wormley deployed beast mode on a sack that was a yard or two away from a safety, had two or three other TFLs depending on what mood you catch the official scorer in, and generally nosed in front of an otherwise killer defensive line.
#2 De'Veon Smith spent most of the game picking members of the Oregon State back seven out of his teeth.
#3 AJ Williams had a 20-yard catch and, more important, was one of the key guys blowing the perimeter of the Oregon State defense off the ball. Really. I am all about how AJ Williams played in this game, pending UFR review.
Honorable mention: Pick just about any defender. The offensive line in general.
YTBNHTGWDGA Standings.
5: Chris Wormley(#2 Utah, #1 Oregon State)
3: Jake Butt (#1, Utah)
2: De'Veon Smith(#2 Oregon State)
1: Willie Henry (#3, Utah), AJ Williams (#3 Oregon State)
Who's Got It Better Than Us Of The Week
For the single individual best moment.
Oregon State offers Michigan a free touchdown by sailing a punt snap yards over the punter's head just before halftime. That this was the culmination of a series of mishaps directed by the angry gods of probability only adds to the mirth.
Honorable mention: Michigan's 13-run, 1-pass game-sealing drive. Ol' Skillet Hands trucks a defensive back for an important first down. Rudock finds Smith for a fourth and five conversion. Any of a half-dozen runs on which you will know De'Veon Smith by the trail of dead.
WGIBTUs Past.
Utah: Crazy #buttdown.
Oregon State: #tacopunts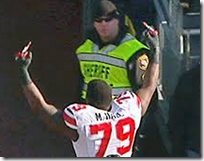 MARCUS HALL EPIC DOUBLE BIRD OF THE WEEK.
Wait: let's talk about this. Epic Double Bird is pretty epic. But is Harbaugh Meltdown epic? Should we change this? Let me know. Anyway:
This week's worst thing ever.
Michigan, already down 7-0 early, busts a blitz pickup. Jake Rudock has nowhere to go with the ball and gets blown up on the sack. He fumbles, Oregon State recovers, and a certain Brady Hoke feeling descends on events.
Honorable mention: Ridiculous missed Darboh endzone PI, the roughing the punter penalty that caused Harbaugh to go nuclear, most of Oregon State's opening drive.
PREVIOUS EDBs
Utah: circle route pick six.
Oregon State: Rudock fumbles after blitz bust.
[After THE JUMP: TOOT TOOT]