Unverified Voracity Checks Shirts
The big one. With Braxton Miller out for the year, Ohio State needs a new quarterback. It looks like it is going to be JT Barrett, a well-regarded but not elite recruit out of Texas. His OC talked about him when he was declared the #2 recently:
"Gets the ball out quickly. Very efficient. Smooth release. Very accurate. Extremely cerebral. Very magnetic leader. I think the kids kind of gravitate towards him."

"We've got to work on strengthening his arm. He's a distant third to Braxton and Cardale in terms of just rearing back and trying to throw it through a wall. But he makes up for it in his anticipation and his accuracy and all that. You don't have to have a howitzer to be successful in college football. I'm very pleased with his continuing growth."
He has sort of won the job by default, though. OSU has had surprising issues recruiting QBs. Cardale "I ain't come to play SCHOOL" Jones and middling true freshman Stephen Collier are OSU's other options.
Shaky QB play has not prevented OSU from beating Michigan lots in the recent past, unfortunately, and Meyer runs a system that's pretty forgiving to young guys because big chunks of it are "you: run".
[Bryan Fuller]
Frank Clark profiled. Clark's background is highly improbable:
Frank Clark can't provide a last known address in Los Angeles. He and [his mother] Teneka, along with his two older siblings, were nomadic. They rambled around town, sleeping in a shelter one night, in a random friend's house another night. Teneka had drug problems, Frank explains, and this was the fallout.

"I'd walk for hours with my mother, wondering where we were going next, what we were going to do next," Clark said.
He was handed a plane ticket in 2003 and deposited with relatives in Cleveland, whereupon he grew large and went to Glenville:
"Frank wanted to do everything except what I wanted him to do," Ginn said.

Ginn wanted Clark to play defensive end and the two locked horns.

"So I fought with Frank from his sophomore year to his senior year," Ginn said. "In his senior year, he finally decided to listen."
That is the flip side to Csont'e York. Clark had issues even at Michigan, stealing a laptop and getting a year of probation after being put in a diversionary program, but has come through them and stands on the verge of a Michigan degree and an NFL career. That  is how you want it to work when you draw the NCAA up.
Making it work. The NFL has gone from dismissing Chip Kelly to imitating him, says Chris Brown at Grantland, and interestingly for Michigan fans he specifically cites a number of tackle over formations the Eagles went with a year ago as part of Kelly's success:
Why is this a component of Kelly's offensive genius and Borges's failure? Tempo. The Eagles run a high-paced no huddle system that only allows the defense to substitute when they do. The defense is under constant pressure to recognize and adjust to new formations on the fly. In this and another example the end result of going tackle over is confusion and blown assignments because of the pressure Philly's tempo puts on the opponents. Brown's key insight:
This breakdown occurred not because Packers defensive coordinator Dom Capers doesn't know how to match up against an unbalanced set. (He does. I think.) It happened because, against Kelly's offense, it doesn't matter what the other coaches know. The 11 defenders on the field need to be able to identify the unbalanced set and call the right adjustments, on the fly, at a super-fast tempo, while worrying about 50 other things.
When you go at Borges tempo, you get a different result: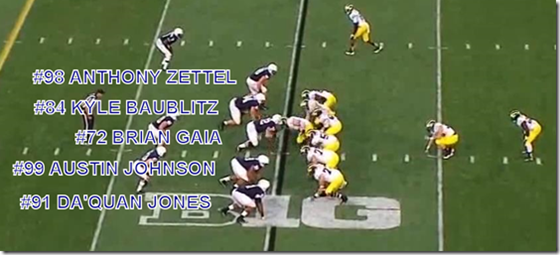 4 DTs and an SDE with PSU's best player (Jones) lined up over your tackle over. Penn State did this only three or four times in that game but that they were able to do it at all is a condemnation; meanwhile there was absolutely no way that PSU was going to blow an assignment when Michigan was barely getting the play off before the clock expired.
High tempo takes defensive coordinators out of the game and puts the responsibilities they generally have on the players on the field—a big advantage at the NFL level and and even bigger one in college.
Meanwhile you hear dinosaur coach types talk about how the spread makes your defense soft, but you never hear them talk about how living at walking pace makes your defense unprepared to face teams like Indiana.
All of the shirts all of the shirts. Jared Shanker takes a look at how many kids redshirt at last year's conference champions, and comes back with the startling news that over the last three years all of seven MSU recruits have played as freshman—12%. Alabama and FSU are at 45%, with Oklahoma and Oregon at 33 and 35%, respectively. Other powers are closer to the FSU/Bama numbers than anything else, with only South Carolina coming anywhere near MSU—they play only a quarter of their freshmen.
A lot of this has to do with recruiting rankings. FSU and Bama tend to get freshmen who are physically ready to compete right away, and Bama in particular tends to toss guys out the door if they're not panning out. MSU has limited access* to high-level players and is trying to get the most out of each one. They've done so successfully.
What about Michigan? I went back and checked:
2011: 8 out of 20 played in the Hoke/RR emergency transition class by the standards of this study, but circumstances conspired to hew this class down before it even reached the opener. Three players (Kellen Jones, Chris Barnett, and Tony Posada) didn't even make it to game one; Greg Brown transferred midseason.
2012: 12 out of 25 played, with Terry Richardson and Amara Darboh redshirting their second years.
2013: 13 out of 26 played. (I'm not counting long snapper Scott Sypniewski for this purpose).
Michigan's numbers are skewed by the disastrous 2010 and sort of disastrous 2011 recruiting classes, but seriously about a third of those burned redshirts the last couple years were questionable at best: Dymonte Thomas, Da'Mario Jones, Csont'e York, Ben Gedeon, and Taco Charlton contributed little in 2013; Joe Bolden, Amara Darboh, Sione Houma, Royce Jenkins-Stone, and Terry Richardson did little in 2012.
How much of that is down to recruiting promises is unknown, but it just seems silly not to give yourself a fifth year option. Hopefully Michigan can start upping their redshirt percentage now that they have stabilized the roster.
*[This is changing somewhat this year, but for the period covered in this study it was certainly true.]
They had a competition, and now they don't. Utah names Travis Wilson its starting QB. Wilson had a rocky 2013, throwing 16 interceptions to 16 touchdowns and losing his job after a 6 for 21 performance against Arizona State. He did have a nice YPA for the year (7.7), but he also threw a Demetrius Brown-like six interceptions in a 34-27 loss to UCLA. Woof.
Wilson beat out Oklahoma transfer Kendal Thompson, FWIW, so maybe he's improved.
I can't do better. Get The Picture nails the headline on this quote:
The NCAA has reached the point on unfavorable legal rulings that retiring University System of Maryland chancellor William Kirwan, co-chair of the reform-minded Knight Commission, said he now views Congress as "our last, best hope for getting anything right with intercollegiate athletics."
And:
Headshot.
Oh god the tedious Knight Commission, constantly seeking ways to divert the surplus of revenue athletes to the academic side of colleges, go away.
Scrimmage clips. A guy posted a lot of them. The official site has a Funchess fade over Peppers.
Etc.: Michigan's student advisory council rejection letter ain't come to play school either. Here's to hope, says the Hoover Street Rag. High school QBs now planning to graduate in three years so they can transfer without penalty if it doesn't work out at school #1. MSU loses OG Connor Kruse for a significant period of time, one that probably does not eliminate him from the M game.
Michigan crushes another Italian team.