Hokepoints: Keep Believing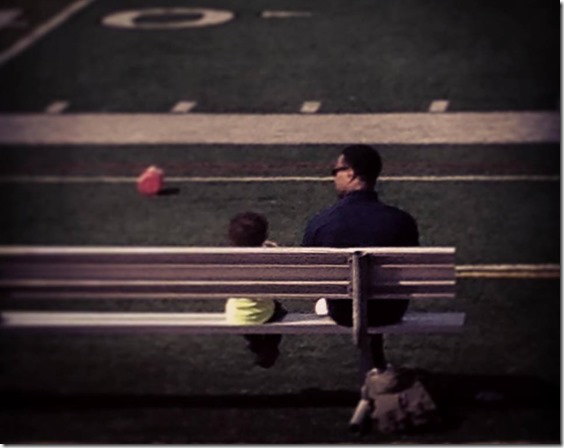 Todd Howard came to Michigan in 1998, following the national championship season. We both grew up in the same middle class suburb (Southfield) before moving to more affluent ones. But he was a highly recruited scholarship athlete who played cornerback for four years on the Michigan football team, while I was sort-of recruited journalism student who played guitar on a couch at the Michigan Daily.
Todd now coaches defensive backs in his post-Southfield hometown of Bolingbrook. We've developed a recent friendship over M football obsession, and some heated disagreements, plus wives pregnant at the same time. His perspective is one of a guy who came to Michigan and had it made clear upon arrival that no player is bigger than the program. His perspective is also one of a player who played in an era when "getting your bell rung" was common, "shaking off the cobwebs" was routine, and everybody "saw" a few more snaps than they actually played. But he's also a modern high school coach with responsibility for player safety, and a defensive back who believes inside routes should be punishable by death.
He agreed to let me share a thing he wrote on Facebook and some bits from our text message marathon last night.
From the texts:
Supports Hoke, says he's a good coach and the right coach for Michigan.
Players always play hurt.
Doesn't know what's going on in the administration and can't affect it.
Want people thinking long-term: Michigan will be great again. Supports people speaking out, but turning away disgusts him.
Every effort should be made to show the players they're supported, including showing up to games and cheering for them and not distracting the coaches further.
The Facebook open letter to fans:

Dear Michigan "Fans"...I really couldn't have said it any better myself. You took success for granted. 8 win seasons became the norm and you got comfortable. You never saw the hard work and late hours put in behind those brick walls of Shembechler. The lack of sleep, barely being able to drag yourself to class, minor addictions to pain killers, while fighting to remain academically eligible. PLAYING through injuries most of you couldn't make it up a flight of stairs with. The coaches preparation every week from sun up to sun UP, sacrificing valuable time with their own families so the BEST team possible could take the field on Saturday.

Now your "favorite" team is going through some adversity and look at you! Look at how you respond. Are you a Michigan FAN because it's convenient? Sure, every one loves a winner...if that's the case take your allegiance down I-96.

It's so easy for you to call for Hoke's job. You've never met him, never had a beer with him, never seen him COACH! Only interviews and cutaways on Saturday. If you think you want to win, multiple that by 100 and MAYBE you'll attain the same passion he has for football and an equivalent compassion for his players.

My brothers and myself are Michigan MEN, not FANS! So to read some of your comments and rants is a little disheartening. Is this how you would've ridiculed us had we not been as successful? Would you not inbox us autograph requests?

When you're team is up, cheer! When you're team is down, cheer LOUDER! When your team wins, congratulate them. When your team loses, sympathize and have pride in the fact they gave everything they could. That's a TRUE fan...but instead you're spoiled. It's a privilege to cheer for Michigan. It's a privilege to sit in the Big House...not an obligation. "The Expectation is for the POSITION!" Back to yours!!!

/adjusts Michigan hat

...as you were. HAIL!
[My rebuttal, after the jump.]