Return Of The Crab People
9/10/2016 – Michigan 51, UCF 14 – 2-0
[Eric Upchurch]
It's been a while since Michigan fans set to grumblin' about 37 point wins, but here we are. That one track guy ran a long way and quarterbacks set to scrambling and a bunch of guys jetted into the backfield. These are bad things that a remorseless juggernaut would not allow in its vicinity, and thus it's open season for crabbers.
This is not necessarily a criticism. Your author joined with the Ann Arbor Pincer & Exoskeleton masses at halftime:
Not super happy with the blitz pickups. Even if they're blitzing you gotta pick up the guys coming up the gut.

— mgoblog (@mgoblog) September 10, 2016
Second straight game with multiple big containment busts leading to long QB scrambles.

— mgoblog (@mgoblog) September 10, 2016
Michigan led 34-7.
What can I say? I expected Michigan to pave these dudes and they did not. While UCF did stack the box and blitz its little try-hard buns off, I rather thought that wouldn't matter. I did not expect UCF to rush for an uncomfortably large number of yards themselves.
I don't place anywhere near as much emphasis on these things as Scott Frost—"we outrushed them, we outhit them, and in the futuristic game of run-hit-ball, those are the only factors"—but in the middle of a live football game you're winning by a zillion points the only thing that keeps your interest is taking the data in front of you and projecting it down the road, when Michigan will face teams that can rush for 300 yards and not lose by 37… or at all.
----------------------
After a rewatch and a little bit of time to reflect, the things that happened were things Michigan can clean up. Blitzers coming free because Michigan didn't get off their blocks fast enough. Defensive ends too gung-ho about getting around the edge because their careers are still in the tadpole stage. A bust here and there probably related to the new defense.
There wasn't anything that set off alarm bells except one bad fill by Dymonte Thomas against a 10.3 100 meter guy who was such a niche player that his 87-yard touchdown was his only carry of the game. (You know you're a specialist when you run 87 yards on your first opportunity and your coaches are like "great job, eat bench.") Per folks who look at these things closely, Michigan did mostly pave them, and declined to do things that would exploit UCF's blitz-happy approach on the ground.
What they did instead is let Wilton Speight go to work. Whatever ground game hiccups have increased the worry factor should be more than offset by Speight looking like a Harbaugh quarterback immediately. Michigan saw stacked boxes and responded by passing over and over again. Up 31-7, Michigan got the ball on its own 13 and threw five straight times to open their drive. After halftime they indicated they were not inclined to take the pedal off the metal by opening up a touchdown drive with back to back completions to Butt for a total of 40 yards.
I have seen some quarterbacks this year. I have seen LSU fans go bonkers because a Purdue transfer went 6/14 for 100 yards against Jacksonville State. I have seen Clayton Thorson rack up seven points against Illinois State. There's a ton of collar-pulling across college football when new quarterbacks step in, no matter their age or hype level. Harbaugh has none of that with Speight. UCF set up to deny the run so Michigan rained it on their heads.
[Upchurch]
There wasn't an ounce of hesitation, and I was reminded of the quarterback press availability a week or so before the season. Speight sat down and told the assembled reporters that he flat-out expected to start. That was a confident read. It went with his spring performance, and now 50 throws into his starting career we have a bonafide trend. Wilton Speight is a man who knows where he wants to go, and would like us to come with him. Even if we are a crusty, crustaceous people.
HIGHLIGHTS
Parking God:
WD:
MGoVideo has the Harbaugh postgame and Inside Michigan Football.
AWARDS
[Upchurch]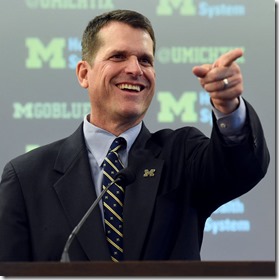 Known Friends And Trusted Agents Of The Week
you're the man now, dog
#1 Wilton Speight completed 68% of his passes despite three drops on routine balls, cracked 300 yards, was still super accurate on everything under 20 yards and good on longer throws, and dealt with an unfortunate amount of pressure with aplomb.
#2 Ryan Glasgow had a dominant defensive game on the interior, sussed out a dangerous screen for a TFL, and just about ran down a track star on the 87 yarder. His range is completely absurd for a nose tackle.
#3 Jabrill Peppers led Michigan with eight tackles, two of them TFLs, added two hurries on top of that, returned a punt 35 yards, and was not responsible for much of the scramble or screen yardage ceded.
Honorable mention: Jehu Chesson and Amara Darboh were locked in and excellent. Erik Magnuson and Grant Newsome shut out the men trying to rush on them.
KFaTAotW Standings.
3: Mike McCray(#1, Hawaii), Wilton Speight (#1 UCF).
2: Jabrill Peppers (T2, Hawaii; #3 UCF); Ryan Glasgow(#2 UCF).
1: Delano Hill (T2, Hawaii).
0.5: Chris Evans (T3, Hawaii), Mason Cole(T3, Hawaii).
Who's Got It Better Than Us Of The Week
This week's best thing ever.
No sir, no Early Season Jake Rudock this year.
Late Season Jake Rudock… ask again later.
Honorable mention: BLOCK ALL THE KICKS; Peppers forces a fumble with authority; Rashan Gary flashes end product on impressive sack; Speight hits Butt on a sweet corner route for a TD in tough circumstances; Michigan inserts Chris Evans at upback so they can't pop it up and UCF panics and kicks it out of bounds; Chase Winovich sack/strip results in a turnover.
WGIBTUs Past.
Hawaii: Laughter-inducing Peppers punt return.
UCF: Speight opens his Rex Grossman account.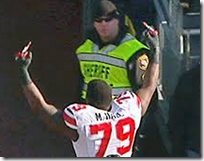 MARCUS HALL EPIC DOUBLE BIRD OF THE WEEK.
This week's worst thing ever.
Dymonte Thomas gives everyone the heebie-jeebies by failing to tackle a dude for like 20 yards and instead he goes 87. Also worrying about this play: the eerie similarities between it and the late season problems last year's defense had.
Honorable mention: Michigan Stadium has collective hallucination that Jake Butt dropped not one but two passes; various QB scrambles caused by bad contain; Kenny Allen drops the snap on a punt; several run plays are thunked in the the backfield.
PREVIOUS EPIC DOUBLE BIRDs
Hawaii: Not Mone again.
UCF: Uh, Dymonte, you may want to either tackle or at least lightly brush that guy.
[After THE JUMP: SPEIGHTDOWN, also bad thing discussion]