Neck Sharpies: Picking Apart a Snag
The last few years Michigan moved toward becoming a major Cover 1 defense, and that looks to continue under Don Brown, whose BC teams were in a Cov1 ("City") over half the time.
Last weekend I noticed more than a few opponents (and non-opponents) were practicing Cover 1 beaters in their spring games. So I thought I'd show one from Ohio State's that I found particularly interesting. Hoping the coaches will chime in on this one since I'm not sure of everything I saw. Here's the play: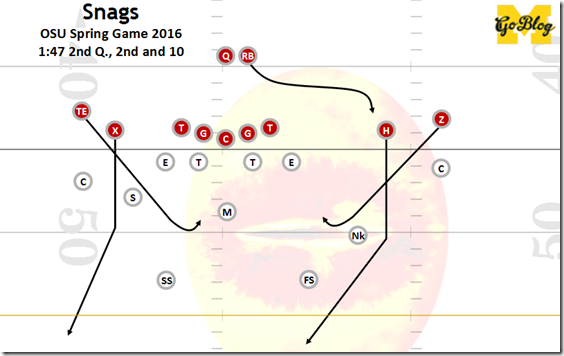 It's a snag package, a thing we talked about in the Borges days because it's a good way to create those triangles that work against all coverages. Smart Football at that link:
The snag is so synonymous with the triangle concept that some teams simply call it "triangle." The basic concept involves one receiver in the deep third on a corner route (good by itself against man-to-man), one receiver in the flat, often a runningback or inside receiver (which can also be good against man from a bunch-set), and a third receiver on the "snag" route, sometimes also known as a "slant-settle" or a "mini-curl."
Building triangles is high up in the scale of offensive complication, because you're asking the quarterback to ID the coverage and read multiple defenders.
However the first rule of Urban Meyer offenses is keep the thinking to a minimum* and lo and behold their snag isn't really being run like a triangle. On this play Ohio State doesn't even bother setting the high-low on the corner. Instead they set some picks on the outside to make it unlikely a CB will be able to cover the stick routes, draw off the rest of the coverage, and isolate the middle linebacker, giving the QB a simple read: See which way the MLB turns his hips, and throw behind him.
If that's not open, find a guy going long and loft it. And if they're not there, run around.
---------------------------
* [This is NOT a statement about the academic capability of Ohio State quarterbacks. Keeping things simple is a thing coaches try to do for all players, not just the intellectually incurious ones who've never heard of Uber.]
[Hit the jump to see how it works vs. man coverage]