"Support The Troops" Is Not An Argument
9/13/2014 – Michigan 34, Miami (Not That Miami) 10 – 2-1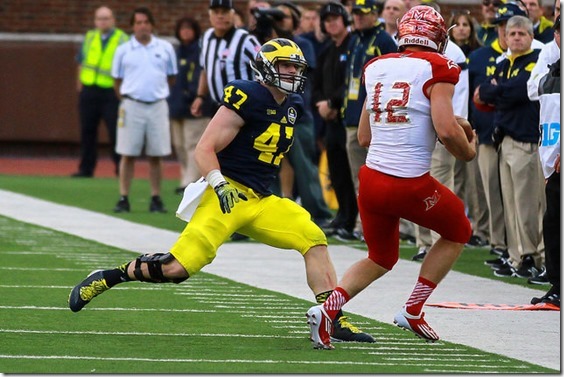 Jake Ryan did a good job of not blowing up Hendrix for penalties [Eric Upchurch]
Michigan Stadium was a roomy place on Saturday, somewhat full of cranky people waiting for an opportunity to vent their ire. They held their fire after a Gardner interception; they held their fire when Michigan was tied 10-10 with a team that hadn't won a game since 2012 midway through the second quarter.
This was a bit of a surprise. Hell, the 1997 team(!) got booed at halftime of their game against Iowa when they went into the locker room down 21-7. (This was definitely performance-related, exacerbated by a late Tim Dwight punt return touchdown. The tenor of the boo was WE KNOW YOU ARE BETTER THAN THIS LET'S GOOOO and when they came out of the locker room the corresponding cheer was much louder than it usually is. But damn we used to have some expectations.)
In 2014, after seven years of mostly unrelenting failure, on the heels of a humiliating shutout in the Last Notre Dame Game, I was expecting more audible grumbles. Michigan fans held off, possibly too stunned by last week to do anything but meekly absorb events in front of them.
Then Michigan took a delay of game penalty (after a timeout!) and decided to punt from the Miami 37 with a minute left in the half. This was pure coaching malpractice that reminded a grumbly Michigan Stadium of last year's Penn State game. The boos rained down. It was loud. It was grumbly. It was statistically accurate.
--------------------------------
As the game rolled along and Michigan proved themselves about as superior as you'd think they should be, this game receded from the hateful constellation of lower-level matchups that turned into stomach-churning wins or even losses.
When you end up giving up fewer than 200 yards to an opposing offense you've established that they are very bad and you are not. Eventually Michigan's ground game kicked in and put up similar YOU ARE BAD numbers. Erase some pretty random turnovers (deflected pass at the line, redshirt freshman pop-up kickoff fumble) and this is 45-0 or thereabouts.
I know you don't believe turnovers are random, person on the internet who I am anticipating a "LOL" comment from, but even you have to admit that when a throw goes from probably on target to directly in the chest of an opposing player because it glances off a fingertip that's just life giving you the middle finger, and not—oh you just said MAKE PLAYS in seriousness on the radio nevermind this sentence. Players make plays. Etc.
Anyway: in retrospect I am not stressing about this game.
I was in the second quarter, like everyone else, and while I didn't actually boo—I am in the too-shocked-to-do-anything club—I agreed with it. What's more, I deeply appreciated that the people still mad enough to let someone know about it waited for  the perfect moment.
-------------------------
When Pat Fitzgerald was asked about Northwestern fans being upset in the aftermath of the Wildcats' 0-2 start, he responded thusly.
"No shit."
This is a press conference answer to get behind. It is brief, quotable, and addresses the situation. Fitzgerald is not surprised that fans are upset; he is upset (he called the team "an embarrassment to anyone that ever put on the purple and white"); fans should be too.
When Brady Hoke was asked an open-ended question about his message to the fans, he said this:
As far as the fans that watch from the outside and see some of the similar issues that they saw last season, what would you say to them and how concerning is it as a coaching staff?

"If they're truly fans they'll believe in these kids and what they've done and the hard work that they've put in. If they're not, they won't."
To the great misfortune of someone whose words are repeated verbatim on the internet, he would later claim to be misquoted. At least he has been told that knocking the fans who pay his salary and are currently leaning towards "tar and feather" over "put FOR SALE signs on front lawn" is not great, Bob.
But he has succumbed to the post-9/11 Godwin's Law: eventually someone in charge of the troops is going to tell you to support the troops, because he thinks that's the best argument he's got left. You think knocking over tinpot dictators halfway across the world with no real hope of installing anything that won't collapse the minute you leave is a bad idea? Support the troops, buddy. Why don't you support the troops?
So kudos to Michigan Stadium for holding its fire until the guy on the sideline with the timeout blundered his way into a fourth and eleven punt that went into the endzone on the fly. It was 1000% clear who was and was not supported at that moment.
Michigan is at least tolerant of the troops even when they're struggling against Not That Miami. Michigan is pissed off at the guys in charge. No amount of deflection will hide that fact.
Highlights
Awards
Brady Hoke Epic Double Points Of The Week. #1 is Derrick Green, who was often the recipient of gaping holes but hit them and even made some yards himself.
#2 is Jourdan Lewis, who turned in excellent coverage all day and came up with an excellent interception.
#3 is Brennen Beyer, because it is impossible to really distinguish between the various guys whipping up on Miami's OL but Beyer got a sack.
Honorable mention:
Epic Double Point Standings.
6: Devin Funchess (#1, APP, #1 ND)
3: Derrick Green(#1 MIA)
2: Devin Gardner (#2, APP), Willie Henry (#2 ND), Jourdan Lewis (#2 MIA)
1: Ryan Glasgow (#3, ND), Brennen Beyer(#3 MIA)
0.5: Kyle Kalis (T3, APP), Ben Braden (T3, APP)
Brady Hoke Epic Double Fist-Pump Of The Week.
For the single individual best moment.
This was a one yard run but let us sit and savor the fact that even against a terrible defense Michigan had a touchdown that looked like this.
[Upchurch]
Honorable mention: Jake Butt shakes free for a fake screen(!) touchdown, something we haven't seen since Hoke's arrival. Jourdan Lewis runs a guy's fade for him, picks off a ball thrown too far inside. Dennis Norfleet and the KO unit execute a right-sided return on a kick to the left out to the 50. Derrick Green breaks backside and breaks a tackle for a 20-yard gain.
Epic Double Fist-Pumps Past.
AppSt: Derrick Green rumbles for 60 yards.
ND: Nothing.
MIA: Derrick Green scores a goal line touchdown without being so much as touched.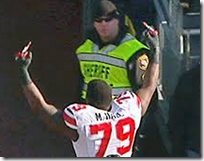 MARCUS HALL EPIC DOUBLE BIRD OF THE WEEK.
Worst. Event. Ever. This Week.
Devin Funchess standing on the sideline because Michigan threw him a bubble screen halfway through the fourth quarter of a 31-0 game.
Honorable mention: Delay of game ack ack ack, Gardner interception (deflected, FWIW), kickoff mishap, Darboh fumble, various early runs that didn't go anywhere.
PREVIOUS EPBs
AppSt: Devin Gardner dares to throw an incomplete pass.
ND: Countess nowhere to be found on fourth and three.
Miami: You did what to Funchess now when?
[After the JUMP: getting it together, strangling the opposing offense, and goodbye gun.]