This Week's Obsession: Senior Sendoffs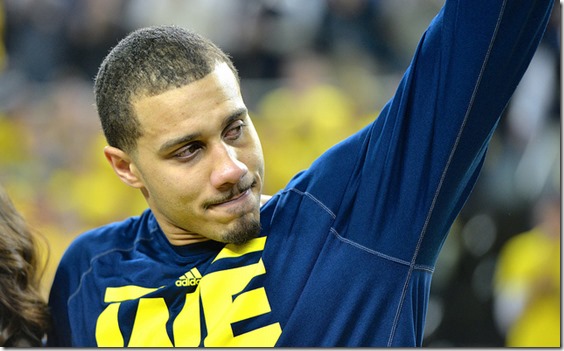 Fuller
The Question:
Ace: Since Michigan just had a low-key Senior Day to send off Max Bielfeldt, this seems like a good time to ask: What's your favorite Senior Day memory? (Any sport may apply.)
-----------------------------------------
The Answers:
Dave Nasternak: Back when I was in school—while Football was just starting its decade+ of beatdowns to OSU and Basketball was...well, it was pre-Beilein (mostly)- the place to be for sports in Ann Arbor was Yost. My Senior Day story(s) come from the Ice Hockey team. Hockey in the CCHA was weird. Not bad, but weird. If you were good enough -and Michigan generally was- you hosted a playoff series at home after the regular season had ended. So, while there was Senior Day, there was also Last Game At Yost Day. In the 06-07 year, TJ Hensick's Senior Day came super early.
Guest starring Jeff Tambellini. Bork!
It was February 3rd. It was the back end of a home-and-home against Western. Michigan won 3-1 but...it was relatively uneventful and everyone knew we'd see the seniors for one last series. They somehow managed to play 3 more series of road or neutral ice games before finally coming back to Yost for the CCHA Quarters. After disposing of Western in Game 1 of a best of 3, we knew Game 2 would be it.
It was really bittersweet for me. I was also a senior and while I hoped to get into Grad School at M, I thought it could be my last game at Yost, as well. TJ Hensick might have been my favorite M athlete when I was in school. He burst onto the scene as a freshman, leading the team in points. He would end up leading the Wolverines in scoring 3 of his 4 years, finishing 2nd in his sophomore year.
After his junior season, I'd read that Hensick was close to signing with the Avs, but decided to give it one more go at Yost. While the year didn't end up the way any Wolverine dreamed, Hensick had another phenomenal year. In his Last Game At Yost, Hensick didn't disappoint. He tallied 4 points, 3 of them being goals for his only career hatrick at home (I'm pretty sure). Michigan won very comfortably, 8-3. While Michigan has had a handful of great players since -Porter, Kolarik, Hagelin, Hunwick, now Hyman- there hasn't been another Mighty Mite center (especially with that kind of puck control) since. I taped Hensick's Last Game At Yost (on VHS!!) and later converted it to dvd. I still get a little choked up, watching it.
A season later, Kevin Porter's last series at Yost was also a weekend to remember, including The Day That Yost Changed. My bronze medalist might be Chris Perry's Senior Day, as I made it onto the field as a wide-eyed freshman...but I'll leave those games for someone else.
[Hit the JUMP for Swedish flags, the one that preceded Molly, and some non-hockey we swear]