Previously: Podcast 7.0. The Story. Quarterback. Running Back. Wide Receiver. Tight End And Friends. Offensive Line. Defensive Tackle. Defensive End. Linebacker. Cornerback.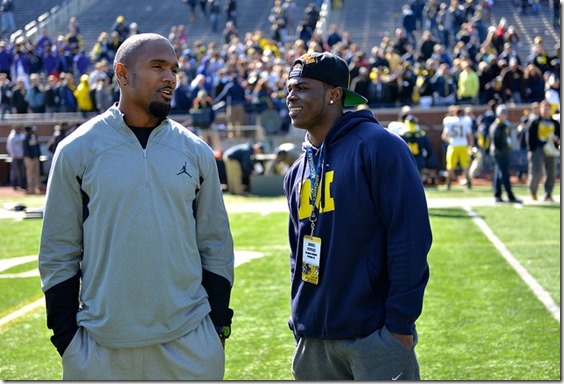 we have very reasonable expectations [Fuller]
| Free Safety | Yr. | Strong Safety | Yr. | Nickelback | Yr. |
| --- | --- | --- | --- | --- | --- |
| Jarrod Wilson | Sr. | Jabrill Peppers | Fr.* | Jabrill Peppers | Fr.* |
| Dymonte Thomas | Jr. | Delano Hill | So.* | Wayne Lyons | Sr.* |
| Wayne Lyons | Sr.* | Jabrill Peppers | Fr.* | Dymonte Thomas | Jr. |
So, JARROD WILSON…
Never be too proud to recycle a joke, I say. I know what you animals want. You want the man I've listed on half the depth charts in this preview, most of them at least semi-seriously. You want…
HYBRID SPACE PLAYER: NICKELBACK WITHOUT THE NICKELBACK CONNOTATIONS, YOU KNOW, THE BAND, BOY DOES THAT BAND SUCK THEY'RE JUST NOT GOOD AT MUSIC OR BEING ALIVE
RATING: 4
[Eric Upchurch]
Everyone all together now: the hybrid space player is a reaction to the spread offense. He must be a triple threat, capable of blitzing, playing the run, and covering. He is very very important. They made Charles Woodson into a hybrid space player right before he was the NFL's defensive MVP, because the NFL is basically a passing spread league:
NFL offenses are identifying the nickel corner as a key part of any defense. "This varies from defense to defense, but the amount of your sub package that you play nowadays — because we're seeing more three wide receivers on the field — your inside player is going to play as many, if not more plays," Capers says. "You could be in some form of your sub defense two-thirds [of the time]." The number Hayward throws out is 75 percent; Whitt says 80. No matter the math, the point is that the nickel cornerback is as much a "starter" as any other spot in the defensive backfield.
Michigan State's lack of appropriate HSPs last year led their defense to get torched by every decent spread they came across, because said spreads would put their #1 receiver in the slot and run 'em at MSU's inexperienced safeties, who were not cornerbacks. This has been your hybrid space player preview review.
So… JABRILL PEPPERS [recruiting profile]. This is a man that has been hyped to the moon. Tellingly, his coaches aren't trying to put the brakes on. They have in fact shoveled on a little more coal. Harbaugh in spring:
"He's been A-plus, he really has, all spring. He was just out there taking reps. … A lot of times a guy'll get in the front of a drill, which he would do, but he would go through the repetition of the drill and I'd see him back in the front again and then again. It's like, 'Hey, come on. Jabrill Peppers isn't taking every rep in these drills.' But that's the kind of youngster he is."
Harbaugh again in this fall:
"He's been good, he's been all the things that have been advertised about him. He's a tremendous football player."
The spring game indicated that Michigan had in fact built its defense around him playing HSP/nickel/whatever:
Under Hoke it was difficult to tell who was the strong safety and who was the free safety. That will not be the case this year, as Jabrill Peppers was operating as a lightning fast outside linebacker for big chunks of the game. He tattooed running backs in the backfield more than once.

Peppers barely left that location. When Michigan went to a nickel package they did so by bringing in an extra safety and leaving Peppers over the slot, where he nearly caused an interception by breaking on a quick slant to Bo Dever.
That was the plan last year as well, but even before he got hurt Michigan was forced to adapt. Press coverage was a disaster in the Notre Dame game and Raymon Taylor was out, so Peppers was delployed as a boundary corner in the Miami (Not That Miami) game. (That's a spot he may resume if things don't go well with Stribling and Clark; he has been repping there a bit this fall.)
Miami did people wishing to have any useful scouting from Peppers's freshman year a favor by going at him over and over again on the usually-sound principle that freshmen seeing their first extended action should be slow-roasted until they can be pulled apart with forks. That didn't go the way the Redhawks thought it might.
They did get one completion on him, that a bullet skinny post against zone that Peppers still got a rake in on. His first extended playing time looked pretty damn exciting, and then his knee locked up and it was goodbye season. There are a ton of fascinating counterfactuals from the last year of Michigan football; "what if Jabrill Peppers is healthy?" is one of the best. Does he end up the starting running back halfway through the season? Does Michigan lose to Rutgers? (A: no.) Does Brady Hoke eke out his job at 7-5?
Anyway. That's in the past.
Also in the past is his high school scouting, but other than a bunch of talk and those clips above it's all we have to go on. Also it is fun to revisit, so let's revisit it.
"Peppers is a rare athlete with potential to be great at the next level. He is one of the most talented players I have ever seen at the high school level. At 6-foot-1, and 205-pounds, Peppers has college ready size to go with un-matched speed and explosiveness."
Also
USC coach: "Holy s---, that's him? I've only seen two players in high school with a body like that and both of them are named Peterson [Adrian and Patrick]."
And this player comparison is a damn good one.
"I think his impact on the game [would be maximized by] letting him roam around a little bit and freelance and let him play – an Eric Berry style of safety where they would walk him up. I mean, Eric Berry had 15 tackles for loss.  He is that kind of a player.  Eric Berry, I thought, was maybe the best player in college football a couple of years ago."
That remains the mission. Be Eric Berry. Or Woodson. Judges will accept either.
I know it's a lot to heap on a dude who's barely seen the field but every indicator from the program is that this gentleman is the real deal both on and off the field. He will start living up to the hype this year.
[After THE JUMP: how many shoes are you wearing stop throwing them]