The Joe Flacco Question
11/5/2016 – Michigan 59, Maryland 3 – 9-0, 6-0 Big Ten
[Bryan Fuller]
It actually wasn't any of the deep shots that really caught my attention. It was a slant to Darboh. Play action, linebackers suck up and recover, too late. Wilton Speight fired a rifle shot into Darboh's hands that allowed him to continue without breaking stride. I thought oh no, I have to say this is happening, because that was approximately the sixth eyebrow-cocking throw of the afternoon.
So. This is happening. Here is that column I couldn't write earlier this year. I am writing it now, after three games in which Speight has averaged 12 yards an attempt, after various stats have rejiggered themselves into eye-popping arrangements three-quarters of the way through the college football regular season, after Jim Harbaugh asserted that Jabrill Peppers wasn't the only Michigan player who deserved your Heisman consideration and was met with thoughtful recalibration instead of laughter.
You've seen it with your own eyes on spins out of the pocket and inch-perfect deep balls as Speight continues to refine the high school version of himself into a cross between John Navarre, Ben Roethlisberger, and a production of Swan Lake staffed entirely by bears. At one point Speight scrambled for a touchdown and did some sort of insane flying ballerina move as he crossed the goal line.
wheeeeeee this is fun I didn't know I could move faster than a koala
Your eyes are like "did I just see that" and your spleen is like
I DON'T KNOW!
YOU'RE THE LOOKING PART!
I JUST SIT HERE AND GET NERVOUS SOMEONE'S GOING TO PICKLE ME!
because spleens are like that man. Just venting, like Jim Harbaugh failing to get an extra yard on review after picking up second and thirty-four.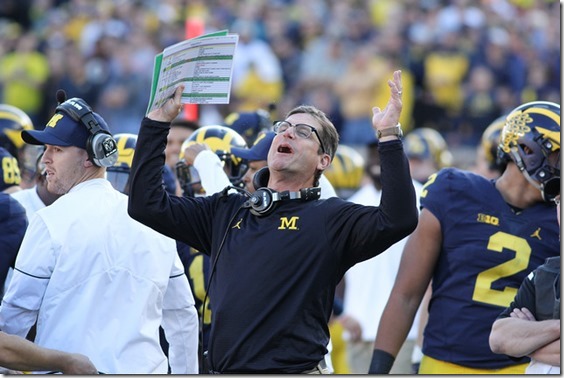 BALDERDASH [Eric Upchurch]
Since your eyes are clearly not up to the task of confirming or disconfirming what the hell is happening at the most important position in football, here are some numbers. They are rather optimistic given that said eyes spent half the season worrying Speight was going to sink Michigan when crunch time came around:
Speight's 8.9 YPA leads the Big Ten by almost a half yard and is 11th nationally.
His 15-3 TD/INT ratio is second in the Big Ten to JT Barrett (21-4).
His passer rating is now five points clear of Perry Hills for best in the league and is 14th nationally.
He's fifth nationally in ESPN's QBR metric, which accounts for rushing yards and SOS.
S&P+ now has Michigan's passing attack third(!) in the country.
That latter measure filters out garbage time and attempts to adjust for schedule strength. For that to be an improvement on the raw numbers is rather something. A major reason is that they've played S&P+'s #3 (Wisconsin), #8 (Colorado), and #15 (Penn State) defenses. They got lucky with Penn State's linebacker issues, but Michigan kept Garrett Sickels in check just fine during that game and he was rampant against OSU.
Speight was again mostly clean in this game but hardly noticed pressure except to spin out of it and make something productive of it, whether it was a bomb to Chesson or a seven-yard scramble that is probably still ongoing or finding the guy who blew the protection for a first down. His receivers certainly help. But this was a game where he lost a fifty-yard completion to an offensive pass interference call and still posted ludicrous numbers.
-------------------------------------------
Is Wilton Speight elite? I don't know, man. This is a considerable improvement from "lol no" before the bye week and is trending in a spectacular direction. His last 72 attempts are elite, and with every game he moves towards a simple "yes." This is the second straight year a Michigan quarterback has muddled around for half a year before an exponential explosion in competence.
In addition to all the other ways Jim Harbaugh is a difference maker as a head coach he has this. There is no better quarterback coach in football. Every one of his charges exceeds expectations.  Often when he or they move on the player in question never recaptures his form. Is Wilton Speight elite? Ask again later. Is Jim Harbaugh elite? Cumong man, that's not even worth asking.
This team no longer feels like an elite defense with an offense scraping by, a la 1997. With Speight dropping bombs on all comers, it feels like... I have no idea. No Michigan team in my experience has spent an entire season bombing everyone they come across. Michigan has three top fifteen wins and the only reason any of those was within three scores was Kenny Allen having a miserable day against Wisconsin. You'd have to go back to the 70s to find a Michigan team that can end almost every game it plays in the first half.
Bo never managed to complete his task, because his quarterbacks were never state of the art. Jim Harbaugh emphatically does not have this problem. Ohio State? Bring 'em on.
HIGHLIGHTS
parkinggod:
AWARDS
[Fuller]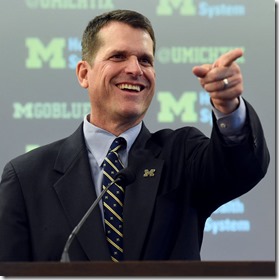 Known Friends And Trusted Agents Of The Week
you're the man now, dog
#1 Wilton Speight had the greatest first half in the history of Michigan football quarterbacking, per statistics and Jim Harbaugh. He finished with an absurd 15 yards an attempt and is now the Big Ten's clear leader in passer rating and YPA; he also ran(!) for a touchdown that he finished with weird ballerina flair(!!!).
#2 Jourdan Lewis never gets on these lists anymore because for the most part nobody is trifling with him. A hat tip to Maryland for multiple shots down the sideline resulting in 3 PBUs, zero completions, and one uncalled OPI.
#3 Taco Charlton almost literally does not show up in the box score. He got a half sack and no other tackles. Do not let this color your opinion of his game: dude was on fire, repeatedly hammering into the backfield when Maryland ran inside and getting pressure on just about every dropback only for his friends to clean up most of it.
Honorable mention: Jehu Chesson had a breakout game with 112 yards; Jake Butt is now Michigan's all-time leader in receiving yards from a tight end; Deveon Smith managed 6 YPC with a long of 14, which is super hard to do; Maurice Hurst was a constantly disruptive presence; Ben Gedeon had three TFLs and did an excellent job on the edge.
KFaTAotW Standings.
10: Wilton Speight (#1 UCF, #1 Illinois, #3 MSU, #1 Maryland)
9: Jabrill Peppers(T2, Hawaii; #3 UCF, #1 Colorado, #2 Rutgers, #2 MSU)
5: Ryan Glasgow(#2 UCF, #1 UW).
3: Mike McCray(#1, Hawaii), Ben Gedeon(#3 Colorado, #3 PSU, three-way T1 Rutgers), Amara Darboh(#1 MSU), Jourdan Lewis (#3 UW, #2 Maryland), Taco Charlton (three-way T1, PSU, same vs Rutgers, #3 Maryland).
2.5: Karan Higdon(four-way T2, PSU, #2 Illinois).
2: Jake Butt(#2 Colorado), Kyle Kalis (#2 UW), Chris Wormley (three-way T1, PSU, same vs Rutgers),
1: Delano Hill (T2, Hawaii), Chris Evans (T3, Hawaii, four-way T2, PSU),  Maurice Hurst (three-way T1, PSU),  Devin Asiasi(#3 Rutgers), Ben Braden (#3 Illinois).
0.5: Mason Cole(T3, Hawaii), De'Veon Smith (four-way T2, PSU), Ty Isaac (four-way T2, PSU).
Who's Got It Better Than Us Of The Week
This week's best thing ever.
The throwback bomb from Peppers to Speight to Chesson was entirely unnecessary, entirely awesome, and caused a purported journalist to descend into a hissy fit.
Also a great throw on a route that's not as open as it could have been on a trick play.
Honorable mention:
WGIBTUs Past.
Hawaii: Laughter-inducing Peppers punt return.
UCF: Speight opens his Rex Grossman account.
Colorado: Peppers cashes it in.
PSU: Wormley's sack establishes a theme.
UW: Darboh puts Michigan ahead for good.
Rutgers: Peppers presses "on".
Illinois: TRAIN 2.0.
MSU: lol, two points.
Maryland: very complicated bomb.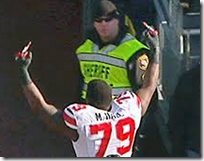 MARCUS HALL EPIC DOUBLE BIRD OF THE WEEK.
This week's worst thing ever.
Either Channing Stribling whiffing on a reverse he'd put himself in great position on or Mike McCray getting juked and edged by Lorenzo Harrison, because both of those incidents confirmed issues from the Michigan State game and indicated a weakness in this defense.
Honorable mention: Maryland breaks the shutout with a field goal; Speight turfs a bubble screen to Peppers that would probably have scored; Michigan gets stuffed on fourth and short; that one time they almost punted.
PREVIOUS EPIC DOUBLE BIRDs
Hawaii: Not Mone again.
UCF: Uh, Dymonte, you may want to either tackle or at least lightly brush that guy.
Colorado: Speight blindsided.
PSU: Clark's noncontact ACL injury.
UW: Newsome joins the ranks of the injured.
Rutgers: you can't call back the Mona Lisa of punt returns, man.
Illinois: They scored a what now? On Michigan? A touchdown?
Michigan State: a terrifying first drive momentarily makes you think you're in the mirror universe.
Maryland: Edge defense is a confirmed issue.
[After THE JUMP: Happy Maryland fans.]