MGoPodcast 9.15: Not This Down
1 hour and 54 minutes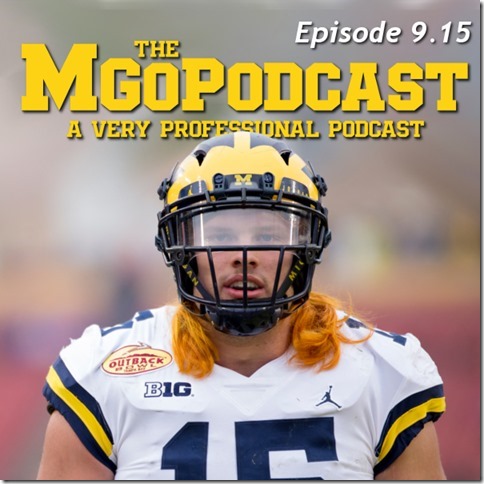 We are at the Residence Inn Ann Arbor Downtown, which has nine or ten conference rooms depending on if we count Wisconsin's loss to Rutgers in basketball.
We Couldn't Have One Without the Other
We can do this because people support us. You should support them too so they'll want to do it again next year! The show is presented by UGP & The Bo Store, and if it wasn't for Rishi and Ryan we'd be sighing to ourselves.
Our other sponsors are also key to all of this: HomeSure Lending, Peak Wealth Management, Ann Arbor Elder Law, the Residence Inn Ann Arbor Downtown, the University of Michigan Alumni Association, Michigan Law Grad,Human Element, Lantana Hummus and new this week introducing Ecotelligent Homes
---------------------------------
1. The Bowl Game Happened, and Hey, a Basketball Game!
starts at 1:00
Hit Kenpom Time at 7 minutes, positive step forward for the program despite getting almost nothing from Mo and Matthews. Very different to want Z taking shots. Getting Robinson back to the bench, where he can be on the floor with Teske, is the best part of starting Livers. Typical Beilein team coming together, Teske earning equal time. Best shot at a tourney win is beat Purdue at home—RPI hell going to put a good team on the 10 line. RPI should please adopt hockey's adjustment where if a win would lower your RPI they drop it. Does Poole need a Xanax or roll with it?
2. The Bowl Game Happened, We'll Talk About It
starts at 32:14
Every quarterback who played this year regressed. Losing the mash brothers lost the running game. Standard crazy good D with a big safety crack on a slot fade. Not upset with the direction of the program; upset with the takes this year invited. No excuse for pass protection to be THIS bad.
3. Next Year
starts at 46:17
Defense returns Don Brown and 10-ish starters, with some backups in line for breakouts. One guy they lose is the best DT in program history but deeper team could murder a la 2016. Bring back two elite LBs with a lot of good backup options, and possibly the two best CBs in the country plus Ambry Thomas.
Offense seems pretty bad. Looks like another staff shakeup coming. RB should be fine, Ben Mason is fine at fullback, Gentry/McKeon will improve, get more from Eubanks and Wheatley. WRs won't be all freshmen anymore. Interior OL has to get better at pass pro. Bredeson needs a jump next year since he doesn't fit with the mash-you unit. Gotta find two tackles, can probably find at least one?
Special teams: Gotta find a punter, Nordin good.
4. Star Wars: The Last Jedi wsg Richard Hoeg of HoegLaw
starts at 1:13:28
One of our advertisers wrote a viral Star Wars take so we invited him on. Brian loathed The Force Awakens for making a 2016 remake of IV. Agree there was a Marvel-ish iconoclasm to it—this bothers Richard and Brian thinks this series badly needed it. Ryan Johnson got a crap sandwich and figured out a way to make the third movie not Return of the Jedi. Do you want Windsurfing Skywalker? Casino planet too ham-handed—important for plot because it sets up a bigger galaxy that hates the First Order.
MUSIC:
"X"—Xzibit
"Fiery Crash"—Andrew Bird
"Star Wars Theme Kazoo Cover"—Morpeef
"Across 110th Street"
THE USUAL LINKS
Kylo-Ren. Kylo-Rey is like they're now dating. You're shipping them.