Upon Further Review 2017: Offense vs Air Force
SPONSOR NOTES. Just recommended HomeSure Lending to a friend and it's weird that I have to say "you should know this guy sponsors us," because I actually would recommend Matt even if that was not the case because when we refi-ed our house I had quotes for various mortgage lengths very very quickly.  The deal was done in a flash.
But yeah like he does sponsor us, which is even better. It's nice to have sponsors you can actually recommend with a clear conscience, especially because they have never paid a dime to the Larry Culpepper guy.
FORMATION NOTES. Air Force runs a 3-4, but it's not like that. Whereas your conventional 3-4 has big guys who two-gap, Air Force has little guys. It's a one-gap 3-4, if you will.
The NT almost always shaded between the C and G in a one tech, with four linebackers in the traditional 3-4 umbrella. Sometimes head up with the same umbrella, and check those safeties on first and freakin' ten: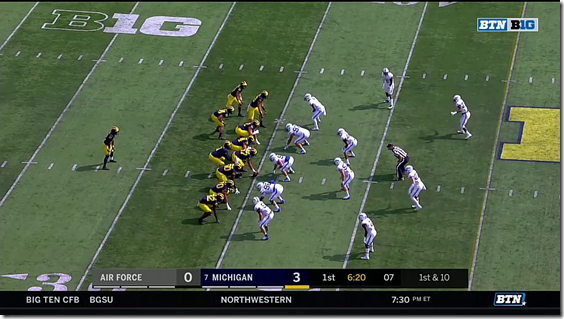 Now, there are a ton of very obvious ways in which this is not at all the 3-3-5 stack Michigan runs. Air Force doesn't stack their linebackers, for one. They rarely insert an OLB between their DEs as anything other than a twist blitz; Michigan is constantly making Furbush an extra DL. AF just about always shaded their NT instead of running a zero-tech, and they had a clear weakside and strongside end, with the strongside end basically a DT. Michigan's DEs have run identical techniques for the duration of the season. Also there is not a withdrawn MLB like Bush; instead two ILBs.
These are the ways in which Michigan's defense is not at all like Air Force's, which is a one-gap 3-4.
SUBSTITUTION NOTES. The regular at QB and OL. Onwenu got pulled for the last three plays of the final drive, with Runyan coming in. Isaac was the starting RB and got the bulk of the work; Evans was pulled after his fumble until late, when Isaac went out with a minor injury. Mason one snap at FB, with the seniors going the rest of the way.
WR was Black, Crawford, and DPJ outside with cameos from Schoenle on running plays. That's getting into a major play tip zone, though Black's injury might change that. Perry got most of the run in the slot; McDoom had maybe a dozen snaps, and not all were jet stuff.
Tight end was the usual rotation of everyone, minus Wheatley. He had a ding that held him out. Also I might not have seen Eubanks? I don't think I saw Eubanks. Bunting is losing ground, BTW, to McKeon and Gentry.
[After THE JUMP: the bone! oh if only]