Armageddon Again
11/17/2018 – Michigan 31, Indiana 20 – 10-1, 8-0 Big Ten
Indiana was defeated. It was annoying, as per usual. The method was different this time. 
----------------------------
It's here, again. Football Armageddon. The last time I called a game Football Armageddon it was 12 years ago, when Michigan and Ohio State were both undefeated. Michigan ripped off a slick touchdown drive to start things off, and in the Ohio State student section I thought to myself "we're a third of the way home."
This was incorrect. Michigan's defense played three inside linebackers the whole game against Troy Smith, gave up 500 yards and 42 points, and blew an opportunity to get the ball back when Shawn Crable hit Smith in the helmet on a scramble. The 2006 defense featured Alan Branch, Lamarr Woodley, Leon Hall, David Harris, four guys with decade-long NFL careers. They whooped up on everyone, but within were the seeds of the past decade of Michigan football. Michigan had one cornerback: Hall. Morgan Trent couldn't change direction with a sail and a headwind, and when the starters got pulled against Ball State two weeks prior the Cardinals mounted a comeback that ended in Michigan's redzone down only 8.
The two corners who came in against Ball State were Chris Richards, the defensive coordinator's godson, and Johnny Sears, a kid from Fresno who'd never played a varsity game when Michigan offered him. They saw him at practice. (Practice! We're talking about practice!) Eight months later Michigan would field Sears as a starter in The Horror, in which a cut-rate Troy Smith exploited the same tactical naivete Smith had to hand Michigan the worst upset of all time.
Football Armageddon really was Armageddon for Michigan, not because of anything Ohio State did to them in that one game but because they'd fallen behind the curve out of their own arrogance. Michigan's recruiting was increasingly lazy, dependent on guys who bothered to come to camp and random, uninformed guesses about players based on not enough scouting. They'd get about half a class of well-regarded and then pluck random dudes out of the ether for the rest. They'd singularly failed to adapt to the prevalence of the spread across college football, kicking off the Ohio State dominance that extends to the modern day.
When Lloyd Carr retired he asked the athletic director to interview the two sturdiest branches on his coaching tree: his coordinators. One, Ron English, had never been a head coach and was the architect of the Horror. The other, Mike DeBord, was 12-34 at Central Michigan before quitting because he wasn't a head coach. These were the options to keep it in the family.
2006 Michigan was Indiana Jones on a rope bridge. Ohio State was the guy with the machete leering from the safety of land, but it didn't create the situation.
----------------------------
Incredibly, improbably, amazingly: Ohio State looks like it might be on a bridge of its own devising. Michigan's culture caught up to them in a slow-motion avalanche that took half a decade. OSU's got blown up in a week by Brett McMurphy and Urban Meyer's callous disregard for anything but winning.
Since Zach Smith was exposed, Ohio State's house has morphed from bricks to cards. Every week (except Michigan State) brings a new sordid depth to their defensive issues. With JT Barrett off to pick up YAC in the Estonian league, the offense frequently fails to convert buckets of yards into points. There was a fourth and goal wide receiver screen against Purdue. Not incidentally, a 5-6 Purdue team that's going into the Bucket game looking for a bowl berth boatraced OSU 49-20.
The nature of the series with Michigan has already changed in the post-Durkin landscape. Michigan lost by a literal inch the last time they were in Columbus despite Wilton Speight fumbling on the goal line and throwing two miserable interceptions. Last's game was 21 Michigan players outplaying the opposition and the third-string quarterback tossing up a 14.3 QBR. This isn't Michigan scrapping and clawing because "throw the records out" and we'll go for two at the end of the game because we know what's what. It's Michigan getting hit by a red shell rounding the last corner.
They're there. They're good enough. They're legitimately elite by any metric you want to poke. Now they just have to do the damn thing. The consequences of failure do not bear thinking about. It's armageddon, again. Ohio State is a rope over an abyss. Sharpen your knives.
AWARDS
[Fuller]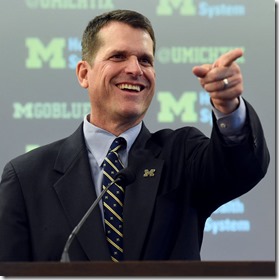 you're the man now, dog
#1 Devin Bush. Michigan lined him up next to Gary for a blitz and that seemed unfair and also please continue doing that forever. Twelve tackles, one of them to destroy a fake punt, and one critical fourth down PBU. Run issues were mostly things he was trying to mitigate and not things that could be plausibly put on him. Update: still good.
#2 Shea Patterson. Another game of almost ten yards an attempt. There were some hiccups, but the interception was an open guy on an RPO and it sailed because he got clobbered. The Gentry throw in the endzone… not so much. But the one after escaping the pocket, yeah buddy. Also chipped in 68 yards rushing. Which is a lot of yards.
#3 Rashan Gary. Had half that sack mentioned above plus a thunderous speed to power rush; 7 other tackles besides when Michigan really needed DL to step up.
Honorable mention: Zach Gentry had two big receptions and got interfered with twice… but maybe probably should have grabbed that ball in the endzone. Higdon had a workmanlike performance with some key broken tackles on short stuff.
KFaTAotW Standings.
10: Chase Winovich (#1 ND, #3 SMU, #1 NW, T2 MSU, T1 PSU), Shea Patterson (#3 WMU, #1 Maryland, #3 PSU, #1 Rutgers, #2 Indiana).
7: Devin Bush(#3 ND, #1 Nebraska, #1 Indiana).
5: Karan Higdon (#1 WMU, #3 Nebraska, #3 Wisconsin), Donovan Peoples-Jones(T1 SMU, #3 MSU, #2 Rutgers), Rashan Gary(#2 WMU, #2 Nebraska, #3 Indiana).
4: David Long(#2 Wisconsin, T1 Michigan State), Josh Uche (T2 NW, T2 MSU, T1 PSU), Jon Runyan Jr (T1 Wisconsin, T2 PSU), Zach Gentry(T1 SMU, #2 Maryland, T3 Rutgers).
3:  Juwann Bushell-Beatty(T1 Wisconsin), Jon Runyan Jr(T1 Wisconsin).
2: Ambry Thomas (#2 ND), Josh Metellus(#2 SMU), Brandon Watson(T1 MSU), Lavert Hill(T1 MSU).
1: Will Hart (#3 NW), Mike Dwumfour (T2 NW), Kwity Paye (T2 NW), Khaleke Hudson(#3 Maryland), Ben Bredeson(T2 PSU), Nico Collins(T3 Rutgers).
Who's Got It Better Than Us(?) Of The Week
Nick Eubanks scores his first touchdown at Michigan. An important moment in the game, sure. But his reaction afterward was a prayer to his late mom.
Honorable mention: Post-game news about Edwards and Winovich is positive. Moody hits a field goal X6. Rashan Gary stops Indiana's last drive before it starts.
​MARCUS HALL EPIC DOUBLE BIRD OF THE WEEK.
Berkeley Edwards suffers the scariest injury in Michigan Stadium in living memory after a cheap targeting hit on a kickoff return. Edwards is probably going to be fine, per Braylon, and he's tweeting, so… that's a mixed blessing. But mostly good!
Honorable mention: Chase Winovich is knocked out after a different cheap shot and is maybe unavailable for next week. The end of half debacle.
[After THE JUMP: cheap shots, other]