Note: MGoBlog did not manage to get on the right lists in time to be notified what was going down with the first practice and presser and whatnot and thus missed it. We should be set now and better able to act as a primary source on these things. For now we round up what other people saw.
I can haz secondary? Three items of personnel interest:
Jason Forcier has a locker but didn't practice. Michigan kind of thinks he might be eligible, then. He's not on the roster, though.
Marell Evans did practice. There were rumors he was briefly off the roster and may be flirting with a departure
Justin Turner and Adrian Witty did not practice, but remain on the roster and have lockers. Rodriguez thinks both will get cleared:

Still, Rodriguez remains hopeful both will be cleared to practice soon. He kept spots open for both on Michigan's 105-man reporting roster, and both have stalls waiting in Michigan's new locker room.

"I'm pretty optimistic and hopefully (Turner's) will be quicker," Rodriguez said. "But wait and see."
Speaking of said lockers, the Daily has a photoset from the day featuring Michigan's swanky new digs. But, uh, what doesn't belong in this picture?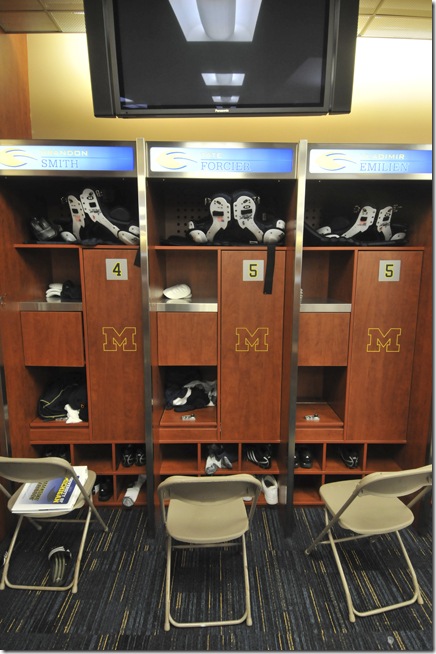 Flat screen TV… beautiful wood paneling… futuristic labels… chairs you wouldn't seat your grandmother on even if you didn't like her, you cad. Someone get some Aeron in there.
Throwin'. AnnArbor.com got some footage of the QBs throwing, though it was apparently taken by Michael J Fox:
Forcier's throws, unsurprisingly, look the sharpest. Despite that, uh, this was written by the Daily's Ryan Kartje:
-Nick Sheridan probably looked the most comfortable and well-refined on the field, compared to Denard and Tate. But no one is matching Tate's enthusiasm which had him jumping up and down for a good portion of the drills.
Dude, man, even if that's true I want you to lie to me. This is what I want to hear:
I won't make any bold predictions one practice into fall camp, but after watching Michigan work out for about an hour Monday without pads, I'd give Tate Forcier the easy edge in the battle to become the Wolverines starting quarterback.

The media was allowed to watch five periods of individual work Monday, and Forcier was much crisper in passing drills than fellow freshman Denard Robinson.
Kartje also reports that Robinson is fast but rusty and tends to throw screens way too high; Birkett says the quarterbacks are small, which uh yeah they are.
Eeeeeeee. Will Campbell at the Army game…
…Will Campbell in spring…
…and Will Campbell minus an average-sized fifth grader at practice:
Campbell has taken step one away from Gabe Watson-style disappointment*.
*(Not that Watson was exactly a disappointment: two-time All Conference and a solid NFL player. But he could have been All-American.)
Er? Is there a name in the wrong spot on this list?
The rough Day 1 depth chart at receiver: Greg Matthews went ahead of Junior Hemmingway in drills at one outside spot, and LaTerryal Savoy drilled ahead of James Rogers and Darryl Stonum at the other. At the slot, Martavious Odoms was first up in drills followed by Roy Roundtree and Terrence Robinson.
"Laterryal Savoy drilled ahead of Darryl Stonum" is only explicable if they did the order by numbers of Rs, Ys, and Ls in your first name. Other reports had Stonum dropping a lot of balls, which is not good if Michigan is going to have a deep threat this year.
They're going down in a blaze of glory. Michael Rothstein's come over to AnnArbor.com from his beat covering Notre Dame football at the Fort Wayne Gazette, so his viewpoint of the two programs will be an interesting one. Like for instance here:
At Notre Dame, the only music I ever remember hearing was on Thursdays, and that was a Charlie Weis-inspired playlist of Bon Jovi and Bruce Springsteen with a little bit of Crank Me Up worked in last year. At Michigan, music was going throughout a bunch of the practice that the media observed, everything from Soulja Boy to some old school rock. Definitely a variety for both the players and coaches.
No wonder ND can't run the ball.