Neck Sharpies: The Power Return
On Saturday Michigan put up six points on Northwestern on the opening kickoff, a lead the defense was so unlikely to relinquish you might as well say this game was decided by a footrace between Jehu Chesson and the Wildcats' kicker. As Harbaugh described it in the presser:
"106-yard return. The blocks were sharp and crisp. Timing was nearly perfect. 10 guys, 11 guys hustling and 10 of them blocking, blocking for Jehu and he got- he is the fastest player on the team. I know Jabrill said one of the fastest but he is the fastest, and he showed it today."
And our own Adam Schnepp got Butt on the record after yesterday's presser:
They hadn't really shown that on film where they were going to kick it there on the opening drive, but we knew they could potentially sky-kick it away from Jabrill and they did that to Jehu. We had the right return in anyway, so they kind of just gave us a counter. I had a kickout block and then we had like a wall built for Jehu. I mean, Jehu's a 10.3 100 guy. He just did the rest. You weren't catching him once he hit the open field.
I was still drawing it up when ebv posted an excellent writeup of the same. So at this point you might be sick of talking about it.
Nah.
I'll use some of his diagrams, and show you what happened.
Our Playcall: Return (our) Right
Here's how ebv made it look: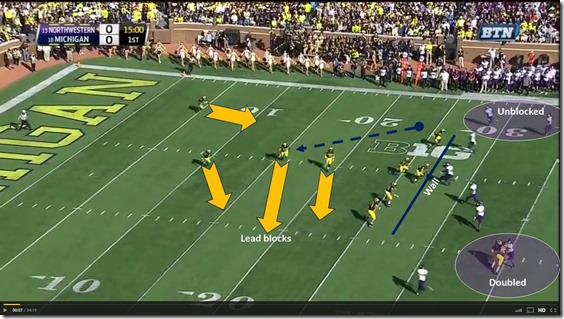 Butt (on the 20 yard line)'s block is a kickout, not a lead but that's an otherwise very accurate description. Here's my drawing:
(kickoff coverage positions noted as left or right from the kicker, so e.g. "L4" is the fourth guy to the kicker's left.)
Omigod it's POWER—like manball-flavored power running where you form a wall that caves in on their wall, kick out the EMLOS to make a gap, then throw bodies at the point of attack. I color-coded the goals of the blocks: left for seal the guy inside, green for kickout, and blue for the lead blockers.
Wilson, Kinnel, Gedeon and Houma are going to form the "wall"—they each identify a gunner and their jobs are to block down, and keep their guys sealed from the play. Bolden and Poggi double a guy who's basically the playside end. Butt comes across the formation to blow the contain open, and Chesson gets an escort into the hole from Mason and Peppers.
Northwestern's Playcall: Corner (their) Right
This is a fairly basic kickoff coverage that only messes a little with the typical man-to-man return strategy. The kicker purposely sent it to the side away from Peppers, and the gunners were tasked with closing down running lanes. Two members of the coverage team, L5 and the kicker, are back as quasi-safeties to fill any lane that may be created.
[after the jump: execution]