Postgame Presser Notes: Penn State
[Ed-M: Big kudos to Tim, who got this up at 5 in the morning. Note: images are not from last night. Also note: the last interview was mine].
Rich Rodriguez
On that thing that was on the field when the offense or special teams wasn't:
Can't say too much about what the breakdowns were until after seeing the film. It didn't seem like the team did a good job getting off blocks and making tackles. Some cutback lanes were open for Penn State. "I'll have to check our backside pursuit."
"We didn't execute well offensively either, in the first half. I thought there were enough plays out there offensively, if we could have got a few stops here and there, got a little momentum, that's what you've gotta do when you play in this kind of environment."
Rodriguez was disappointed with the team's trouble executing the no-huddle. "Our guys know that, and they'll try to be a fix for this week."
"The frustrating part is it's not just one person, it's usually a different thing. The inconsistency I think is a little bit frustrating for everybody, including our guys on defense." The guys didn't quit in the second half, but you have to make the plays when they're available.
"We've gotta put them in a position to make the plays. Gosh it seems like forever since we've gotten a turnover." The defense or special teams just needs one or two of those to spark them.
It's most frustrating to get the opponent in 3rd-and-long, and then still allow the conversion. "We've gotta play better, certainly. I didn't think we were real good on third down on offense today either."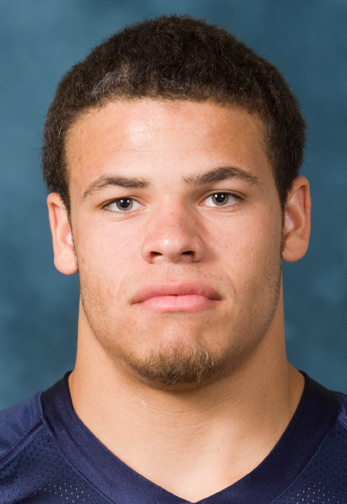 Injuries:
On Mike Martin: "It was a different ankle. That's a blow, because there's no question that Mike makes a difference when he's in there."
Perry Dorrestein didn't play because of a knee sprain. "Denard got banged up but he felt good after." Jibreel Black and JT Floyd both went back into the game after minor injuries, and should be fine.
Denard had an OK game, but he'd definitely like to have a few of his throws back. His shoulder isn't quite 100%. "He's a great competitor, and I thought he competed all the way to the last snap." He landed on his hip funny when he briefly had to come out of the game.
Special Teams:
Hagerup practiced kickoffs this week, because Seth had been struggling with them. He did a pretty good job.
Should he have used the onside kick earlier? "No, because there's plenty of time, we had a couple timeouts left. Again, you let them start about midfield..."
"Gallon did a good job returning kickoffs, except the one mistake when he was losing his balance. The blocking wasn't great.
It's Not an Excuse, but, uh, Freshmen:
"We've got a few upperclassmen that are really trying as hard as they can defensively. Sometimes our youth gets picked on somewhat." They're trying to help the young guys grow up, but there's only so much they can do.
Rodriguez doesn't want it to sound like an excuse when he refers to the youth on defense, but the facts are what they are. "You look out there and there's a true freshman, and another true freshman, and a redshirt freshman... Ray Vinopal got his first start as a true freshman, I thought he did OK, but there's probably some mistakes made too."
"We know where we're at right now, and we've gotta do what we can defensively so we can play at a higher level."
Terrence Talbott got some play at corner because the coaches were trying to see if they could find something to work.
Roy Roundtree
"All throughout the game I think Denard played well."
The defense was blitzing a lot to force Michigan's offense into doing some things they didn't want to.
Perry Dorrestein
"We've got a couple of big-time losses and sometimes people start to think it looks kinda glum, kinda gloomy. We've just gotta persevere through it, win some football games, get bowl-eligible."
"We had some good protections. There's just a couple instances where a guy let in some penetration. It was really loud out there, so some of the snap miscues, but I think all-in-all we had a pretty solid day."
Injury? "Just a little swollen, couldn't play to 100%." Will you be back next week? Yes, yes."
Kevin Koger
The offense had a couple good plays, but they just stalled in execution a few times.
Jonas Mouton
"We'll just get back to Ann Arbor, watch the film, correct our mistakes, and go from there."
Soul Dong
"Ow."