10/19/2013 – Michigan 63, Indiana 47 – 6-1, 2-1 Big Ten
Jake Butt's block gets Devin Funchess cupcake dog eyes. [Eric Upchurch]
Explosions!
MORE EXPLOSIONS
Chris Tucker! Jackie Chan!
YET MORE EXPLOSIONS!
Autobots! Decepticons!
EVERY ATOM IS RAPIDLY RECEDING FROM EVERY OTHER ATOM WITH FLAAAAAMES!
Someone mentions that 67-65 Illinois game!
And he gets thwacked!
This is Michigan!
SORT OF
BOOOOOOOOOOM
-----------------
I have confirmed this with people who do not care about Michigan football that much: that was not a collective fever dream brought on by the stress of the Penn State game. It happened, because Indiana is #1 in Big Ten offense and #546th in total defense. A team that put up 42 on them last week waddled towards their first and only offensive touchdown halfway through the fourth quarter of a game against Purdue. They gave up 35 to Indiana State while torching those guys for 70 points. They walloped Penn State by 20. Adam Jacobi has taken to calling the Hoosiers #CHAOSTEAM because at any moment they will break you or be broken themselves, leaving seven points and a flaming wagon wheel in their wake.
Pick literally any stat about offense you want and laugh. Indiana first downs: 28! Michigan's average gain: 9.0 yards! Indiana time of possession in a third quarter in which they scored 23 points: six minutes! Devin Gardner YPA: 17.3! Number of Indiana receivers with catches of at least 20 yards: 5!
This purports to be the same sport that Michigan played against Minnesota. I say it is not. I say it was a test pilot for TV executives from a dystopian future looking for something that will distract the masses from their slave-like drudgery in the fur mines. It was wildly successful. I barely remember anything about my day to day life in the fur mines.
In the aftermath, no one knows if anything means anything. Our ears are still ringing, shrapnel still falling, ham fragments scattered in the front yard. One of the children is walking with a limp and tilting his head funny in a way that seems worryingly permanent. The oil derrick is on fire.
In these situations it's hard to tease out judgments, especially when last week your offense was a few deep balls to Funchess and pain and your defense seemed rather good. A week later, Michigan's setting program records for total offense and getting eviscerated on the other side of the ball.
We had this debate last week about Raymon Taylor and now it's writ large: can any part of this team decide whether it sucks or it is awesome? Lewan and Gallon excepted, it seems like everything Michigan does is prone to insane swings. On the player level, hey look it's Devin Gardner, who explodes in all directions. Or Taylor, who was repeatedly roasted one game after having an awesome interception and was the primary hand in shutting down Allen Robinson for 3.99 quarters. Or Dennis Norfleet, who had an electric juke-you-out-of-your jock kickoff return and an electric reverse-field-twice-and-get-tackled-at-the-nine kickoff return. Even previously consistent Brendan Gibbons is now two for his last five with two line-drive blocks.
On the unit level, the defense waxes between perforated against Akron to crushing against UConn and Minnesota and most of the Penn State game. The offense nukes Notre Dame, nukes itself against Akron and UConn, reconfigures itself into a dump truck to out-dump-truck Minnesota, is bombs and turnovers and pain against Penn State, and then rewrites the record book this weekend. On a team level… well, you saw the Akron and UConn games. Michigan's quite a CHAOSTEAM itself.
Meanwhile, the opponent. In the second half, Michigan's game plan seemed to be max-protect pass after max-protect pass on which Funchess and Gallon would wander out in different variations of deep routes. Indiana would cover Funchess; Gallon would engage his cloaking device to become improbably open, then catch a ball and run for many yards. At some point in the second half, Gallon had already broken the Big Ten all-time receiving mark and one of these two man routes found him open by literally twenty yards.
Jeremy Gallon has three hundred receiving yards and the defense is blowing a coverage on him.
Blow a coverage on everybody else! Penn State intentionally blew a coverage and got an interception out of it! Are you recent immigrants from Malaysia? Do you think this is… Malaysiaball? I need Michigan to score a touchdown here and I am still slightly angry at you, Indiana. Incompetence so vast is a thing to behold, but how are you supposed to take this performance and extrapolate anything from it? It exists in a different world from football; it is for dystopian future distractions.
I probably shouldn't be looking for life lessons after that in any case. It's my natural inclination to search for What It Means For The Future after playing Indiana, since for my entire life as a Michigan fan Indiana games have been speed bumps on route to games Michigan might actually lose. This is a bad instinct after a game that will be That Indiana Game for the rest of time.
Here we should set those things aside and align ourselves in repose. Whatever just happened has no bearing on the future. Lay back, let your feet flop open, and breathe. Our neck muscles and inner ears could use the rest.
I'M FINISHED [Upchurch]
Highlights
JAM PACKED
Awards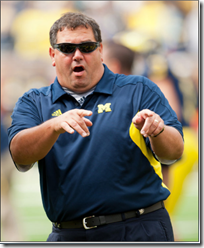 Brady Hoke Epic Double Point Of The Week. That Jeremy Gallon's epic, Michigan and Big Ten record-setting performance has the whisper of a challenge here is testament to the ridiculousness of this game. Even though Devin Gardner set some Michigan records of his own, Gallon's the guy.
Honorable mention: Gardner, obviously. Thomas Gordon's interception was the biggest defensive play of the day, by some distance. The line kept Gardner clean for long stretches.
Epic Double Point Standings.
2.0: Jeremy Gallon (ND, Indiana)
1.0: Devin Gardner (ND), Desmond Morgan(UConn), Devin Funchess(Minnesota), Frank Clark(PSU)
0.5: Cam Gordon (CMU), Brennen Beyer (CMU)
Brady Hoke Epic Double Fist-Pump Of The Week. After a couple weeks during which it was a stretch to pick anything, here the problem is paring it down form an explosion symphony to a quartet. Or singlet. Whatever.  Music things!
But there is a pretty obvious item: Thomas Gordon undercutting a badly-thrown deep ball to intercept moments after Devin Gardner had fumbled a snap on the two yard line. Indiana got to the line instantly, caught Raymon Taylor off guard, seemingly had burned him for yet another immense touchdown, and Sudfeld left it short. A catch and return later, Michigan was once again in position to regain possession of the two-possession lead that was the only thing between Michigan fans and mass chaos. More mass chaos, anyway.
Honorable mention: Gallon catches ball, Gallon catches ball, Gallon catches ball, Gallon catches ball. Etc. Gardner scrambles, gets flipped into the endzone. Funchess leaps damn near out of the stadium to near the endzone in the second half.
Epic Double Fist-Pumps Past.
8/31/2013: Dymonte Thomas introduces himself by blocking a punt.
9/7/2013: Jeremy Gallon spins through four Notre Dame defenders for a 61-yard touchdown.
9/14/2013: Michigan does not lose to Akron. Thanks, Thomas Gordon.
9/21/2013: Desmond Morgan's leaping one-handed spear INT saves Michigan's bacon against UConn.
10/5/2013: Fitzgerald Toussaint runs for ten yards, gets touchdown rather easily.
10/12/2013: Devin Funchess shoots up the middle of the field to catch a 40 yard touchdown, staking Michigan to a ten-point lead they wouldn't relinquish. (Right?)
10/19/2013: Thomas Gordon picks off an Indiana pass to end the Hoosiers' last drive that could have taken the lead.
[After THE JUMP: Gallon catches ball, Gallon catches ball, Gallon catches ball.]