Goth James Franklin Eats Some Arby's
9/24/2016 – Michigan 49, Penn State 10 – 4-0, 1-0 Big Ten
[Bryan Fuller]
Two years ago this game featured Dennis Norfleet dancing, a lot of bad football, and a series of increasingly boggling in-game decisions. Brady Hoke and James Franklin engaged in bad decision tennis, lobbing ever more ludicrous balls over the net and daring the opposition to top it. There was no winner—there is never a winner in bad decision tennis—but Michigan did not lose. They won the game, and the tennis match was called on account of forgetting to breathe sometimes.
Fast forward two years and things are a little different for one of these teams. Jim Harbaugh's taking timeout in case Jabrill Peppers can get a punt return in and asking to review a legitimately dodgy fourth-down spot despite being up a gorillion; James Franklin sees a fourth and goal from the two down 28-0 and decides on a field goal... wait, no, he's taking a timeout because he realizes that is a terrible decision. And now he's sending out...
Still the field goal team.
...
So this is a dumb fake—nope they kicked it.
Now they are down four scores, which is a notable improvement from being down four scores. James Franklin has lobbed this one good and high. This is an Eschaton-worthy parabola.
After they kicked it the camera cut to Jim Harbaugh on the sidelines, looking equal parts perplexed and offended on behalf of the game of football:
I had a similar look on my face. This is not good hard friendly competition. This was turtling. Signaled by their coach, Penn State promptly laid down. According to Wilton Speight, Michigan ran the same play eight consecutive times at one point Saturday. While that doesn't seem 100% accurate—there was a sweep in there—the bit in the box score where Penn State lays itself on the altar and hands the squiggly knife to Harbaugh is obvious:
Franklin told them to quit and they quit. I'm not surprised. One year ago this column was all about how pleasant it was to watch a Penn State game and not be stupefied by the things occurring in front of my face, and Penn State's held up its end of the bargain in that department over the last few years.
But I am also kind of surprised that James Franklin, who made Vanderbilt decent, would just roll over and die. You'd think that the kind of person who could stare the history of Vandy football in the face and make the Commodores one of the feistiest teams in the country would at least spit in his executioner's eye, for what little that would help him. Not today, and thus Michigan entered to the "win with cruelty" portion of the proceedings.
And, lo, it was cruel. Michigan acquired 13 tackles for loss and six sacks; they ran for over 300 yards with a carousel of running backs. Michigan threw to Eddie McDoom with less than half the fourth quarter to go, because a rep is a rep is a rep. It's not that Michigan was trying to embarrass or humiliate Penn State; it's just that they didn't care if that happened. Lo, it did. Meanwhile across the country in Autzen Stadium, a Colorado quarterback who was 0/7 with –4 rushing yards last week was spearheading a stunning upset by accounting for 500 yards of offense by himself.
Remember spinning around in circles about this defense last week? You should continue doing that, but for the opposite reason. Lost in the piles of viscera that are all that remain of the Penn State offense: PSU was an efficient, prolific offensive team headed into this game, with 39 and 34 points the last two weeks. It was even one seemingly well-suited to mitigate Michigan's advantages, with Trace McSorley throwing a ton of passes close to the line of scrimmage and completing 80% of them.
It didn't matter. Nothing mattered. James Franklin woke up this morning in a Cure shirt and eyeliner, because halfway through a game against Michigan he decided life wasn't worth living anymore. Just, like, whatever, man. Three points, seven points. It all leads to one place: the grave. First, Arby's. Then the grave. 
HIGHIGHTS
Parkinggod:
MGoVideo has some other highlight reels if you don't have time for the above.
AWARDS
[Fuller]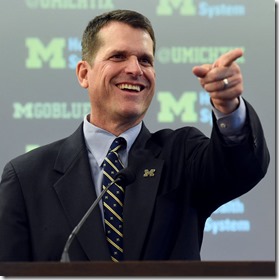 Known Friends And Trusted Agents Of The Week
you're the man now, dog
It was this kind of game:
#1 (tie) Chris Wormley, Maurice Hurst, and Taco Charlton nose ahead of everyone else on a defensive line that set the tone early and never let up, racking up six sacks and a trajillion TFLs. Hurst turned in the most impressive individual play of the day when he came from a nose tackle spot all the way around a guard and got in McSorley's business for a sack; Wormley was the most consistent entrant into the backfield, and Charlton's return helped seal the rush lanes that UCF exploited shut. Also he got a sack and a half. Welcome back.
#2 (tie) De'Veon Smith and Ty Isaac and Karan Higdon and Chris Evans were all between good an excellent as they combined for 40 carries for 318 yards, with seemingly nobody getting consecutive carries. Each guy ripped off a 20+ yard run; each guy made big chunks of yards for himself with good vision or broken tackles. Easy sledding but Michigan maximized their opportunities in ways that had not always been the case early this year.
#3 Ben Gedeon was the closest thing to a one on one matchup Michigan had with Saquon Barkley and that went all right. Gedeon tracked PSU RBs in space repeatedly, had a couple of impressive sideline-to-sideline tackles, and got in the backfield for 1.5 TFLs amongst his 11 total tackles. Barkley got his yards mostly on screens and shovels and the like, a couple of them on Gedeon. This was still a win against one of the top backs in the country.
Honorable mention: The right side of the offensive line was the main area Michigan attacked on the ground. Khalid Hill had another solid all-round FB performance. Channing Stribling and Jourdan Lewis helped shut down the PSU receivers on the rare occasions PSU managed to target them.
KFaTAotW Standings.
5: Jabrill Peppers(T2, Hawaii; #3 UCF, #1 Colorado).
3: Mike McCray(#1, Hawaii), Wilton Speight (#1 UCF).
2: Ryan Glasgow(#2 UCF), Jake Butt(#2 Colorado), Ben Gedeon(#3 Colorado, #3 PSU).
1: Delano Hill (T2, Hawaii), Chris Evans (T3, Hawaii, four-way T2, PSU), Chris Wormley (three-way T1, PSU), Maurice Hurst (three-way T1, PSU), Taco Charlton(three-way T1, PSU).
0.5: Mason Cole(T3, Hawaii), De'Veon Smith (four-way T2, PSU), Ty Isaac (four-way T2, PSU), Karan Higdon(four-way T2, PSU).
Who's Got It Better Than Us Of The Week
This week's best thing ever.
Taco Charlton and Chris Worley combine to sack Trace McSorley on the third play from scrimmage:
That set up the ensuing Peppers punt return and was an emphatic declaration of the way the game was going to go.
Honorable mention: Karan Higdon rips off an offset draw touchdown; Peppers decoy sends Smith into the secondary, where he goes stomp. Any one of Michigan's 12(!!!) other TFLs. Peppers returns a punt and windmills down to the nine.
WGIBTUs Past.
Hawaii: Laughter-inducing Peppers punt return.
UCF: Speight opens his Rex Grossman account.
Colorado: Peppers cashes it in.
PSU: Wormley's sack establishes a theme.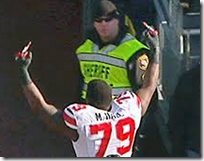 MARCUS HALL EPIC DOUBLE BIRD OF THE WEEK.
This week's worst thing ever.
Jeremy Clark ends a kickoff return on the ground, writhing, and is almost certainly lost for the year.
Honorable mention: Michigan fails to gain every yard available to them when Jehu Chesson drops a ball on fourth and two.
PREVIOUS EPIC DOUBLE BIRDs
Hawaii: Not Mone again.
UCF: Uh, Dymonte, you may want to either tackle or at least lightly brush that guy.
Colorado: Speight blindsided.
PSU: Clark's noncontact ACL injury.
[After THE JUMP: Speight is still on his fourth-down scramble.]