On Pattern Matching: Saban's Cover 3-Man Hybrid
Next time you see this you'll know what's going on
In previous layman's discussions on how fancy newfangled anti-spread defenses function I've talked about how Quarters works, and how MSU used aggressive alignments with it to dominate the run game at the cost of greater risk of getting beat over the top. Each time I alluded to the fact that Saban's defense is similar in concept except where Quarters is a Cover 2/Cover 4 hybrid, Saban's is a Cover 3/Cover 1 hybrid.
We will see it this year. Every defense uses some Cover 3 and Cover 1 as a changeup, but Saban's base system, now all over the SEC, has spread into various Michigan opponents. Penn State kept it around while transitioning to Bob Shoop's version of Quarters. Maryland had it last year; not sure if their 4-3 transition includes a coverage shift. I think BYU (which is going back to 3-3-5 with Bronco Mendenhall overseeing it personally) is expected to as well. Michigan State has played with it, since it's similar to what they do normally. Anyway I thought it'd be fun to get into it now, so we'll have it to reference later.
Resources/hat tips:
Rufio of Cleveland Browns SBNation blog Dawgs by Nature.
Matthew Brophy's incomparable series on Alabama's D: part i, part ii, part iii, and his "Rip/Liz" video.
Eleven Warriors' Kyle Jones's film study
Ricky Muncie of Crimson Tide SBNation blog Roll Bama Roll
Pre-emptive thanks to actual football coaches who post in the comments and point out where I got something wrong or over-simplified.
I'm Not a Coach Disclaimer
I'm not a football coach. I'm a guy on the internet who read a lot about football.
Basics of One-High Defenses
Cover 3 is probably the most basic defense in existence. It is the defense you learn on Day 1 as a high school freshman, if not before. At that level it is a "go to this spot and then find work" scheme, past that there are techniques coaches teach to cover the gaps. Here are the two basic versions that Saban uses against standard 2x2 formations: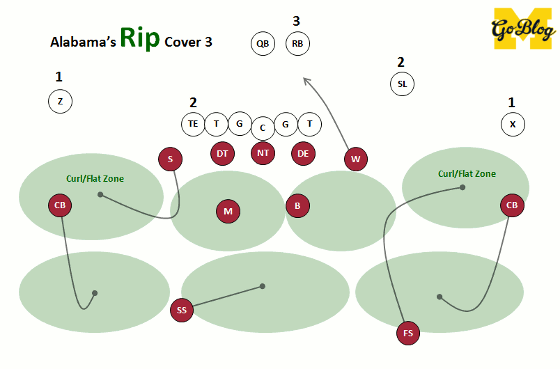 If you picked up on the fact that "Liz" and "Rip" begin with the same letters as "left" and "right" (or you know your port and starboard colors) you have my permission to eat a cookie.
Joe Paterno used variations of this (Rip is very close to his base defense*) since the Chatelperronian, and like Neanderthal toolkits it only looks crude until you see it in the hands of a master.**
Some things to know that we'll use later:
The receiver numbering system is the same as in Quarters: start from the sideline and work your way in until you're at the center. It's where they are at the snap, not before, in case motion messed with that.
The path you take to your zone matters a great deal. Note how guys running toward their zones are actually going through weak points in the coverage. This is for "routing" purposes: if you're there a receiver can't be.
The latter is true for all zone defenses, but it's a stress point for Cover 3 because the holes in the zone are places the offense can attack either quickly (7-9 yards downfield in the seam) or easily (deep downfield once the free safety has committed). Cover 3 coaches teach defenders to be in the way so receivers have to re-route to covered places.
The tradeoff is natural coverage strength to the middle of the field, to the detriment of the flats—if you've ever watched an NFL defense that seems to constantly be tackling fullbacks squirting out of the backfield, that's why.
The problem with Cover 3 is the same problem with Cover 2: those frikkity vertical routes: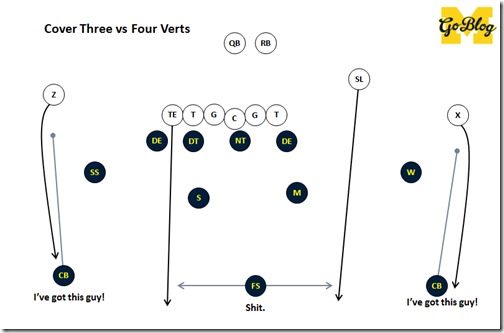 The problem remains with pretty much any set of routes that stem from a vertical release.
The old-fashioned answer to this is play more man defense, and certainly Cover 1 (example diagram) is a complementary coverage to any Cover 3 team. In Cov1, aka "Man Free" defense, corners stay on the receivers, the erstwhile "curl/flat" guys stay on the #2's, and the middle linebacker over the RB takes the RB.
But if you're playing man-to-man defense, you'd better have men who can win their battles 97%+ of the time against theirs. If you need to activate that free safety to double up a dangerman, now you're giving up "front"—how many defenders are participating in your run fits, and once it's not an 8-man front anymore you're weak against the run. Offenses will also use rub routes, or exploit matchups, e.g. have a quick slot receiver sprint across the formation until he loses the linebacker trying to keep up.
These were problems for Saban to a much greater degree when he was dealing with the kind of talent the Cleveland Browns drafted during his DC days. By the time he got to MSU he already had his Rip and Liz and his Cov1 amalgamated into a hybrid scheme he called "pattern matching."
[After the jump]
-----------------------------
* The Paterno-era "Hero", and "Sam" in the linked diagram were early examples of hybrid space players, and the zone-blitzing 8-man front it spawned was the basis of Rocky Long's 3-3-5 defense.
** …who discovered children were being sexually abused in his locker room and didn't tell the police because football reasons.
-----------------------------