Mailbag: All The Coach Dissatisfaction You Can Muster
[DATELINE: THE BURNED OUT HULK THAT USED TO BE ANN ARBOR.]
CONNECTION SHAKY. MASS PANIC AND RIOTS. WHOLE FOODS RAIDED. SINGLE ENDIVE LEAF ALL THAT REMAINS. ATHLETIC DEPARTMENT BUNKERED IN WHAT IS LITERALLY FORT SCHEMBECHLER NOW. TAKING POTSHOTS AT PASSERS-BY THEY CLAIM ARE ZOMBIES. SOME ARE. SOME.
SEND DVDS OF 1997 SEASON. ALSO WATER.
IF… IF I DON'T MAKE IT TELL CHARLES WOODSON I LOVE HIM.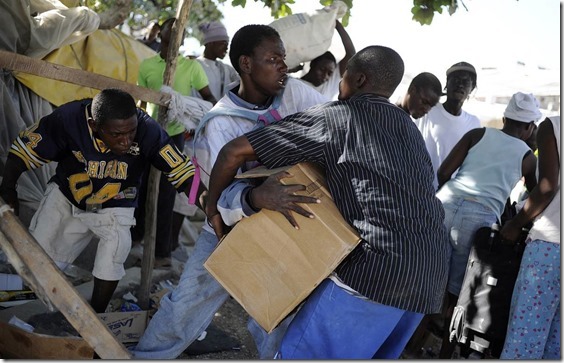 I kid you not, GIS for "looting" and this guy in an off-brand Michigan jersey shows up
Brian,

Let me know when I should start panicking. I am ready at your command.

Peter
Okay this is where I'm at. I've got a go bag ready. Passports, about 10k in cash, various fake mustaches and sunglasses. I'm up do date on all my vaccines. Are you up to date on your vaccines? I can be in Laos in 15 hours, never to be seen again. Rumors of the white tiger of the jungle will flourish. I will become known only in song and legend.
BUT: note that I am not already in Laos. I am sticking around to see what this season has in store, because weird things happen against Notre Dame and—and bear with me here—this game actually felt much less bad than some hammerings from last year. There are some obvious problems at cornerback and Gardner has to play better but when things went wrong it was mostly one thing going wrong, not eight. So it might get fixed. There is no reason to demand a coaching change right now. Let the season play out and see what happens. If Michigan does catch fire in the crappy Big Ten this game will be a footnote.
Meanwhile, there's no reason to assume a coaching change is coming unless you're literally 75% of my inbox…
A true Michigan Man keeps his promises about the Austro-Hungarian Empire circa July 1914.
Brian,

You may recall that I said I would never write to you about Michigan football again after the BW3 Bowl and my comparison of Michigan football to the Austro-Hungarian Empire circa July 1914.  Since the last part is still true, I won't make this long.  But your entry today about coaching prospects caused me to think about my second school (the Syracuse Orange).

Here are a LOT of assumptions, but (a) assuming the tire fire rages, (b) Hoke is fired, (c) none of the few big names worth watching (i.e., Miles, the Harbros) is/are available, and (d) Syracuse goes 8-5 or better again this year with a mid to late-December victory, what about a guy like Scott Schafer?  He's in his mid-40s.  He runs an attacking style defense.  He's from the Midwest.  He favors an up-tempo offense.  He has to coach against Clemson, FSU, Louisville (and ND this year).  He picked up the pieces after Doug Marrone ran off to the NFL with half of his coaching staff last year.

Might he be someone to watch?  I know the experience as Rich Rod's DC did not work out.  But given his success running the defense at SU (particularly following GROB), that seems like it was more an issue of Rodriguez trying to make him run a defense he didn't want to run.  He left with grace and took the blame that may not have been 100% his.

Just a thought – I'm grasping at straws . . .

Dan G

UM '85

Syr. Law '88
I don't think Shafer has a track record to get excited about. He did improve the Syracuse defense upon his arrival but he hit a ceiling pretty quick. FEI rankings for his defenses at 'Cuse:
2009: 70th
2010: 38th
2011: 39th
2012: 39th
2013: 65th (as head coach)
In FEI there are a lot of schedule adjustments so 39th isn't nearly as good as it is in straight yardage rankings. Meanwhile he'd have two years of head coaching experience, the first a 7-6 season, and the second an 8-5 one. I liked Shafer and know for a fact he got a raw deal from Rodriguez's defensive assistants, and then Rodriguez himself. But even if you don't hold that against him his resume is thin.
He is a guy to track, since he is a poachable head coach not in the MAC. That he's worth tracking is a good summation of the available talent this year.
[After The JUMP: I REGRET TO INFORM YOU YOU WILL NOT STOP DRINKING.]