Unverified Voracity Examines Butterfly
Well now that's over and we can think about… oh. I can't believe I got a bunch of people going "but I want to talk about football" in this offseason of all offseasons. Happy now?
Anyway, as a result of my quadrennial case of World Cup fever some of these links are a bit old. You have been warned.
The best thing to come out of the Big Ten expansion.
This is from a completely serious BHGP article about how the Big Ten has just electrified New York City. There is also a completely serious article from Ryan Nanni that faintly reads like parody.
Let's talk about basketball. Kenpom talks offensive rebounding. Findings:
OREBs are gradually declining as more teams abandon the boards for better transition defense (probably).
Layups get OREB'd slightly more than 40% of the time, with jumpers and threes OREB'd slightly more than 30% of the time. Threes are least likely to get OREB'd, so don't let those long bouncers back out fool you.
Anything that gets blocked and stays in play is about 32% to be OREB'd.
Chart
Offensive rebounds are more likely as the game goes on, which is a pretty weird finding to me but there it is. The late surge makes sense since trailing teams will go all out and damn the transition torpedoes, but the rest of it is a bit weird.
And yet it moves. A palpable cut for one Jalen Coleman. This is not a drill (nor is it, like, something that is new, but I was waiting for more basketball recruiting news that did not appear):
Coleman, a 6-foot-3 guard from La Lumiere High School in La Porte, Ind., will choose between Michigan, Indiana, Illinois, Notre Dame, UNLV and NC State, according to Scout.com recruiting analyst Brian Snow.
Notre Dame, oddly, is rumored to be Michigan's main competition. They do have proximity and (probable) playing time, but they haven't exactly been Beilein-standard during the interminable Mike Brey era.
Kings draftin' Stauskas.
Yeah, probably. Gary Parrish asks a question about Beilein:
Is John Beilein the best at turning lowly recruits into lottery picks?
Trey Burke and Nik Stauskas both shot into the lottery after being in the 70s or 80s as recruits… just wait until next year, when Caris LeVert probably adds his name in there somewhere. Parrish's trump card:
Of the 20 players selected in the top 10 of the past two NBA Drafts, 18 were former top 75 prospects and/or players who spent at least three seasons in college. The only exceptions? Burke and Stauskas -- both of whom enrolled at Michigan as unheralded recruits, earned Big Ten Player of the Year honors as sophomores, turned pro and were selected in the top 10 of the subsequent NBA Draft.
Bonkers, man. This is such a smart quote in re: how:
"We try to project whether a player is on the rise or if he's already where he's gonna be," Beilein said. "A lot of the [analysts'] early projections on players, I think, are made because the players' bodies are ahead of everybody else's bodies. And if you saw Nik or Caris, back when they were 16 years old, their bodies weren't ahead of anybody else's bodies."
Not that projecting based on bodies is necessarily a bad strategy—it seems to be working just fine for, uh, everybody. But when you're trying to assemble a starting five that's ten picks away from being all first-rounders and you don't have the recent pedigree of the Dukes and the Kentuckies, it is (obviously) a rather good idea.
Okay okay one more quote:
"Lots of coaches work on shooting with players, but Beilein teaches guys how to shoot," an NBA executive told me. "He doesn't just work with them. He actually teaches them."
Let's talk about hockey. Over The Boards lists the top 15 college guys for next year's draft, featuring three guys committed to Michigan at numbers 4, 5, and 6. Or mostly committed, in Zach Werenski's case. Nick Boka:
4. 97 D Nick Boka – NTDP U18 – Michigan

The Michigan recruit has an aggressive, athletic upside that could come on very strong in his draft year. Wins battles in the tough areas of the ice and can provide puck support. We like Werenski's total skillset more right now, but Boka could easily emerge as the best American talent on the blue line in this draft behind Hanifin.
The top nine guys are all headed to Michigan, BC, or BU, FWIW.
This is appalling. National Football Post puts up a thing about NFL talent with a boggling Michigan thing. This is the second half of the chart running down the top 37 producers of NFL talent in the league, as ordered by 2013 player starts. Michigan's cliff is insane: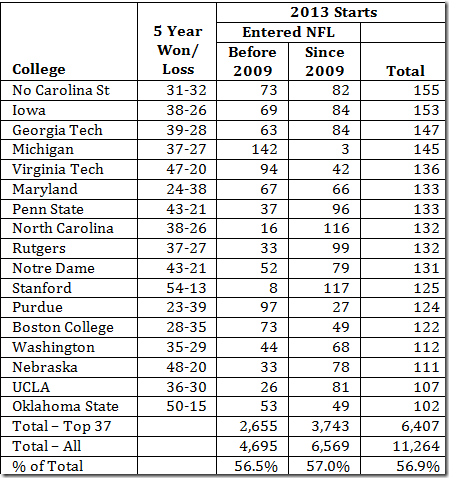 Argh Harbaugh
Nutshell, meet Michigan's barely over .500 record since Bo's death. It's not quite that bad in real life, as a combination of circumstances reduced Michigan's number to the "Stanford before 2009" number you see above. Actually, it's just one circumstance: Stevie Brown getting knocked out with an injury.
Your top overall pre-2009 producers:
Miami (That Miami)
Michigan
Tennessee
Texas
Florida State
Michigan is dead last since, amongst this sample. NOW ARE YOU HAPPY TO TALK ABOUT FOOTBALLLLLLLLLLLLLLLLL /rock musik
All right, sir, you have my attention. MmmgobluBBQ, a Michigan-themed grill/tailgate/BBQ blog exists, and… yes sir, I subscribe.
That… is beautiful, and then you realize that the onion ring there is bacon-wrapped.
Let's not do this. Michigan went over its travel budget for the bowl game by just over 100k, causing assertions that Michigan took a loss on the thing. That is not accurate, as even the article states:
Ultimately, the Buffalo Wild Wings Bowl left U-M roughly $132,000 in the red. …

U-M's loss of $132,000 does not include revenue brought in from the Big Ten's shared bowl revenue plan, which splits all Big Ten bowl revenue among the conference's 12 teams.
So, not in the red. Just slightly over the Big Ten's travel allotment.
Etc. Don't click this box score unless you want to be reminded of last year. Stop taking pictures of yourself, twits. I BLAME YOU ELLEN.  Don't use a null hypothesis when that's not sensible. Contains subtweet shade thrown at David Berri (the "salaries don't predict wins" bit). Nussmeier talks with Bruce Feldman.
Ohio State ticket prices are high, at least on the secondary market.
Barwis TV Barwis TV. Why you should root for O'Bannon.