Unverified Voracity Buzz Buzz Buzz
Decent turnout in Indy [Mike Spath]
All the Harbaugh. We haven't had any, you know, games yet but so far the Harbaugh era has absolutely lived up to its promise.
CFB Twitter's hottest weekend topics: Fri.: Harbaugh shirtless Sat.: Harbaugh recruiting material Sun.: Harbaugh camp helps charity

— Jerry Hinnen (@JerryHinnen) June 8, 2015
As Ace has documented in cripplingly long recruiting roundups, the Summer Swarm tour is piquing the interest of dozens of high level recruits in this class and the next three. Michigan's nailed down a number of commitments already; there's a wave of guys naming Michigan their leader and/or plugged in gents making Crystal Ball predictions for Michigan.
While it's been a lot of under the radar types to date, 1) Harbaugh's first two recruiting classes at Stanford were generic three stars and Andrew Luck and 2) the wave of guys Michigan is thought to lead for has a lot of big timers in it.
Doesn't that mean… yes, it does. Michigan currently has 14 or 15 spots in its recruiting class. There are a few guys who will have fifth year options but don't project to be contributors; that still leaves Michigan at around 18 spots for a class that it feels like will hit 25. There is going to be some attrition before February.
If a couple of these medical hardships that are poorly kept secrets finally get announced in the near future that number looks pretty reasonable; I don't think we're ever going to see the near zero attrition Michigan had under Brady Hoke. Harbaugh drives people too hard for that.
Headlines. The Montgomery Advertiser: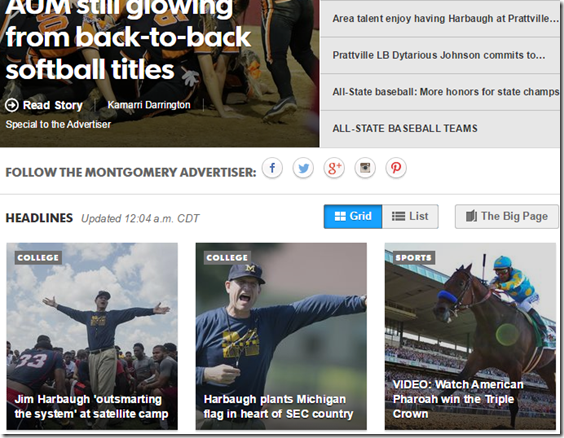 That's today, three days after Michigan's Alabama stop. The last time I took a screenshot of a media organization days after something happened it was Sports Illustrated bombing Michigan dang near a week after the Shane Morris incident. Harbaugh has changed the script a little bit here.
See also Gregg Doyel, who spent the weekend following Harbaugh into Indianapolis bathrooms and firing off hot takes in Michigan's favor:
Eliminating satellite camps? That makes a recruit's life harder. It would make a kid like Jovan Swann, a big-time defensive tackle recruit from Center Grove High, drive almost 300 miles to attend the Michigan football camp in Ann Arbor. Swann, whose brother Mario is a defensive back at Indiana, is interested in the Wolverines. He has a scholarship offer from Michigan State (and Indiana and Iowa and more), but not from Michigan.

"As a parent, I decided I'm going to take (Jovan) to any school that he has an interest in," said his father, Mario Swann Sr. "I would have taken him to Michigan this summer, but now I don't have to."

And this is wrong? This is not wrong.
The spectacle of millionaires complaining about their vacation days is not winning over hearts and minds here. Harbaugh, shirtless, weird Jim Harbaugh, is.
That charity camp BTW. Details:
Harbaugh said he found somebody to follow on Sunday.

"I got a new one. I got Lauren Loose now. I'm going to follow her," Harbaugh said. "I'm going to follow her example. Fighter, courageous, happy, spiritual. She's got what I'm looking for. I'm going to follow her. Find somebody. Find somebody every day. You know who's doing right. Go be a good follower. Learn how to do that."

Loose is the daughter of former Lafayette defensive coordinator and current Army defensive coach John Loose. She is a pediatric brain tumor survivor and the one who the football camp is named for. The event raises funds for brain tumor research and cancer services through the Lauren's First and Goal Foundation.

Sunday's event raised $101,800 and the total for the year is $132,787.
Michigan is keeping this on the up-and-up—they're travelling with a compliance person to make sure they don't rack up minor violations—and they're doing a lot of good for the kids who come out, the causes they're helping out, and themselves. You'd have to be a sociopath to be against such a thing, but we are talking about football coaches.
Also. Detroit will get an extended version of the satellite camps:
Harbaugh, his Michigan coaching staff and the team's sophomore football players will work with the United States Marine Corps to "teach life skills, football, language arts and STEM-based curriculum" to 100 Detroit-area boys from grades 6-8 from July 6-18.

Former NFL player Riki Ellison founded the program nine years ago, and runs similar efforts at Stanford, Northwestern and West Point. He'll assist Michigan with its own version of the program.
People were concerned when Michigan canceled its fantasy camps. They've more than made up for that karmic loss.
There will be no apology. You know me: I approve of anything short of a stabbing that makes a college football game spicier. Harbaugh is amping up damn near everybody, whether it's Saban in Alabama or a bit closer to home:
OSU's WR coach took this about as well as perpetually aggrieved DJ Byrnes takes a harmless tweet from a teenager, throwing a twitter shit fit that has since been deleted. Michigan has not scheduled a contrite press conference in the aftermath. Hail Hackett.
Speaking of the man. Random old This Is Sportscenter commercial featuring Harbs:
"This Is Sportscenter" has been around forever.
Just a rando with a story. Take it with a grain of salt:
Source: midway thru 2014, York walked into meeting Harbaugh was holding w/ players, & Harbaugh told Jed that the meeting was for "men only"

— Kyle McLorg (@Kyle_McLorgBASG) June 8, 2015
This is probably not a good move if you would like to continue your employment no matter how accurate it may be. Again, just some rando with SOURCES on twitter.
UNC details. Local paper with some excerpts from internal UNC emails:
"Occasionally when we have a number of people with special issues we can put them together in a special section but we never ever put an athlete into a special section alone – just too many red flags and we have a little bit of academic credibility to try to uphold," Crowder wrote back. "All of that being said, talk to me and we'll see if there are any creative options."
There are hundreds of these emails, many of them heavily redacted. It's clear that the athletic department specialized in keeping kids eligible with non-classes. If anything will rouse the sleeping bear that is NCAA enforcement, this is it.
I suppose. A dozen people sent this to me and more yelled at me on twitter about it, so yes there was an embarrassing fluff piece on Dave Brandon in the Detroit News. It reads more like a People profile of Eva Longoria—"the couple intends to experience daily life in the Big Apple", etc—than something written by a person with self-respect. It thus says everything you need to know about its author, Daniel Howes, without me chipping in.
Just one thing:
Brandon sounds like a man pleased to be back on the familiar ground of corporate America. There he'll be tackling marketing and operational challenges, building (or repairing) a brand buffeted by changing technology and changing consumer tastes. (All of which, by the way, applied at Michigan, as much as the die-hards refuse to acknowledge it.)
Brandon's most important single act as athletic director was hiring Brady Hoke, a man whose main qualification was having been an assistant at Michigan during the 90s. Hoke was dead set against the changing technology of college football; his hire was anything but "innovating the space." All other gestures towards modernity are frippery around a fusty core.
Anyone who still believes Brandon is some sort of visionary after years of ham-handed missteps followed by lies probably contributed to the $607 United Passions brought in at the box office this weekend. But someone's got to believe the Emperor's new clothes are amazing.
Etc.: Michigan MLB draft primer from user Raoul. Summer Swarm tweet recap. Northwestern's "#funbad" game of the year is so obvious you don't need to click through. "#funbad" is such a Northwestern concept, and I mean that affectionately.