Mailbag: Mostly About Uniforms
Design elements
Brian,

Adding to the list of Adidas wrongs. What really irks me is that the only word appearing on the front of the current Michigan football uniform is Adidas. Unlike most schools, U-M jerseys were famously clean of any identifying words- the signature maize & blue color scheme was all that was needed. The simplistic Nike swoosh, though an identifying trademark, is far less noticeable.

Ed McArdle

Saginw, MI
Hoarding disease is a problem with a lot of uniforms these days. In an effort to brand brand brand everything they've cluttered the front of the jerseys with a series of logos: Adidas's clunky stripes, the Big Ten logo, legends patches, bowl patches, a block M or three. There is too much stuff on these uniforms:
They're probably dropping the Legends patches and replacing the Adidas Triangle Of Tiny Text with the swoosh will help; they can ease back on the block Ms.
The Big Ten logo is going to remain a grating presence until the end of time. Because you need to be reminded who is in the Big Ten these days. And that Michigan—surprise!—is in it. But some guy gave a presentation where he muttered something about brand equity, so we're stuck with it. The best they could do is something like they did at Crisler:
Michigan technically complies with the league mandate to have the Big Ten logo on the floor… very technically. If Michigan could get away with a blue-on-blue Big Ten logo that would improve things. I bet some clever person in the league office has already put in a regulation against it, unfortunately. 
Maybe a step too far.
Hello,

Am I crazy for thinking that this is the best look for the away uniform?? Obviously the jersey will be Nike but I love the simple all white jersey and blue numbers. There is enough maize on the helmet and the pants. Maybe put the Block M or number each shoulder pad. I just think simple is better and this jersey is sharp.
I like simple. That might be a bit too simple even for me. It gives off too much of a generic vibe. Is that a Michigan jersey or a random high school from 1950? I do not know.
The above does avoid the clutter mentioned above. It even avoids the many, many iterations of maize trim that have never really come off: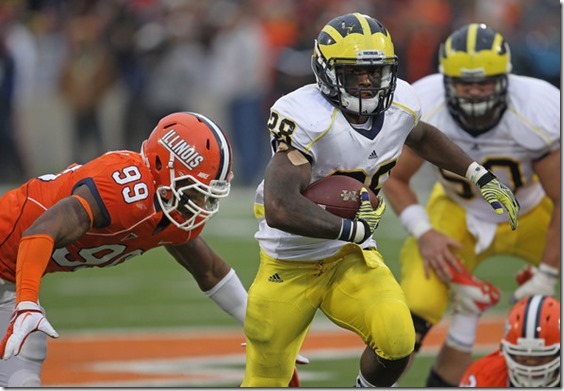 I am so done with maize piping, and maize outlines on the numbers, and maize maize maize on a white road jersey. But the above suggestion needs something to distinguish it. The correct number of design elements isn't a jiggityzillion but it's not zero unless you're Penn State.
Maybe the stripes from the Sugar Bowl jersey:
That everyone liked those is indicative of how low our expectations are these days. I thought they were fine and they have the chest clutter—this partially self-inflicted with a superfluous block M—and weird thin numbers that kind of make it look like everyone is wearing a kids' size. But they weren't a collaboration between a six year old with a glitter gun and the first guy cut on every season of Project Runway so we liked 'em.
[After the JUMP: Bo Xs and Os, and moar Nike.]