We Have To Talk About How Attending Games Kinda Sucks Now
obvious thing preceded and followed by eons of nothing [Eric Upchurch]
9/15/2018 – Michigan 45, SMU 20 – 2-1
The sequence that really, truly broke me was in the middle of the second quarter. For some reason, Sonny Dykes thought that if his team was prepared it could stop a Michigan fullback dive. So he called timeout. Then he saw Michigan had cannily lined up in the exact same way they had before the timeout. Sensing a trap, he called timeout again. This became the dreaded Full Media Timeout.
In the stands, I baked. Because Michigan has made no attempt to improve connectivity in the stadium I held up my phone as it told me it could not retrieve tweets. The clock ticked down.
Michigan took the field again and lined up in the exact same way, but Dykes could not respond—he'd used all his timeouts. Ben Mason scored from the one-inch line, extra point... Full Media Timeout.
I baked further. It sucked. It was hot and boring and also hot and also boring.
Because I was so bored I started counting commercial breaks, finally giving up when the number hit a staggering eight in the first 22 minutes of game clock. There are eight commercial breaks in the entirety of a 40-minute basketball game, plus some timeout-induced ones. And that frequently feels excessive; a couple of years ago the problem seemed so severe the NCAA even stripped coaches of one of their precious timeouts. Football is now throwing up timeouts at almost twice the rate of basketball, a sport where the clock only runs if something is actually happening.
This is close to intolerable when it's nice outside. When it is not, and when there is a steady stream of baffling penalties from the part-time refs from a podunk league, and replays to fix some of the baffling issues the part-time refs are creating, and many more stoppages for injuries—one of which takes a long time and then gets a Full Media Timeout appended to the end of it—you wonder why you're doing this instead of sitting at home with air conditioning and connectivity. Several years ago I probably would have yammered about the students leaving early. Now I just envy anyone with the common sense to bail when they are so clearly being told to bail.
Falling attendance is a nationwide problem often blamed on The Youngs for being addicted to their phones, but the folks behind us show up maybe twice a year and sell their other tickets for whatever they can get. There's a noticeable variance in section density between the many garbage games (hi, division-mates Rutgers and Maryland) on the schedule and the actually worthwhile ones, and there are no students where I'm at. When the Wall Street Journal FOIAed actual ticket scans they found that 21%(!) of Michigan's announced attendance was fictional, tickets that sold but did not scan. This is actually pretty good in the wider context of college football, which says somethin' about somethin'.
It says that college football used to be a great bargain. Tickets were relatively inexpensive, games were fun and not largely spent watching people have conferences. Great fanbases sprung up around the teams starting in the 1960s, when Don Canham was packing bands into the stadium so it would be sort of full, and lasted more or less through 2000 without being seriously impinged upon. Ticket prices were absurdly stable. Television was more of a boon than a hindrance because its proliferation allowed you to watch more road games; breaks were relatively rare and tolerable.
Then things got monetized. Ticket prices approximately tripled in 13 years and have kept going up since. The commercial breaks have proliferated madly. Unsatisfied with their massive uplift in revenue, the athletic department has continued to nickel and dime the fanbase even after the departure of Dave Brandon. And for what? For who? For the benefit of ever more absurdly over-compensated coaches, staffers, and especially executives. Every commercial break is Jim Delany—the man who ruined the conference—giving me the middle finger while he dumps another gold brick on the Big Ten's grave.
Delany and his fellow parasites have latched onto the great oilbeds men like Canham laid down and are sucking them dry without regard to what happens after they're done. They don't care. They'll be dead. Michigan will still be playing Rutgers.
I dunno man. This would certainly be more tolerable if Michigan had won some more games over the past ten years. But probably not that much more. There's nothing I can do, really, but I'll tell you one thing: I'm never buying any fucking Rotel again. Until there's a cap on the number of ad breaks, every single college football TV advertiser can die in a fire for all I care. I've had it.
HIGHLIGHTS
AWARDS
Known Friends And Trusted Agents Of The Week
[Upchurch]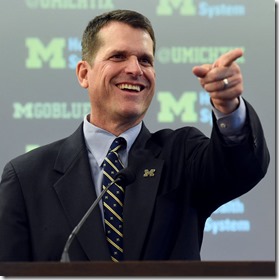 you're the man now, dog
#1(t) Donovan Peoples-Jones and Zach Gentry. Gentry had a drop but also rescued a ball that would have been an IN if thrown at anyone else. Four catches for 95 yards from a nominal tight end is a thing and if anything Patterson didn't take full advantage of his height to make his other catches indefensible. DPJ scored three touchdowns, completely imploding that stat. Two were relatively simple, sure. The fade was not. DPJ and Gentry get two points each because they're made up and don't matter.
#2 Josh Metellus. INT and weaving TD return were the difference between a relatively comfortable second half and a full on terror-dome. PI on him was iffy; he had another PBU and seven tackles; did get hit a bit on those slants but Kinnel was SMU's preferred target.
#3 Chase Winovich. Ten tackles, three for loss. Had a really impressive track-back on a third and long screen that looked set up for the first down. Also knocked down another screen on third down earlier in the game. Now the subject of a hilarious meme.
Honorable mention: Will Hart added two more 50-yard punts to his collection. Bryan Mone and Carlo Kemp made SMU runs up the middle, which were oddly frequent, entirely futile. Devin Bush exists and is still Devin Bush. Tru Wilson had some more lethal blitz pickups.
KFaTAotW Standings.
4: Chase Winovich (#1 ND, #3 SMU)
3: Karan Higdon (#1 WMU)
2: Ambry Thomas (#2 ND), Rashan Gary(#2 WMU), Donovan Peoples-Jones(T1 SMU), Zach Genty(T1 SMU), Josh Metellus(#2 SMU).
1: Devin Bush(#3 ND), Shea Patterson(#3 WMU)
Who's Got It Better Than Us(?) Of The Week
Metellus's TD return.
Honorable mention: Shea Patterson hits DPJ for TD, Shea Patterson hits DPJ for TD, Shea Patterson hits DPJ for TD.
​MARCUS HALL EPIC DOUBLE BIRD OF THE WEEK.
Patterson is intercepted near the goal line to keep the score at 0-0 and seriously threaten One Of Those Games again.
Honorable mention: Almost everything Patterson did prior to that (and nothing afterwards). Coverage mixup gives James Proche an opportunity to score, which he takes.
[After THE JUMP: Tru Wilson has blocked you from seeing this content]