11/26/2016 – Michigan 27, Ohio State 30 (2OT) – 10-2, 7-2 Big Ten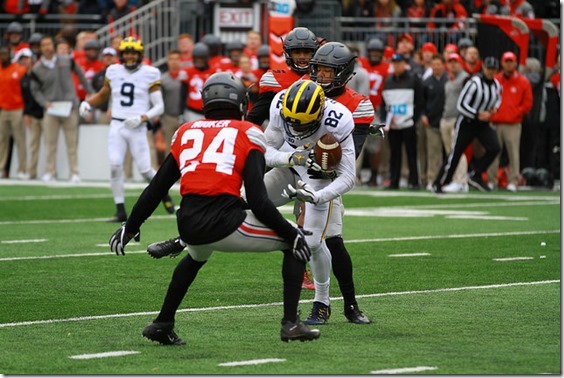 [Eric Upchurch]
After all that, the thing that sticks with me is something much more prosaic than the various outrages everyone's going on about. It's third and four in the fourth quarter. Ohio State literally triple-covers Jake Butt; Wilton Speight finds Amara Darboh open on a quick slant. The ball is behind Darboh, tough but catchable. Darboh does not catch it. Michigan punts with five minutes and change left on the clock.
Why did that happen?
I don't know. Nobody does, but very few people tasked with writing about a thing will tell you that. Everyone else will reach for any explanation of remote plausibility, from an injured shoulder to CHOKING like a CLOWN FRAUD. Whatever, doesn't matter. Just as long as there's a reason a thing occurred, we can go on with our lives.
I think that happened for no damn reason at all. Yes, if you replaced Speight with Tom Brady that pass was more likely to be accurate. If you replaced him with Tyler O'Connor, less likely. It is still a simple five-yard throw that is amongst the easiest in the quarterback's repertoire. It is within the capabilities of the QB. Speight probably hits 90% of them, especially on a day where he is locked in. The most likely explanation for why he did not hit that one is none at all. The most likely reason Darboh did not catch a tough but catchable pass is none at all.
There are entire fields of study dedicated to the fallibility of the human brain, which refuses to operate cleanly. (I just put a D into the word "entire" as I was typing that sentence out.) These exist mostly because planes crash into each other and space shuttles explode and not because football happens sometimes, which just goes to show that people have strange priorities.
--------------------------------------------------
Speaking of the fallibility of the human brain:
Jim Harbaugh was justifiably unimpressed with this officiating https://t.co/WHde8oZalZ pic.twitter.com/vldk3U1k44

— SB✯Nation CFB (@SBNationCFB) November 26, 2016
It is hard to take that sort of thing. Michigan had just gotten a flag on a similar, but less severe, defensive holding incident on the prior Ohio State drive. That ended a Michigan drive that had reached midfield; if called correctly Michigan has first and ten at the Ohio State 40.
Later in the game the same pattern would repeat. Delano Hill was flagged for pass interference on third and 14 when he unnecessarily grabbed the waist of Curtis Samuel before the ball arrived; the exact same thing happened to Grant Perry on a third down conversion attempt and was ignored. Again, that sets Michigan up with a first down, this one on the ten in the second overtime. Again it was preceded by a call so similar against Michigan it beggars belief that a flag did not come out.
That's tough to get over. The spot was close enough and chaotic enough that it falls within the realm of the unknowable. An MGoUser who knows what parallax is and went over available evidence with a fine-toothed comb thinks Barrett made it by literally an inch or two. While I thought the spot was wrong I knew they would not overturn it, because they never overturn spots without some sort of egregious his-knee-was-down-ten-yards-ago kind of thing. In isolation that call is, in the cold light of day two days later, too close to have a definitive resolution. If it was wrong it very well could have been an honest mistake.
It is difficult to interpret either of the above incidents as honest, or a mistake. It's difficult to see a standard-issue Harbaugh blowup get flagged in the Game when we've seen the same thing tolerated all year. It's difficult to believe that Michigan's defensive line hasn't benefited from a holding call since the Illinois game.
This is the point at which newspapery types come in with the You Had Your Opportunities To Win The Game, an asinine criticism since that's literally true of both teams in every close game ever played. You can believe that Michigan had opportunities to win they did not take and simultaneously believe that the officiating gave you less than a 50/50 shot in a 50/50 game.
And then you're putting guys out on the field from the state of Ohio who were previously banned from working The Game because of how it might look? What the fuck are you even doing, Big Ten?
[Patrick Barron]
What's that? Counting your money? Right. Well done.
--------------------------------------------
Michigan lost this game. They did so for many reasons.
Their mistakes were punished as ruthlessly as possible. A floating ball goes directly to a defender. A fumbled snap is recovered by the defense. Curtis Samuel escapes a huge loss three times and sets up the fourth down that falls within the margin of error.
They did not take advantage of plays that were there to be made. Speight threw behind Darboh twice; Darboh did not bail him out. Karan Higdon missed a cut on what would have been a huge gain. Smith did not run over a safety prior to the fumble.
They did not get a fair whistle. See above.
All that and it came down to a literal inch. A rivalry classic, and an invitation for a bunch of hooting jackals to hoot some more. As for us on the other side, nothing to do but soldier on in the gray light of morning.
AWARDS
there is another [Bryan Fuller]
Known Friends And Trusted Agents Of The Week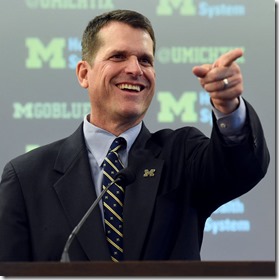 you're the man now, dog
#1 Taco Charlton was the most rampant of Michigan's very rampant defensive line, acquiring two and a half sacks and forcing Barrett to move around several other times.
#2 (tie) Ben Gedeon and Mike McCray shut off the Ohio State edge except on a couple plays where Michigan was successfully out-leveraged pre-snap. It was weird to see neutrals on twitter wondering why anyone would run east-west against The Michigan Defense, but they were, because it didn't work. They picked up 19 tackles between them, two sacks, another TFL, and McCray batted down two passes. McCray also forced a sack when he leapt in the passing lane of a third.
#3 Kenny Allen bombed all but one of his punts; he mastered the Ron Coluzzi hard right turn; he had just one touchback, that on a punt that still had a 40+ yard net; Curtis Samuel had just one quickly snuffed return opportunity; he hit a couple field goals; none of his kickoffs were returnable.
Honorable mention: Channing Stribling broke up the only deep shot on the day; OSU decided they were not going to bother with either him or Jourdan Lewis. The rest of the defensive line was terrific all day; the tackles were very good in pass protection against some tough customers. Peppers had a big KOR, an interception, and was also a major part of the edge being closed down.
KFaTAotW Standings.
10: Wilton Speight (#1 UCF, #1 Illinois, #3 MSU, #1 Maryland), Taco Charlton(three-way T1, PSU, same vs Rutgers, #3 Maryland, #2 Iowa, #2 Indiana, #1 OSU).
9: Jabrill Peppers(T2, Hawaii; #3 UCF, #1 Colorado, #2 Rutgers, #2 MSU)
5: Ryan Glasgow(#2 UCF, #1 UW), Chris Wormley (three-way T1, PSU, same vs Rutgers, #1 Iowa).
4: Jourdan Lewis (#3 UW, #2 Maryland, #3 Indiana), Mike McCray(#1 Hawaii, T2 OSU), Ben Gedeon(#3 Colorado, #3 PSU, three-way T1 Rutgers, T2 OSU).
3.5: De'Veon Smith (four-way T2, PSU, #1 Indiana).
3: Amara Darboh(#1 MSU).
2.5: Karan Higdon(four-way T2, PSU, #2 Illinois).
2: Jake Butt(#2 Colorado), Kyle Kalis (#2 UW)
1: Delano Hill (T2, Hawaii), Chris Evans (T3, Hawaii, four-way T2, PSU),  Maurice Hurst (three-way T1, PSU),  Devin Asiasi(#3 Rutgers), Ben Braden (#3 Illinois), Channing Stribling (#3 Iowa), Kenny Allen (#3 OSU).
0.5: Mason Cole(T3, Hawaii), Ty Isaac (four-way T2, PSU).
Who's Got It Better Than Us Of The Week
This week's best thing ever.
It's a goat in a duck costume!
Rescued goat wears duck costume to calm anxiety https://t.co/wdgmHVCLfd pic.twitter.com/p1zVDccIlu

— AJC (@ajc) November 28, 2016
Honorable mention: is that not sufficient
WGIBTUs Past.
Hawaii: Laughter-inducing Peppers punt return.
UCF: Speight opens his Rex Grossman account.
Colorado: Peppers cashes it in.
PSU: Wormley's sack establishes a theme.
UW: Darboh puts Michigan ahead for good.
Rutgers: Peppers presses "on".
Illinois: TRAIN 2.0.
MSU: lol, two points.
Maryland: very complicated bomb.
Iowa: The touchdown.
Indiana: Smith woodchips Michigan a lead.
OSU: Goat. Duck costume. Yeah.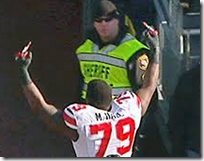 MARCUS HALL EPIC DOUBLE BIRD OF THE WEEK.
This week's worst thing ever.
The Spot.
Honorable mention: The ensuing play. Speight fumbles the snap; Speight gets hit on the throw and offers up a pick six; Speight throws an INT that is on him; various refereeing malfeasances.
PREVIOUS EPIC DOUBLE BIRDs
Hawaii: Not Mone again.
UCF: Uh, Dymonte, you may want to either tackle or at least lightly brush that guy.
Colorado: Speight blindsided.
PSU: Clark's noncontact ACL injury.
UW: Newsome joins the ranks of the injured.
Rutgers: you can't call back the Mona Lisa of punt returns, man.
Illinois: They scored a what now? On Michigan? A touchdown?
Michigan State: a terrifying first drive momentarily makes you think you're in the mirror universe.
Maryland: Edge defense is a confirmed issue.
Iowa: Kalis hands Iowa a safety.
Indiana: A legitimate drive.
OSU: The Spot.
[After THE JUMP: ~3000 additional words, 43% of which are swears.]