Deep In The Night I Heard The Pealing Of Bells
10/10/2015 – Michigan 38, Northwestern 0 – 5-1, 2-0 Big Ten
[Bryan Fuller]
It was one fan, maybe two or three, in the south endzone. He or she or they wrote themselves into a corner of Michigan lore with one of the simplest chants in sports. It's the one that gets deconstructed into the letter D and the outline of a fence at NFL stadiums across the country. It is about as unique and special as "Seven Nation Army" at this point, but life is all about timing.
I have been to every Michigan home game in the last 18 years and I have never heard that. It is alien, the kind of thing I recoil from because it represents the melting of our special Michigan snowflake.
And holy shit, man. The little pin-pricks all across your scalp; the tremor in the hands; the flush of sweat; the welling of tears manfully suppressed. I could not participate myself. I was too gob-smacked to do much of anything at that moment. Michigan was up 38-0 with time about to expire. It was 4th and 17. If you had asked me to draw a card from the deck at that moment I couldn't have managed it.
Since the podcast started I've looked at a lot of lyrics from songs I love, and on the page they're flat nothings. This was the inverse of that. Two syllables; one word; and yet, poetry. 
----------------------------------------------
This is it, already. The building process turned out to be a single offseason of four-hour practices and competition over everything from starting positions to the most elegant mashed potato sculpture at dinner. Brady Hoke may not have been able to point his team in the right direction given two tries, but he could recruit, and the fruits of his labors have been honed molecule-thin by a man who can get hat-displacingly angry up a billion points in the second half.
Michigan fans were dying for this. Barely anyone left until deep into the fourth quarter, and there were still enough people ready to run through a wall with 29 seconds left, enough people to rattle the press box and send electricity up your spine.
The recent Harbaugh-to-NFL flare ups caused Michigan twitter to once again latch on to the pant leg of anybody who dared assert that Harbaugh would ever leave the confines of Ann Arbor (save for road games, of course). In the aftermath, media members got rabies shots and quietly conferred about how Wolverines fans are low key the most annoying on the internet.
They are not wrong. We take after our mascot: outwardly innocuous, secretly vicious bastards with a pipe-crushing grip. Anyone threatening the precious will be verbally berated until they give up in exhaustion. After the last eight years in the wilderness even the thought of a diversion enrages.
I emceed the Alumni Association's tailgate on Saturday, and I heard an awful lot about how things have changed in just a year. Indeed they have. I went back to the game column after game six of 2014, in which I meditate on the mournfulness of the Kids In The Hall's theme song and embed their "Each Day We Work" sketch. This was the entirety of the bit about football:
Football happened, in the usual way.
That described a loss to Rutgers.
In that column I talked about how the most appealing bit of Kids In The Hall was always that theme song, titled "Having An Average Weekend"; I went back and listened to it, and now I think that song is genius. It filled me with a sense of contentment and optimism. That's an average weekend, just a year after things were so bad they spawned the first and only Wolverine Revolutionary Popular Front.
An average weekend ends with a stadium full of people exhorting Michigan to finish burying their opponent, with two syllables ringing through the nation's biggest stadium, once again full to the brim. With belief.
How I woke up this morning pic.twitter.com/RuyiRdECUL

— PeppyPep (@JabrillPeppers) October 11, 2015
[Fuller]
Let those who would stand in Michigan's way come.
[Note: Alejandro Zuniga clipped the chant first but the sound quality wasn't what I wanted so I reproduced it.]
HIGHLIGHTS
HARBAUGH
Maize and Blue News has the Harbaugh presser and also the players.
AWARDS
this will end badly for you son [Fuller]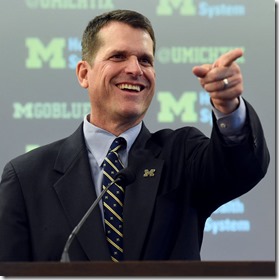 Known Friends And Trusted Agents Of The Week
you're the man now, dog
#1 Jourdan Lewis had a spectacular YOINK pick-six in addition to generally being Jourdan Lewis. Gypsy seems real good with him currently.
#2 Jabrill Peppers annihilated the option several times, had 3 PBUs when tested in coverage (though one of them should have been an INT), laid the final block on Jehu Chesson's kickoff return, got the key block on Lewis's INT return, and fair caught all manner of short punts, saving Michigan dozens of yards of field position.
#3 Jake Rudock was efficient and capable; called into action on the ground he left a Northwestern LB in the dust on a play reminiscent of Tate Forcier's "I Saw Cover Zero" touchdown.
Honorable mention: All DL were excellent but Henry and Glasgow in particular stood out. Jehu Chesson's KO TD was more scheme than magic but dang he is fast and added a few nice plays on O. De'Veon Smith only had eight carries but had the entire Northwestern secondary on his back for one of them. AJ Williams led the team in catches and blocked well.
KFaTAotW Standings.
6: Jourdan Lewis (#1 UNLV, #1 Northwestern)
5: Chris Wormley(#2 Utah, #1 Oregon State)
4: Jabrill Peppers(#2 BYU, #2 Northwestern)
3: Jake Butt (#1 Utah), De'Veon Smith(#2 Oregon State, #3 BYU), Ryan Glasgow (#1 BYU), Desmond Morgan (#1 Maryland),
2: Ty Isaac(#2 UNLV), Jabrill Peppers(#2 BYU), Maurice Hurst (#2 Maryland).
1: Willie Henry (#3 Utah), AJ Williams (#3 Oregon State), Channing Stribling(#3 UNLV), Blake O'Neill(#3 Maryland), Jake Rudock(#3 Northwestern)
Who's Got It Better Than Us Of The Week
This week's best thing ever.
Jehu Chesson wins the game in the first 15 seconds.
Honorable mention: Ridiculous Lewis pick-six.
WGIBTUs Past.
Utah: Crazy #buttdown.
Oregon State: #tacopunts.
UNLV: Ty Isaac's 76 yard touchdown.
BYU: De'Veon Smith's illicit teleporter run.
Maryland: Jehu Chesson jet sweeps past you.
Northwestern: Chesson opening KO TD.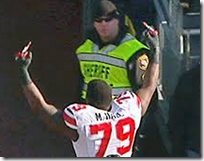 MARCUS HALL EPIC DOUBLE BIRD OF THE WEEK.
This week's worst thing ever.
USA-Mexico. Seriously, I got nothin' from the actual game.
Honorable mention: Blake O'Neill's second touchback. I guess one of those third and fifteen conversions?
PREVIOUS EDBs
Utah: circle route pick six.
Oregon State: Rudock fumbles after blitz bust.
UNLV: Rudock matches 2014 INT total in game 3.
BYU: BYU manages to get to triple digit yards in the last minutes of the game.
Maryland: Slog extended by deflected interception at Houma.
Northwestern: KLINSMANN OUT
[After THE JUMP: this week's ways in which Harbaugh out-schemed his opponent, Happy Iowa Rudock, John Baxter's first BANG, and more defense defense defense.]