Upon Further Review 2017: Offense vs Rutgers
SPONSOR NOTE. Man, it feels good to get something out of the way, like a Rutgers linebacker, or a Rutgers defensive end, or a Rutgers defensive back, or that mortgage refi you've been thinking about. HomeSure Lending can get that out of the way for you, and then it's smooth sailing until the endzone, or at least a safety.
FORMATION NOTES. Hello, manball. Michigan's approach in this game was downright neolithic, featuring 32 snaps with one or zero WRs. Feel the Harbaugh goodness as Michigan goes with a goal line set on first and ten on their own 34 (the "WR" is Gentry and he will motion to a TE spot presnap):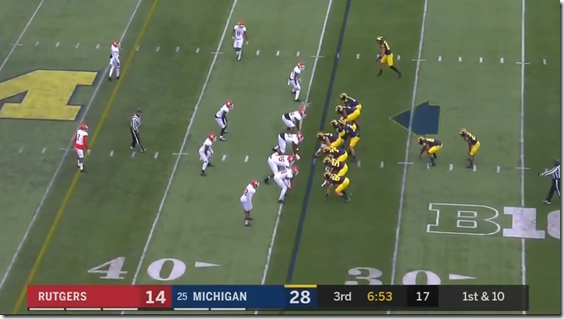 Michigan did suffer to allow two wide receivers on the field 22 times; three WRs managed to get out there on 14 snaps.
Note that Michigan's formations were slightly less neolithic than the personnel: Michigan was happy to spread their TEs out as WRs for a half-dozen or so 2 WR snaps.
SUBSTITUTION NOTES. OL was the usual until Onwenu got dinged late. Runyan got 7-8 plays in his place. Peters replaced O'Korn about halfway through the second. TE was the usual: mostly Gentry and McKeon with Wheatley emerging into a more prominent role but still third; Bunting snaps were scanty. Michigan did use a version of Spanellis wearing 97 as a bonus OL on a number of snaps.
WR was mostly nobody, but when it wasn't nobody it was Schoenle or DPJ on one-WR plays. Perry was always in when there were multiple WRs. Collins got a little run and a catch. Crawford was out after being spotted in a boot this week.
RB was a Higdon-Isaac-Evans-Walker production, in order of declining carries. Samuels burned his redshirt for good in the last few plays. I try to not get peeved about RB redshirts.
[After THE JUMP: hundreds of pounds of ground cable subscriber]