Unverified Voracity Gets Serious This Time, Seriously
Sponsor note: SPORTS POWER WEEKENDS will get you to a road game with POWER. /Herbstreit
Check them out to help the blog.
Pro combat. Via Tremendous, freshman OL Erik Magnuson and Kyle Kalis in a dorm hallway:
Magnuson should wear that on gameday. DEs would speed rush the wrong way.
Liveblog status update. I've checked out the comments left on the Liveblog Conundrum post and things seem split 60-40 in favor of CIL, but a couple of misconceptions may have swung that. To clarify:
The embedded twitter feed hypothesized in the previous post would not be unmoderated. We would not be relaying the results of a hashtag. We would create a separate gameday twitter feed that would be part of the list that would exclusively retweet comments sent to it, a la CIL. There would be a base set of feeds like Ace, Heiko, Seth, myself, and Grant Wahl that would be in the list, and then various people who wanted to contribute to the list as commenters would send tweets to the gameday account.
Kickstarter requires a deliverable, so their platform doesn't work for raising money for a service like this. We could do a generic donation drive for these things, but… it's moderated chat software. Paying these sorts of prices seems insane. Various people have brought up the idea of spinning up our own version, and I agree that is an attractive long-term solution but it's August and that is not an option for 2012.
I don't see the "I might annoy people following my feed" and "I might not be as anonymous as I would like to be" issues as real problems. If anything, that kind of drag on posting would be beneficial to the over-stressed moderators. If you'd ever been in a CIL trying to figure out what to give an approve to you'd know. Caring about that sort of thing seems like a benefit.
A commenter mentioned P2, a wordpress theme that turns a front page into… well, SB Nation comments. This would be great. It does not have a Drupal equivalent. I could try to incorporate it as a subdomain (live.mgoblog.com) but again, it's August and at this point it's time to embed or die.
Does that change any opinions?
Mattison in for the medium haul. I don't think it's a surprise that Mattison is planning on retiring at Michigan…
"The good thing that happens when you're older and you've been a lot of places is, a lot of (coaches) want to win so they can move on," Mattison said. "Me? Hey, this is my last stop. I just want to win because it's Michigan."
…but maybe Borges saying the same thing is news:
"Now that I'm here, not really -- not like I did 10, 15 years ago," Borges said in a recent interview when asked if he still hoped to be a head coach. "I never say never, but by the same token, I don't go looking for them. Used to be I did, but I'm done hunting down head coaching jobs. I'm in a place where I'm very happy and I just want to make this job the best job I can make it.

"This is a great place to coach and to be, and for someone to leave here, you better be able to justify it. And I just don't see any scenarios that could justify me leaving the University of Michigan."
How long would these guys be in place? Well, Mattison is 62 and Borges 56. Norm Parker just packed it in at 69 due to health issues and Mattison says he'll keep going as long as those don't prevent him from doing his job:
"At first, I thought I might do this for a few years," he said. "But after this last season ... my wife, she said it me, 'What else are you going to do? You are going to go golfing for about two weeks, and then you're going to go crazy.'

"'I said, 'You're right. I'm going to coach, as long as my health holds up, and as long as they want me, and as long as I can still keep doing the job.' "
So this staff will probably hang together until someone gets poached to be a coordinator elsewhere or Mattison retires.
We're serious now you guys. Glad to see that John Infante, the Bylaw Blog guy, also had a problem with UCF's wrist-slap penalty for its athletic director paying a street agent(!) and that I'm not a bloodthirsty maniac. Or if I am I'm not a lone bloodthirsty maniac. Infante:
What UCF was accused of was, on its face, one of the worst packages of NCAA violations in recent memory. Not only were both of its revenue sports using a runner (among others) to help recruit athletes and that runner was providing benefits to student-athletes, but all of this was with the knowledge, encouragement, and even active participation of the athletic director.

For all that, UCF got off relatively light. Twin postseason bans, scholarship losses and major recruiting restrictions are not a slap on the wrist. But considering the conduct, it could and should have been much worse. The NCAA would have been justified in laying to waste both of UCF's most prominent sports for the rest of the decade
Infante hypothesizes that the COI is waiting for the new enforcement structure coming down from on high before doing anything serious to someone. Well, it's here:
A program found to have made a "serious breach of conduct" with aggravating circumstances could face postseason bans of two to four years. In addition, the program may have to return money from specific events or a series of events or the amount of gross revenue generated by the sport during the years in which sanctions occurred - fines that could cost a school millions of dollars.

If this sounds familiar, it should. After the Jerry Sandusky child sex-abuse scandal at Penn State, the NCAA barred Penn State from playing in a bowl game or the college football playoff until after the 2016 season and levied a $60 million fine - the rough equivalent to a year of gross revenue from the football program.

Coaches, too, would face new guidelines. They would be presumed responsible for any violations committed by their staffs. If they cannot prove they were unaware, the head coach could be suspended from 10 percent of the season to the full season.

The board also approved a provision that would publicly identify individuals responsible for the violations if there is a finding of lack of institutional control or failure to monitor.
It won't be real until October, but it should be real then. Hopefully UNC and Miami are first on the chopping block.
I can foresee no problems with this. This is part of a generally sensible move towards slashing out big chunks of NCAA rule minutia:
Boosters would be allowed to contribute directly to the compensation of coaches, potentially controlling more of the terms under which coaches are paid, if a new NCAA proposal is adopted.

Under the plan, described in a 12-page NCAA document obtained by The Chronicle,boosters could come up with their own bonuses instead of giving their money to the athletic department and hoping that they would have the influence to get it written into a coach's contract, one NCAA rules expert says.
I'm not sure who thought the problem with booster influence was that it was too restricted. I would like to tell this person that they're not right. The rest of the proposal seems fine by me: removing a bunch of recruiting restrictions implemented to maintain a "level playing field," including the contact restrictions men's basketball has already dumped.
Here's a person who is sane:
"The playing field is not and has never been and never will be level," said James F. Barker, president of Clemson University and chair of the NCAA working group that came up with the proposed changes. "To say the NCAA should try to create a level playing field is impossible and is not a wise path to take."
Here's a person who is not:
"I do not know if the proverbial 'level playing field' can ever be had," Bill Zack, head women's rowing coach at the University of Portland and president of the Collegiate Rowing Coaches Association, wrote to the working group through an NCAA feedback form. "But I think it is problematic to outright acknowledge that it is OK to have institutional financial advantage."
There's a place for that, and it's called DIII.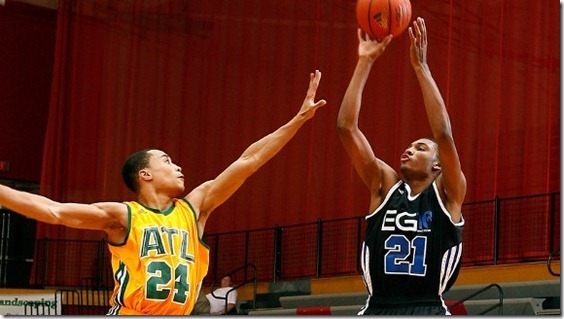 shooters are shooting in code
Irvin hype. Rod Beard checks in with 2013 basketball recruit Zak Irvin and in doing so touches on the most remarkable aspect of Beilein's recruiting thus far:
"Irvin is probably the most improved kid in the state this year. He had a great year in high school and he's carried it over to AAU. He can really shoot, he's athletic at 6-7 and he's a lot like Hardaway," said Dan Dakich, who coached at Indiana University and now coaches an AAU team in the state.

"He's a better shooter than Hardaway coming out, but he's got that kind of length and can handle the ball and is comfortable on the perimeter. Beilein likes length and shooting ability and certainly those two kids can do that. I think they got two really good ones."
Over at ESPN, a couple of analysts confirm Dakich's assessment($). Paul Biancardi votes for Irvin as the best player he saw across two dozen AAU events…
His long-range jumper is accurate and if a defender gets too close, he will drive to the basket with a long first step. Plus, he has the size to score over defenders in the painted area. … Overall, he is a clutch performer, arguably the best player in the state of Indiana and the best player who helped his team win I saw all summer.
…and John Stovall plugs him as the guy most likely to rise in ESPN's rankings:
The Michigan commit has improved to the point where he is the best player in Indiana and one of the very best in the Midwest. He can play either wing position (SF or SG) and is a solid athlete who is much better off the dribble now with his improved handle. He can create space off the dribble and hit shots from midrange all the way to 22 feet. He is also better as a defender. He has nice length and athletic ability. Irvin is easily a top 50 player now and should be ready to play immediately at Michigan.
Trey Burke, Tim Hardaway, Glenn Robinson III, and now Irvin have all seen surges after their commitments as they pass various players Beilein has not recruited. (Hardaway and Burke had to wait to arrive on campus before getting the bump.) That's quite a streak. Talent evaluation: Beilein has it.
BONUS: rumble has it that Scout, the lone remaining Irvin skeptic, is about to come around whenever they update their rankings next.
We'll be seeing you in Michigan Stadium this fall. Congrats to Tyler Clary, the former Michigan swimmer who nailed down a 200M backstroke gold medal by beating favored Ryan Lochte last night-ish, then live-tweeted the replay.
We might not be seeing you in Michigan Stadium this fall, at least not early. Frank Clark's pretrial date is September 11th, which is after the Alabama and Air Force games. If Hoke goes by the Josh Furman precedent Clark will be out at least that long, but hopefully he won't since having Furman sit out spring practice for a piddling offense that was eventually dismissed seems detrimental to everyone.
Requirement: three people should have this jersey. The Wisterts' #11 is back in circulation as a legends jersey. Don't give it to Kovacs. Or Denard.
Minor hockey rule changes. Hand passes are now illegal everywhere, and defensive zone hand passes are subject to a no-change rule similar to icing. Deflecting a puck into the net with your skates is now cool as long as it's not kicked. (This rule will be changed within five years, because it always changes.) And defensive players slightly dislodging the net will not cancel goals like Michigan's second against Cornell last year. Which, like, finally.
Thumbs up on all of these. I think they should move the kicked-puck rule to a bright line: if the skate stays on the ice for the whole process, it's legit. If it comes off, it's not.
BONUS thing: Canadian university Simon Fraser is the NCAA's first international member. They'll enter at DII and will hopefully wrangle themselves a DI hockey program as soon as possible.
Only lawyer in America update. Also via John Infante, Michael Buckner's firm scored Montana's NCAA business.
Etc.: NCAA widens bowl eligibility to 5-7 teams if they have a top five APR, which, just… come on man. Every bowl that would ever consider taking such a team is stealing money from college football with ticket guarantees to games that will have no one at them. Countdown To Kickoff kicks off. Also counts down.