MGoHall of Fame: Football Nominees
Good lord, this was brutal. Hockey had a pretty clear cutoff that sat nicely at five, and getting to five in basketball was a stretch. I left Steve Breaston, Leon Hall, Allan Branch, and Zoltan Mesko out here. Jebus.
See also: structure, basketball, hockey.
David Molk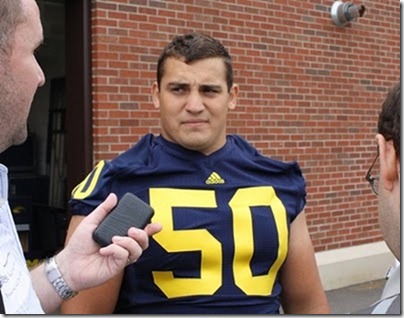 PROS: Tough-talking no-neck was a four year starter at center perfectly suited for Michigan's zone running game; won the Rimington as a senior. Hilarious interview with absolutely no regard for cliché. High fantangibles rating. At times seemed to be the difference between doom and success in the Michigan ground game. Broke something serious in his foot in the Sugar Bowl, watched Rocko Khoury make some panic snaps on Michigan's first series, and played the rest of the game seriously damaged.
Experienced both coaching changes and was one of the seniors Who Stayed™. A huge factor in the locker room uniting behind Hoke.
CONS: Had some injury problems. Inexplicably had his snap count jumped against MSU and only MSU for like three straight years.
Mike Martin
PROS: Four-year contributor and three-year starter who always teetered on the edge of being great. Finally accelerated down the senior-year stretch into a dominant nose tackle. During this period forced a pitch on a Nebraska speed option.
This is about all you need to know. You could not block him. Michigan's insanely good third/fourth and short defense started with him (and ended with Kovacs).
But wait, there's more: with Michigan's already-thin defensive line depth shattered by injury before the Sugar Bowl, Martin and Van Bergen faced off with future first-round pick David Wilson in a game where getting a stop meant you got four snaps before you were back on the field. They singlehandedly kept Michigan in the game despite dying halfway through the second quarter. A performance that should pass into legend the same way Hunwick's North Dakota game will.
Also a member of Those Who Stayed™. Along with Molk and Van Bergen, Martin got the Full Andy Dufresne from his time at Michigan.
CONS: Seemingly endorses "In The Big House." Not as highly regarded by the NFL as a few other guys on this list.
Ryan Van Bergen
PROS: Third and final member of Those Who Stayed™ on the list. Also a four-year contributor and longtime starter, underrated because of his lack of playmaking but still the TFL leader on last year's team. The other guy holding Michigan's defensive line together through sheer force of will in the Sugar Bowl. Virtually impossible to knock down. Screwed up a check in the 2009 Indiana game, leading to an 85-yard touchdown, then singlehandedly annihilated the next IU drive, giving Michigan a chance to pull it out.
CONS: Probably the least-great player on this list. Here as a tribute to Michigan's phoenix act in 2011. Not enticing to NFL. Still… look at that. This is not a list of the best players ever, so…
Brandon Graham
PROS: The best player on an awful Michigan defense and awful Michigan teams. Did not get the Full Andy Dufresne since his career ended halfway through the sewage tube. Still bore all of this with a Denard-like beatific smile. Just killed people, all the time.
NFL did really like him, drafting him in the top half of the first round.
CONS: Unfortunately his impact was limited because the team around him was terrible.
David Harris
PROS: Sideline-to-sideline missile was cerebral to the point of near-genius. Always there. Always. Made a habit out of juking(!) offensive linemen in zone schemes, making them think the play was going one way, then exploding into the ballcarrier when this was not the case. Junior year was tremendously underrated thanks to chaos around him; was major lynchpin and possibly the best player on Michigan's monster 2006 defense. Yes, I mean that seriously.
Early and still prime example of the usefulness of UFRing makes him near to my heart; not sure if you care. Validated all praise from Michigan fans by instantly becoming NFL tackling machine upon entry to the league.
Kind of looks like Worf.
CONS: Lacks iconic wow play. Others started longer than he did.
Mario Manningham
PROS: Emphatically does not have David Harris's problem since he was the target on two of the most iconic plays of the aughts: Oh, Wide Open and Lloyd Carr's Last Second. An electric playmaker the rest of the time, a guy who wasn't the biggest but was the fastest and hardest to keep track of. Had that brilliant slow-up-to-stall-the-DB-then-extend-for-the-TD move down pat. More of a technician than given credit for. Whenever I think of Manningham, I think of that Citrus Bowl when DeBord said "screw it, spread time" and Holly Rowe reporting that Florida deathbacker Brandon Spikes was chasing Manningham all over the field on his incessant end-arounds, saying "damn, boy, you good."
Did the worm after the 2007 Penn State win.
CONS: Got suspended for the weed, something that took some doing in the mid-aughts. Widely regarded as kind of maybe not the nicest guy to ever make it through the program.
Jason Avant
PROS: Amongst the nicest guys to ever make it through the program. Skillet-sized hands are made of industrial-strength adhesive. An elite-level possession receiver who was everyone's safety blanket. Targeted all the time and made all the catches. Probably the most common ex-player to be referenced in "You May Remember Me From Such Players As," to the point where I actively try to avoid it now.
Did this:
That about sums it up.
CONS: Did drop that one pass once, you know, that one. Never a huge deep threat.
Mike Hart
PROS: Four year starter with great backstory and running style burned into your brain. No speed at all but capable of juking in a phone booth and grinding out two, three, four yards after contact. Got a standing ovation for a particular eight yard run against Penn State once. Came out of a tiny school in upstate New York with outlandish rushing stats and a youtube clip in which he jukes every player on the opposing team twice.
Never, ever fumbled except twice inside the five against Florida in his last game. Pretty much the only thing standing between Michigan and a yards per carry under three during his time at Michigan.
Mouthy in a rivalry-pumping way. Fantangibles high. Added spice to life. I have already written his column. There is a "Mike Hart is pined for" tag on this blog.
CONS: Injury prone. Started this incredibly annoying "little brother" business. Spice added by mouth often backfired; went 0-fer against OSU.
Lamarr Woodley
PROS: Kills people. Brandon Graham was Woodley 2.0, a devastating defensive end who could not be blocked one-on-one. Has enormous Wolverine tattoo on arm. Finished off the Oh Wide Open game with the Yakety-sax-capping scoop and score. Fighting with David Harris and Allan Branch for title of best player on 2006 defense.
CONS: OSU 0-fer does not quite apply but really kind of does since he did not contribute much in 2003. That's about it. Kind of think maybe Graham was better since he had way less help and still produced.
Jake Long
PROS: Is he a man or a block-long wall? Only his mother knows, and these days she's not even sure. Four-year starter who rolled off the NFL left tackle prototype line and let exactly zero guys not roid-raging get to the quarterback when he was on the field. The first overall pick his draft year, all-American everywhere, etc, etc, etc, you get the idea.
CONS: Fantangibles low. Another Michigan great who had to suffer through the indignity of 0-fer OSU. Hurt most of the 2005 season. Not sure what I'd write about him.