Fall Camp 2011: Presser Notes 8-26
(Newsy bits pulled out for easier digestion. Important stuff underlined for better clarity. [Ed: jk, I guess we're still bolding.])
Brady Hoke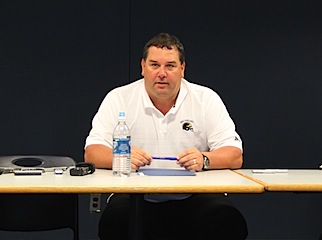 Again, from not my file, but we'll get there soon.
News Bullets:
Gallon, Dileo, and Vincent Smith handling returns
Odoms is healthy
Starting O-line, from left to right: Lewan, Barnum, Molk, Omameh, Huyge
Shaw starting RB, Fitz likely back-up (based on mention only)
Thomas Gordon likely starting free safety, may play nickel along with Woolfolk
Cam Gordon starting at SAM, no starter at WILL yet.
Gibbons likely kicking FGs. Wile will kick off, also might punt. 
Started prep for Western Michigan two days ago.
Okay, on to the poetry.
General, aka fluff:
Footbawww. "It was really good to get up in the stadium, get up there and kind of go through our process on gameday, so guys get an idea what our expectations of mentally preparing for a game -- how you come out, where you go with your group to warm up -- all those things that we don't think about, but they're all organization things you've got to go through. We got to do that, we got to be in that locker room, go down the tunnel, and get a sense for playing in that great stadium."
Consistency. Toughness. Improving. "This was practice 23. We have six opportunities left. We have to keep grinding and keep improving as a team. There were some good things you saw on both sides of the ball, but at the same time we're a long way from where we need to be as a football team."
We need to stop false-starting. "We had a couple penalties today, two of them were composure and poise penalties. We had a full Big Ten crew working the scrimmage. It was a much lighter scrimmage than it was a week ago. Our composure and our poise -- we had a couple procedure penalties offensively that obviously don't help you. Instead of first and 10, you're first and 15 or you're second and 12 or whatever it might be. Those things bother you."
But we didn't fumble or throw INTs! "We took care of the ball pretty well. When you look at the ball security issues ... that's huge for us. We've been minus 32 in turnover margin the last three years. You can't play football that way."
What is the two deep? "I think there are things that are set. We'll do a good job of diving into the tape tonight and further some evaluations on guys. The corner position is hotly contested. I like how JT and I like how Troy have come back, but Courtney Avery and, oh, daggonit, uh..." Talbott? "Calvin! Yeah ... " No, Talbott. " ... Talbott is doing a good job. I just went blank... I'm good with numbers ... Number 18, Blake Countess is doing a good job. Greg Brown is playing well. There's great competition there."
How is health? "We're pretty good health wise." Nothing major? "No, no ... everybody's a little beat up." Tay Odoms? "He scrimmaged today. In fact, he's gone the last three days. He seems fine."
Return game? "Gallon -- both kickoff and punt -- has done a good job. I think Vince Smith in kickoff returns is a guy that would either be the off returner because he's not afraid to go hit somebody in the face, or return the ball. Dileo -- punt -- when you look at punts, you always want to make sure that guy first and foremost is going to be able to field the ball, and isn't scared. I think between those two right now we'll probably start that way."
How many plays did you run in scrimmage today? "We went 126 plays last week. If my count's right, we'll probably get 73-74 today."
How many 4th and 1s? "One."
Did you do anything situational? "We did black-zone coming out, trying to get a first down so you have room to punt and field position. We didn't put it on the 1-yard line. We had a bunch of shots last week at it, and that was a pretty phsyical deal. You're starting to get to the point where you want to get into game week."
Were you surprised by the transfers? "I think you're always surprised, but guys gotta do what they feel is right for them. This isn't for everybody here, and it never will be. They're great kids, and we wish them the best."
But you recruited them! "That happens."
Resolution at some positions, can you share? "Mike Martin's probably going to be the nose tackle. Denard's going to be the quarterback." Oh. Ha ha. "Koger's going to be the tight end. Molk will be center. Lewan will be the left tackle. Huyge will be the right tackle. Patrick will be the right guard, and Ricky will be the left guard. Running-back wise I think we'll look into his tape a little more, but Shaw's had a pretty good camp. Fitz has had a good camp. Safety-wise, Kovacs will be one of those safeties at our base, and I would think Thomas Gordon will be. Thomas is really having a tremendous camp. He had a tremendous summer, and that's why his camp was so good."
Whoa, wait, where did Gordon come from? You never talk about him. "I just think his whole attitude and how he approached the game of football, workin' out, all those things. He's really taken a conscious effort. He'll play some stuff in our nickel. Him and Troy, depending on what unit we have out, they're both playing some nickel. Thomas is basically a dime in another defense. There is a lot of learning that goes on, and he's done a really good job with it, and I'm proud of where he's at right now."
SAM and WILL: "Cam Gordon, I would think, is going to be the SAM. Jake is obviously pushing in there. Brennan Beyer has done a nice job for us. At the WILL ... I don't know yet. Mike (Jones) and Kenny Demens (?) have done a good job, but at the WILL, Hawthorne missed a couple days because of an ankle, and he's fighting his way back. Mike Jones is playing a little bit of both them, both MIKE and WILL. Freshman Desmond Morgan is a good football player. He's got a slight ham, so we held him out today. I don't know if we have a definite guy."
Kicking and Punting: "There's no doubt Wile will kick off. I think Gibbons has done a nice job. He's been accurate. [Ed-M: whaaah?] We did a lot of kicking again today. He's had a good camp. Wile has had a pretty good camp. I think Wile will probably punt, but Seth is a real good possibility there. I think that will probably be a decision made up Wednesday or Thursday to be honest with you."
But that's really late! "You can do that one late I think." 
"They all have a real great mindset about their craft, and I like that about them. I don't know if I would have said that in the spring as much, but I think they all have worked hard at it. Every night they're evaluating their kicks because we film them a lot from all angles. You get a write-up from them, and some of them are a page, page-and a half about each kick and my plant foot and whatever it might be. I'm pleased that they're into football, let's put it that way."
You're a big tradition guy. What does it mean to be in stadium now? "Yeah it's always special to be in the stadium. We talk about that a lot, when we go up there, the expectation, how you play.  We had one other date that we were going to be there, but we had the bad rain and the storm, so we had to stay indoors. We were at [Big Ten Championship site] Lucas-Oil Stadium indoors for that day because all those scrimmages are gamedays. And the championship is played in Lucas-Oil, so we had to go indoors, we just thought it was lucas-oil." (I think Hoke means that they were playing make-believe.)
Minus blitz, how is the pass rush? "Mike gets some good push. I think he is a guy that is aggressive enough, strong enough, pretty good technician in there to push the pocket. I think Jibreel has shown some life as a pass rusher, and Roh. Ryan's kind of a meat and potatoes guy. He works hard at it, and because of that, he'll have some good things happen."
What's your schedule the next two days? "We're going to have a very good mental practice tomorrow at the stadium. Probably about an hour and fifteen minutes. A lot of kicking, a lot of situational stuff. A lot of mental stuff. We'll do a two-minute at the end. We've started Western -- we started about two days ago on some of the switch personnel things, looking at them on both sides of the ball, and we'll have a couple of periods on Sunday. On Monday, they'll be off of meat," (No meat!?) "but there will be no practice for them. We're getting into the school-time schedule where we'll be off as far as practicing goes."