Unverified Voracity Unveils App
App: extant. The MGoBlog iPhone app is live in the Apple App Appstore:
It's free, and will still be inaccessible on Gameday when 100,000 people try to text their buddy "DENENENENENAAAARD." But if you're on an iPhone it's better than webbin' it. Guilt at lack of Android app: severe. If there are any Android developers out there interested in a revshare deal to create one, email me.
Send us your sons. Since it's football season we'll forgo the full breakdown of Glenn Robinson III, Michigan's freshest basketball recruit and the son of Glenn Robinson (II, I guess), that guy who played for Purdue and was in the NBA forever. Robinson is a 6'6" wing who will arrive in 2012 (ie, the year after Carlton Brundidge and Trey Burke). Robinson's a three star rated #118 by Rivals who picked up an offer in August. UMHoops doesn't have a google-stalk yet but it's just a matter of time.
Crist concussion certain. Dude, Dayne Crist was concussed. This is from Brian Kelly:
"We had just got clearance from the TV tout to take the field. We were under a minute. That's when he said, 'Coach, I just don't remember this play.' You could look at him and you could tell that he wasn't fully in charge. So that's when we made the decision to make the change."
I'm not saying Kelly's a bad guy (though I'd be disappointed in RR if he'd done something similar) or that making a decision like that is easy, but at some point there should probably be a guy unaffiliated with either school who makes a decision about whether a player who's "dazed" can return at all. If you're out most of a half, have trouble seeing out of one eye, and are having memory issues, that's a "maybe next week" sort of injury.
TWIS for you. Some miscommunication led This Week In Schadenfreude to get posted late but you'll want to head over there for the awesome animated GIF created from the Terpstra on-field video and the Nation's reaction:
ya know what?
by jddomer (2010-09-11 19:34:34)

f--- you, and anyone who thinks this game was OK. F--- YOU!!!!!! I hate michigan with the white hot heat of 1000 suns. We should NEVER lose to thses f---ers. EAD. These fuckers should never beat us, especially like this. And, being unfortunate enouogh to be born in that godforsaken f---ing state, I will ahev to listen to the "we are better than you" shit for yet another year. F--- you.,
Where is my Jack? seriously. I need a bottle, and I need it now. Until we are 10-1.
Most of you just laughed like mad scientists, and that's okay.
This looks familiar. Via a reader comes this report of a new tradition at Marshall that seems slightly ripped off from your favorite team: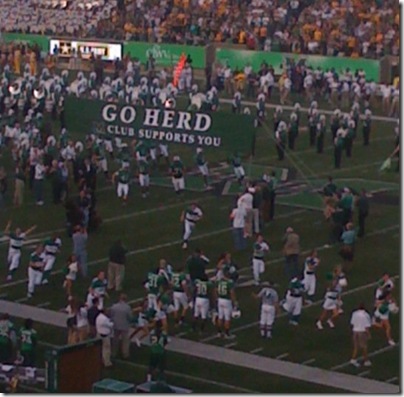 They're still getting the hang of it:
They started a "new" tradition where the players hit the M[arshall] Club banner on their way out onto the field.  Its quite a circuitous  route as the come out of their locker room which is in the North end zone, run up the hashes to the 50, make a right hand turn, and boom! hit the banner. Best part was they didn't set the banner at an appropriate height (probably 10') and only a handful of the players were able to hit it.  Lots of missing going on. 
You're welcome, WVU readers. We try to give something back.
More walk-ons necessary. So the annual walk-on tryouts went down:
More than 30 students participated in tryouts for the Michigan football team Monday afternoon. Rodriguez said six or seven will receive an extended look during a two-week trial period.

"A couple really caught our attention," he said. "They might have a spot on the team."
Keecker? plz?
Major injuries. Michigan isn't the only team getting it in the nads from Angry Blank-Hating Gods. Purdue's #1 receiver and only remaining scary offensive threat in the aftermath of Ralph Bolden's injury is out for the year, which is especially painful because Smith is a senior who has taken a redshirt and will have to apply for a sixth year he may or may not get.
Also gone is Ohio State starting strong safety CJ Barnett, though Ohio State has the depth to find a suitable replacement. Not so much Purdue. Penn State's Gerald Hodges, their version of Mike Jones, will miss 4 to 8 weeks as well. MSU lost its third-string TE, so they're totally screwed.
Steal my thunder. I was totally going to do this but BWS beat me to it:
This is not the 31-yard Roy Roundtree touchdown that kicked off Michigan's scoring. It's a play on the previous drive that ended with Robinson gaining a few yards on that QB off tackle or whatever you want to call it. Look at the WRs: they're running routes. I'm not sure if this is an option for Robinson he misread, a mistake, or a proof of concept for the 'Tree TD, but Michigan saw the results and got seven points out of it. More details at the link above.
RBUAS alert. Johnny talks about the wonder that is Stephen Hopkins. No, not really:
The Saturday morning before last I woke up on an inflatable mattress on the floor of a friend's apartment in Ann Arbor. You know how the rest goes.

 

If you type in Denard Robinson on Google the first suggestion is "Denard Robinson Heisman." He doesn't know what they say about him on television because he doesn't have cable. Notre Dame let him in the interview room, the first time an opposing player has been allowed in there since 1997. Dick Vitale spent Saturday afternoon telling Jalen Rose over Twitter that Denard Robinson was awesome, baby. Lebron James

said

he was "a monster out there right now." Denard Robinson is operating from a different dimension. We can all only swarm to the crater where he crash landed and pick through the debris for souvenirs.
Etc.: Get your Denard wallpaper. Backstreet's back after the Ohio State win. Big Ten Hockey from the BC perspective. Personally I doubt it has any impact on further Big Ten Expansion. Brabbs dominates some more cancer. Blue Seoul picture pages the crap out of everything, including the Tate-RR hugz. Tom Brady on the cover of SI. LOL wrong Michigan QB guyz.