10/10/2013 – Michigan 3, Boston College 1 – 1-0
I once watched a YouTube video of Luke Moffatt scoring five goals in one game. He'd just committed to Michigan and was still playing AAA with Little Caesars or Honeybaked or whatever, and I was told that he was the best 15-year-old playing hockey in the world. I believed it, and Luke Moffatt believed it.
Every waking moment since has been something of a disappointment after that high, for both of us. For me, at least, that's a compartment. For Moffatt it's been his life. Moffatt's prospect status slid until he was a seventh—and last—round draft pick. At Michigan he trundled through seasons that were matched and surpassed by guys who never thought they were the best player on their team, let alone in the country: 5-8-13 as a freshman, 6-10-16 as a sophomore. Last year he was an idling third-liner who finished –8 as the team he probably thought he'd be leading to a national title and incidental Hobey Baker missed the tournament for the first time since evolution was a thing.
My buddy who grew up playing hockey and still knows way more about it than I do heaped derision on him: no check, no effort, no defense, no care. I thought that was a little unfair. But only a little. Luke Moffatt kind of symbolized everything that was wrong with last year's team.
-----------------------------------
Boston College is fast. Michigan was fast; Boston College is still. Michigan has little bursts of fast. Boston College lives on it, and whenever you see them live it jumps off the ice. Boston College is fast. Get your back turned at the wrong time and throw the puck the wrong way in your defensive zone and you are in for a harrowing minute and a half as they swarm you, talons out.
Michigan endured a few shifts like that, and when that happens the mind turns to old games in the tournament against these guys where Michigan was just able to keep up for a while before collapsing, exhausted, as soon as BC tied it. You know that one game I'm thinking about. The one with nine minutes without stoppages.
When I felt that coming on, Michigan lifted a stick. Boston College, which is fast, would be coming out of the defensive zone and then a Michigan guy would have the puck and not quite know what to do with himself. After the puck hit the corner, Michigan would pen Boston College in their zone for a change. I kind of expected this. I've been talking up Andrew Copp and JT Compher for six solid months now.
I did not expect my confirmation-bias riddled self to fist pump because Luke Moffatt was shouldering his way through to keep possession, finishing checks, and playing like the best goddamn 15-year-old on the planet, seven years later. Forget the two power-play snipes. Forget everything about them except Moffatt's comically exaggerated goal celebrations after. Those were Jean Claude Van Damme-level overacted. They were wrestling heel moves. Forget the snipes. Remember the reactions, and apply it to Luke Moffatt plundering through the offensive zone to acquire or re-acquire possession.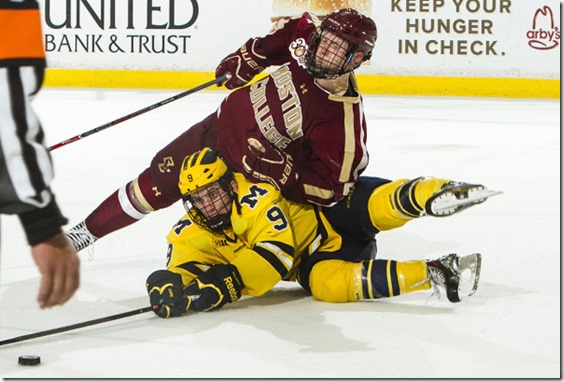 Why is Luke Moffatt on the second line next to the all-effort freshmen? Go to hell, that's why. Luke Moffatt is tired of being a guy who was a prospect. Luke Moffatt is tired of my buddy popping on message boards to trash his effort level. Luke Moffatt is tired of being a third liner. Luke Moffatt is done with that crap. Go to hell, says Luke Moffatt. He says it directly to me and my hissy fit last year. And I say yes, sir.
Luke Moffatt's going to get a major and game misconduct he deserves. And I'll say yes, sir.
-----------------------
After Moffatt buried the 3-1 goal, Michigan had a relatively easy time of seeing Boston College off the ice in the third period. They were desperate; they managed five shots. Michigan put the clamps down, as the clock ticked down and an odd feeling of security descended, last year momentarily seemed like a hazy dream. After that moment it was real, and still bleeding in front of you because Michigan had taken its stick and sliced it across the throat.
Afterwards, Michigan gathered at center ice as they always do. I always watch this. It feels different every time. This time, it was rocket-fueled resentment and a chin held high. We are not them, despite largely being them. That is not us. This is us.
They lifted their sticks as they had Boston College's, and announced their presence. This is not last year's team. An ice shavings-covered, slavering Luke Moffatt is plenty of evidence of that.
[After the JUMP: tracing the outlines of what happened at RIT, Coppwaii.]