Unverified Voracity Is Wide Open
Chaos in the old barn. Minnesota beat Indiana last night, turning the Big Ten title race from Definitely Indiana into a free-for-all between IU, MSU, Michigan, and—ugh—Wisconsin*. If you're betting that Trevor Mbakwe beasting on Cody Zeller was the key, yup: Krang had 12 rebounds, 6 offensive, and went 8/10 from the floor en route to 21 points. Zeller was 2/9.
As for that suddenly open Big Ten race, here are the contenders' closing stretches:
INDIANA: Iowa, OSU, @ Michigan
MICHIGAN STATE: @ Michigan, Wisconsin, Northwestern
MICHIGAN: @ Penn State, MSU, @ Purdue, Indiana
WISCONSIN: Purdue, @ Michigan State, @ Penn State
Michigan controls their own fate for a share; Indiana has the toughest schedule but also a one-game lead. The MSU game this weekend is probably an eliminator. Go Iowa Awesome.
Meanwhile, the Gophers also secured their place in the tournament with that win, not that many people had them anywhere near the bubble. With a closing stretch of Penn State, @ Nebraska, @ Purdue they should reach 9-9 easily, and with wins over Indiana, Wisconsin, and Michigan State they'll probably be in that 6-7 range.
*[Ryan Evans is now shooting jump shots from the line:
This is why the Big Ten sucks at football?]
Turns out they SEC, too. Elsewhere in good news that went down last night, Florida got beat by Tennessee and will be off the one line everywhere once people get around to updating their brackets. Michigan will move back up to a #1 at Lunardi's bracket the next time he updates it, and the Gators are only a hair in front of Indiana on Kenpom now. This would be very good if Michigan could keep that spot.
Not that I put much credence in Lunardi's brackets. He's finally managed to keep Michigan away from teams they've already played in the first two rounds, but right now Michigan is slotted with Duke and #3 Louisville. Since Michigan is presumably #5, that's only S-curve order in his deranged brain. He's got Gonzaga with one of the top two seeds, which… I mean. Come on. Gonzaga does not have the schedule strength to be a one seed. They're 10th in RPI despite their record because their SOS is 66th—84th on Kenpom, but that's not what the committee will look at—and some school in a major conference is going to get hot and swoop past them.
LOLRUS. Michigan State went the somewhat shady route with their disposal of Dan Roushar, waiting until after Signing Day to deport the guy to the NFL position job that is apparently the birthright of any crappy college-level coordinator. (At least he's not assistant to the offensive line coach.) They are about to reap a whirlwind of karma, though:
Former Ohio State offensive coordinator Jim Bollman will be taking the same position with Michigan State, according to Football Scoop. Bollman worked as offensive line coach and run game coordinator at Boston College in 2012 after spending 11 seasons with the Buckeyes and was hired by Purdue as O-line coach for 2013.
And everyone who ever heard of Ramzy Nasrallah thought "I wonder what his twitter feed looked like in the immediate aftermath of this?"
Jfiekslemddkskwmemmfrmdkkwkdkdmdmdkoeoedmdmle RT @footballscoop: Sources tell us Jim Bollman is expected to accept the Michigan State OC job

— Ramzy Nasrallah (@ramzy) February 27, 2013
Bollman's not even a retread—he was OSU's OL coach until Tressel got canned and had one year as the head guy. He thought Joe Bauserman was basically on the same level as Braxton Miller. And OSU fans had been bitching about him for years for various OL issues from recruiting to performance. The only way in which this makes sense is if this was designed as a social media stunt.
If it's that, great job Mark Hollis. If it is Mark Dantonio's inner Oscar the Grouch overwhelming all reason, great job Mark Dantonio. Either way the forecast for Michigan State football in the near future is lots more years like this one, except with more mustache.
BONUS: Ohio State bros yukking it up about the Borges/Bollman matchup betray their Michigan obsession by not immediately going to Bollman/Greg Davis. Borges may have tried to use Denard Robinson as a dump truck, but one of the main complaints so far in his tenure is that everything is a deep ball. These guys aren't on the same plane.
BONUS II: Big Ten football programs have hired John Shoop, Jim Bollman, and Greg Davis over the last two years. To coordinate offenses, not pick out bagel toppings. I will not be breaking new rhetorical ground here by asserting this is why the Big Ten sucks. Northwestern is good at offense every year despite having no recruiting base. Take that, add draftable athletes on defense, and then find out what happens. In the worst case it looks like your offense is coordinated by… Greg Davis.
BONUS III: from an Eleven Warriors reader:
Very Big Ten move. I mean seriously SI, what?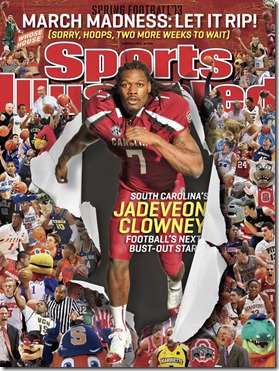 Spring football '13 is the Jim Bollman OC of SI covers.
Etc.: Columbus wins "team I'd least like to go to" and "worst road trip" in Grant Wahl's survey of MLS players. Michigan won't wear the short-sleeved basketball jerseys the only incompetent Germans dreamed up. I've heard they will be wearing something. Here's this guy. Bacon on hockey's history. You like basketball graphs, right? Michigan has an abnormally low transition rate off of makes for how frequently they go on rebounds.