Opponent Recap: Minnesota
Previously: Western Michigan, Notre Dame, Eastern Michigan, San Diego State
[Note: I plan to do these twice a week from now on so that we (I) can have closure with the 2011 season by sometime in February. Apologies if you find this content dated, but since there are people still writing papers about dinosaurs, I feel somewhat timely, relatively speaking.]
Minnesota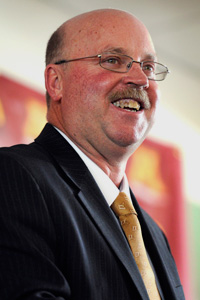 Schedule:
@ No. 25 USC, 17-19 (L)
New Mexico State, 21-28 (L)
Miami (NTM), 29-23 (W)
North Dakota State, 24-37 (L)
@ No. 19 Michigan, 0-58 (L)
@ Purdue, 17-45 (L)
No. 13 Nebraska, 14-41 (L)
Iowa, 22-21 (W)
@ No. 17 Michigan State, 24-31 (L)
No. 18 Wisconsin, 13-42 (L)
@ Northwestern, 13-28 (L)
Illinois, 27-7 (W)
Record: 3-9 overall, 2-6 B1G, 6th place Bo Division
Stats:
 
Offense
Defense
Rush:
160.0 ypg, 56th
186.4 ypg, 91st
Pass:
150.3 ypg, 109th
216.7 ypg, 49th
Total:
310.3 ypg, 110th
403.1 ypg, 77th
Scoring:
18.4 ppg, 111th
31.7 ppg, 94th
T/O margin:
-8, 100th
Recap: There was a time not too long ago when Michigan fans could look at a team with a new coach that had finished a season with a 3-9 record and say, "I have no idea know what that's like, but that must be terrible."
Now that we know exactly what that's like -- and yeah, it's pretty terrible -- let's take a closer look at how coach Jerry Kill and his Minnesota squad ended the season 3-9 and weep together as repressed memories begin to surface.
(more after the jump)