Tuesday Recruitin' Gets the Mom Seal of Approval
In today's recruiting roundup, Sam Webb goes in-depth with Logan Tuley-Tillman and Laquon Treadwell, discusses new offers and visits, and takes a look ahead at a couple of 2014 prospects. Also, Derek Dooley whines about not being able to oversign. You stay classy, SEC.
ALEX KOZAN UPDATE
There is no Alex Kozan update. Please stop asking. When he makes a decision, you'll know. Do not disturb the tao of the vision quest.
Other 2012 stuff: Joe Bolden is already hitting the weights hard after enrolling early ($):
[Preparing for spring practice] includes making every voluntary workout session, hitting the books hard and preparing for Big Ten football. He and strength coach Aaron Wellman aren't best friends yet, but "getting there," Bolden said with a chuckle.

"It's strenuous, but good," he said. "That's one of the reasons I came in early, to get in and get my body in shape to play Big Ten football. I've gained three pounds (in a month), and I don't think it's fat."
Bolden came in at 225 pounds, so it sounds like he's well on his way to being physically ready to see the field this fall.
Touch the Banner posts Allen Gant's senior highlight tape.
Tennessee coach Derek Dooley rants against the SEC's new restrictions on oversigning over at the Atlanta Journal-Constitution. I really don't even know where to start; he thinks oversigning is "good for the student-athlete," complains that he can no longer greyshirt recruits who were injured as seniors—claiming that they could get just as good medical care at home as they would with the professional medical staff at Tennessee—and is mad he's no longer able to take guys who aren't academically eligible. I guess I shouldn't be surprised that such idiotic scumbaggery is coming from a guy who regularly wears orange pants and has a history of blocking legitimate transfer requests, but man... if he disappears in the near future, it's because Nick Saban decided Dooley wasn't a suitable spokesman for the SEC way of doing things.
Teach Me How To Logie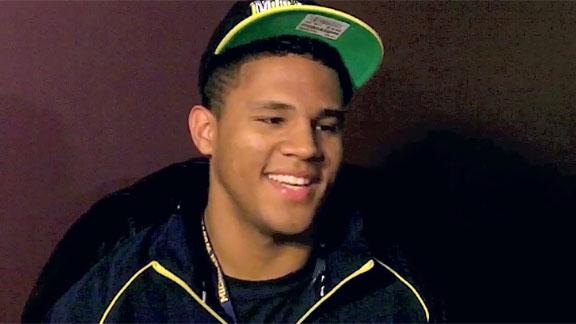 Peoria (IL) Manual OT Logan Tuley-Tillman and Crete (IL) Monee WR Laquon Treadwell both visited Ann Arbor last weekend—and, perhaps more importantly, brought along their mothers—getting a chance to take in the basketball game against Illinois and check out the Big House when it's not packed with 110,000+ people. After the visit, Sam Webb interviewed the recruits and their moms on WTKA, and video of the interviews is posted on Scout. Tuley-Tillman's is broken into three parts; part one is free, and parts two and three are behind a paywall. Logan confirmed that Michigan is definitely his top school—it was his "sixth or seventh" visit, and he's looking to come up again this weekend—followed by Alabama and Florida State. MGoUser WolverineInABag had a summary of the rest of the interview, which I'm reprinting below [emphasis mine]:
-Michigan remains his outright leader, by a long shot

-This was LTT's 6th visit to Michigan, 1st with his mother

-Has developed a great relationship with Coach Funk

-His Aunt living close to Ann Arbor is VERY important to him

-His Mother wants him to go to UM, and she seemingly stressed that several times in the interview

-His Mother calls him "Logie"

-He will take all of his official visits

-Loves the family atmosphere at Michigan
This was his mother's first trip to Ann Arbor with Logan, and she came away very impressed with the school and the coaches. While Logan plans on taking his time and seeing other schools, at this point it's difficult to see him not ending up at Michigan—he's already been inside Nick Saban's office and come out with the Wolverines as his leader.
Treadwell's interview is spread over two parts, again with the first part up for free and the second paywalled. Though Treadwell is also slowing it down and won't name a leader at this time, he did say that Michigan at one point held a big lead and they're now in his top group with Michigan State—where he also visited last weekend, and enjoyed it—and Notre Dame. He's been impressed with his recruiters at Michigan, Coach Montgomery and Coach Hecklinski, and so was his mother. One very interesting development is that Treadwell, Tuley-Tillman, and Joliet (IL) Academy RB Ty Isaac are in regular communication about their recruitments; they're considering all going to the same school and would like to visit Ann Arbor together. That would be one heck of a package deal.
Speaking of Isaac, Webb posted an excerpt from a full magazine feature in which he interviews the junior's father, Tyrone, and they discussed Isaac's visit to Ann Arbor in January. It appears that Fred Jackson is pretty keen on coaching Isaac in the future:
Sam Webb: What were some other things, aside from the genuineness, that kind of stuck out to you during your time on campus?

Tyrone Isaac: "One of the things that really stuck out was Coach Jackson. When we walked in there, he had a plan for him. No other place that we went had a plan. He had dates written down, and he had, 'if you commit, you know, I want you to know all the plays before you ever get on campus', you know? For me, you have to have a game plan. You know? Seriously, you have to have a game plan."
Wyatt Shallman—another running back recruit, and that has been reiterated to him several times—visited this past weekend as well, and he reported that he enjoyed the visit and his talk with Jackson ($). Shallman is in no hurry to commit and won't name any leaders; right now he's focused on working out with his Catholic Central teammates after being hampered by a hamstring injury for most of his junior year (he says he's now back to 100%).
Offers, Visits, and Lists (Oh My)
A few new offers for class of 2013 prospects came in over the weekend. Jersey City (NJ) St. Peter's Prep CB Tre Bell received his offer from Curt Mallory on Sunday; I interviewed him yesterday and will have that transcribed and posted in the near future. The offers have been pouring in for Bell—a three-star to 24/7—over the last couple weeks, including ones from Florida, Nebraska, South Carolina, West Virginia, and Wisconsin.
The Wolverines also offered 6'5", 295-pound tackle John Montelus, who hails from Everett (MA). He recently was named the #214 overall prospect in the Rivals250. Tremendous has a quick rundown of their interview with him (linked above), and I should be talking to him within the next day or so.
One of the top running backs in the country, Cypress (TX) CyRanch's Keith Ford earned his offer over the weekend. He's a highly-sought prospect with a current top five of Oklahoma, Nebraska, Notre Dame, Florida State and Alabama, and he holds offers from all five of those schools. It could be very tough to bring him in, though potentially not as tough as many Texas prospects—he's originally from Jacksonville, though that also makes Florida State a more intriguing destination.
Michigan also offered another running back, Cordova (TN) St. Benedict's Jordan Wilkins, who also holds offers from Tennessee, Ole Miss, Mississippi State, Vanderbilt, Purdue, Arkansas and Memphis ($, info in header). Wilkins is still waiting to hear from some big-names schools, as well as visit the places he's been offered from, but he did name a preliminary top five:
"Right now I don't have a top list, but it was Arkansas, Vanderbilt, Alabama, Ohio State and now that Michigan popped in there that's probably my top five," [Wilkins] said.
Meanwhile, several top prospects have stated intentions to visit Ann Arbor. Four-star Pickerington (OH) Central DE Taco Charlton will be in Ann Arbor this weekend, and he mentioned the possibility of an early commitment to Scout ($, info in header) [emphasis mine]:
"It'll just be great to get a chance to talk to all of the coaches you know Mattison, Hoke," said Charlton. "I got a chance to talk to Singletary and Montgomery and Coach Smith just them right there was great, especially that they came all the way down to Ohio to see me. That just shows that they're showing love to me already."

The question now is how much of that love will Charlton reciprocate when he is in Ann Arbor next weekend. Might a commitment take place while he is on campus?

"It might be a little slight chance," Charlton said with a smile. "We'll see how things go after the visit, then we'll talk after that. I definitely want to enjoy the visit first."
Charlton has maintained throughout the process that Michigan getting in on him early was a big point in their favor. We'll have to see if he decides that's enough of a factor—along with potential early playing time, another priority—to end his recruitment early.
Running through the other players who plan on visiting and don't have set dates yet: Richmond (VA) RB Derrick Green, who wants to visit this summer and said Fred Jackson is "one of the coaches that's going to keep it 100 with me," which is just a fantastic quote ($); Good Counsel (MD) CB Kendall Fuller, one of the top prospects in the country ($, info in header); Shaker Heights (OH) DL Donovan Munger, who's hoping for an offer soon and "definitely" plans on visiting ($); Cleveland Glenville S Christopher Worley—confusing, I know—who currently holds just a Bowling Green offer but has several big-name schools, including Ohio State, interested ($); Avon (OH) athlete Ross Douglas would "love to have that [Michigan] offer," and he's talking to Greg Mattison about taking a visit ($).
There are a couple happy trails: Tyrone (GA) Sandy Creek CB Shaq Wiggins committed to Georgia, while Austintown (OH) Fitch DL Billy Price chose the Buckeyes this past week. Also, four-star NJ CB Eli Woodard has set a decision date for Thursday afternoon, and—after coming off a three-day visit to Columbus—Ohio State is the presumed destination ($).
A couple of rising sophomore defensive linemen have expressed interest in Michigan recently. Allen Trieu has a free article on Detroit Loyola DE Malik McDowell, who's coming off a fantastic performance at last weekend's Elite Big Man camp ($). McDowell plans to camp at Michigan, MSU, and LSU, but he had a one-word answer when asked which school he rooted for growing up: "Michigan." Look for the Wolverines to be heavily involved in his recruitment, and also for him to be one of the top prospects in the 2014 class.
Another player who could earn that distinction is Thiensville (WI) Homestead DT Brandon Hines, who's recently spoke to Greg Mattison and has expressed interest in Michigan, Wisconsin, Michigan State, Boston College, and Arkansas early ($). I should be talking to Brandon this week as well, so you'll be hearing more from him soon.