Bust a CAPA
Colter pulled a hamstring during this press conference
If you hadn't heard, Northwestern's football players won a court thingy yesterday. NLRB Regional Director Peter Sung Ohr ruled that Northwestern's players meet the definition of employees, and can therefore form a union if they wish. You can read the ruling here, but why do that when I can summarize it for you with amusing banter?
Bring in the inquisitive bolded alter-ego!
Hey, you can't tell me what to do. You're not my boss.
Well that's the question, isn't it?
God you are insufferable. Okay, fine. I'll play your game. GEE WHIZ, WHAT HAPPENED?
Well, to understand fully, we need to go back to 1935…
/sigh
…when Congress passed the National Labor Relations Act. Under the NLRA, private sector employees have the right to join unions and to collectively bargain for stuff like wages, salary, better candy in the vending machines, and for the boss to stop using words like "synergy" and "Tiger Team." The catch is that it only applies to employees. The NLRA, for example, doesn't give students the right to form a union. A person is an "employee" if they perform services in exchange for payment, and are under that person's control. What the NLRB regional board ruled was that Northwestern's players do football stuff for Northwestern, as directed by Northwestern* (in the form of the coaches), and in return are compensated with a scholarship and things. In short, Northwestern's football players are employees of the University.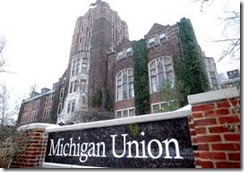 Kind of.
*other than the defensive secondary, which the NLRB noted "did not seem to understand what a 'deep half' was supposed to look like, and displayed an utter disregard for the coaches' directions to, quote, 'just look for the other color jersey and guard someone, anyone, goddammit.'"
But the players aren't paid. They just got to go to school for free and eat some free food and stuff. How are they any different than a normal scholarship student who does biology things the way the biology department says?
That was the University's main argument. They claimed that the players were more like Graduate Assistants, who aren't considered employees under a previous NLRB decision (Brown University, 342 NLRB 483 (2004)). The court said that the difference was that GAs aren't employees because their relationship to their various universities is primarily educational. In other words, your PoliSci GA is simultaneously teaching and studying PoliSci, so they don't count him as an employee for the teaching part.
The 'work'done by  football players, on the other hand, is completely unrelated to the educational mission of the school and to the athletes' studies. The university doesn't get any educational advancement from what football players do (though Northwestern seriously tried to make the argument that playing sports enriches the student experience, and sports are therefore educational, which is exactly as bad of an argument as it sounds).
Instead the school receives gigantic piles of money from what football players do. The school's interest is economic, not educational. Moreover, they said that the players are not "primarily students," as they spend up to 50-60 hours per week** on football duties.
Cool to see so many people excited about education
**Real hours. No one other than the NCAA gives a flying crap about the hilarious differentiation between "countable hours" and "non-countable hours." Mike Rosenberg still sucks.
[AFTER THE JUMP: More union talk. Plus a Sad Pat Fitzgerald GIF]