Goal-by-Goal Analysis: Penn State- Part 1
Friday, March 11, 2016
#9 Michigan 7, #14 Penn State 1
1st period
Sturtz goal, Penn State
UM 0 PSU 1 EV 02:25 Assists: Glen & Goodwin
The puck's careening around the defensive zone when Cecconi comes to close to gathering it, but a Penn State skaters swipes at it and knocks it toward the net. Sturtz fires a backhander that misses, hits the boards, and travels toward the top of the zone.
As all of the Michigan defenders in the frame gravitate toward the puck, Sturtz slips in behind the defense and heads for the front of the net. Juha carries up the boards for a split second before dropping the puck back for Goodwin.
Connor carries Juha to the top of the zone, so Compher comes over to the wall to cover Goodwin. This opens the middle of the ice, and Glen notices; he cuts underneath Motte and gets himself ready to receive a pass off the wall. Both defensemen step forward once he gets the puck, and no one sees that Sturtz is in Racine's face.
Goodwin releases a really strong shot without anyone close enough to alter it, and Sturntz, who's still unchecked, tips it in.
CONNOR GOAL, MICHIGAN
UM 1 PSU 1 EV 15:14 Assists: Compher
Juha sees that the forechecking pressure is soft, and he has time to think through his next move before passing. He decides his best outlet is up the boards, but his pass misses Kerr and is intercepted by Compher.
Compher immediately dishes to Connor, who is cutting underneath Kerr. All three PSU skaters in the area jump in to defend Connor; he manages to outskate them all.
Connor stickhandles once—just once!—and it causes McAdam to almost hit the ice. It seems almost like his muscle memory led him to do so, because he immediately bounces up and tries to push to his right. That's the Kyle Connor Effect; he doesn't even make a true move and goalies are worried to the point they're getting themselves out of position before Connor's even attempting to shoot. Look at Connor and you can see that this shot doesn't come off a huge windup; he's basically going to shovel the puck on net, but his release is quicker and stronger from that position than most everyone else's in the nation.
McAdam essentially falls over himself trying to do the aforementioned get-up-lateral-push-butterfly-again move.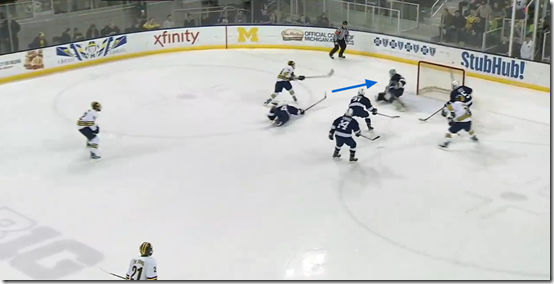 [If you don't hit THE JUMP you'll miss more Connor insanity and you're smart, you wouldn't do that]