Dear Diary's 2013 Tour du Vengeance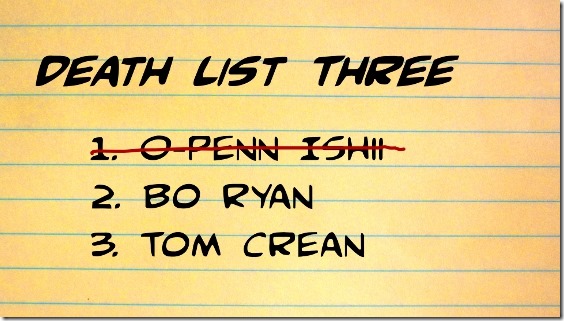 Officiating that even closely approximated what could plausibly described as normal, a breeze from a passing mosquito on a rim-balancing rock, a half-court prayer by the last guys you'd expect to get one of those answered…pick any two things that should or could have happened this year and that's the difference between the 1 seed in the Big Ten Tourney and the 5th.
As I lay in the middle of the B1G's final season standings, trying to will my defense out of entropy, I could see the faces of the weasels that did this to me and the hair cream aficionados responsible. When fortune smiles on something as violent and ugly as revenge, it seems proof like no other, that not only does God exist, you're doing His will.
Michigan shouldn't by all rights be taking the long way through the Big Ten Tournament. But fortune has seen fit to at least make that path go right through those whose ledgers with us are most in the red: Penn State yesterday, Wisconsin today, and pending survival there, almost certainly Indiana. That's our worst loss and then the only two teams who finished with winning records against us. In Indiana's case that won't change unless we meet in the NCAAs.
Can Wisconsin beat us again? I mean it's basketball: weird things happen even without the increased chaos of fewer possessions. Like for example sometimes the
stripes inexplicably side with the harbingers of Rigelian swamp ball:
I felt paranoid watching all of this. It was a temporary window into the world of a 9/11 truther, seeing what looked like an insane conspiracy by Big Ten refs to keep Bo Ryan in their ears, screaming unprintable things about their mothers. A full half-dozen of the calls they made seemed literally impossible, from the two mentioned above to another breakaway layup that Burke missed because a dude hit him on the head and the charge Burke took on Berggren late that went the other way for a critical three-point play. Am I sane? I thought we got a fair whistle at Indiana. I did think that.
At this point a clunky start and a million defensive breakdowns by the freshmen and THJ wouldn't even be filed as weird things. Another weird thing would be an an outfit as attuned to profit margins as this Big Ten allowing a Rigelian sympathizer any kind of access to a whistle. If you need more than "it wouldn't fit the Kill Bill narrative" for reasons to be optimistic, Wisconsin in their own building needed probably the worst complete ref job in the conference's history and an impossible half-court buzzer shot to fall to beat us the first time. Those are thoughts. Here are diaries:
History lessons. Remember the funny Year in Review (with pics) things that saveferris used to write? Here he goes back to 1989, a time when the Simpsons was that new cartoon your mom didn't want you to watch, lest you turn into a spiky-haired scamp child who tells people to not have a cow, man. Most hilarious thing in the world in 1989 according to 1989 me: a nose tackle named Teeter. Teeter you all! Bad memories: the Tigers, kicking it to Rocket Ismail, and Phil Collins. Good memories: Berenson was just beginning to turn the hockey program around. Yzerman scored 155 points for the Wings, who won the Norris Division. The Pistons were at the peak of the Bad Boys period. Bo's last squad (and one of his best) with that backfield of Tony Boles, Leroy Hoard, Jarrod Bunch and Burnie Legette. And Glenn Rice, obvs.
Speaking of Bunch, he just popped up on the blog this week after someone noticed he was in the latest Tarantino film…
[After the jump]