More Or Less Making Sense Most Of The Time
11/21/2015 – Michigan 28, Penn State 16 – 9-2, 6-1 Big Ten
[Eric Upchurch]
I have seen things when Michigan plays Penn State. I have seen boggling things. Things I should not repeat but am about to anyway.
I have seen a free Hail Mary handed the opposition. I have seen a timeout just before an intentional safety. I have seen 27 runs for 27 yards. I have seen Michigan's slot receiver left alone, all alone. I have seen a slot receiver wonder if any of these 100,000 people can see him, especially the offensive coordinator. I have seen a slot receiver's constituent atoms disperse as he convinces himself he must not exist after all. Then I saw some more runs for one yard. Somewhere in there Dennis Norfleet dances in a loop for all time, because sure that makes as much sense as anything.
I have been baffled. I have been enraged. I have been morbidly entertained. I have been stupefied, watching Michigan play Penn State.
---------------------------------------------
Things have been a bit frustrating the past few weeks, what with an avalanche of procedure penalties, offsides calls, and special teams mishaps. But when presented with a situation where they did not expect to and could not run the ball much, Michigan did not repeatedly bang their collective head into a brick wall.
Michigan's final drive featured five De'Veon Smith runs and one kneel-down. Five Jake Rudock attempts were sacks or scrambles. Once those are put in the appropriate bins, Michigan ran just 19 times to 43 passes.
Two years ago in that very stadium a complete wreck of an offensive line took on an equally stout Penn State defense. They didn't throw one wide receiver screen. Fitzgerald Toussaint ran 27 times for 27 yards. This year before garbage time time, De'Veon Smith had 8 carries; 6 went to Chesson and Peppers.
Michigan's going to be a good rushing offense. Probably great. But even though that's what Harbaugh wants to do, he adapted to the situation he was presented with. That's terrific.
Coaching can be divided into a few different categories. Development, recruiting, and tactics seem to cover the bases. While Michigan is still struggling with the near-total lack of the former under the previous regime, the latter was totally on point here. Can't say that about two years ago. Or a year ago. While Michigan remains a bit wobbly, a bit rickety, the things they are doing make sense.
Michigan played Penn State on the road and the only stupefying things that happened came from reliable sources like Big Ten referees and James Franklin trying to manage a game. Meanwhile Ohio State played Michigan State in the most stupefying game of the year. Now is the time to sit back and appreciate the fact that things more or less make sense.
It ain't perfect and it'll never be, but Michigan tries a bunch of things and takes what the opposition gives and if something isn't going great they stop doing it. The only time I've gotten really twitchy about tactics was against Indiana when Michigan ran play action on second and twenty that led to an interception. (I was mildly twitchy about Michigan's passivity on Indiana's go-ahead touchdown drive.)
In a world where Ohio State throws 16 times against Michigan State, where Tim Beckman is seen as a viable hire for a position more involved than vending machine*, where every coach in America seems to need a 14-year-old kid who plays Madden nonstop on the sideline, "more or less makes sense most of the time" is gold. Michigan's coaching staff has not punched itself in the face for four hours on any given Saturday, and in the cold light of dawn two days after a stupefying weekend of college football that warms the ol' cockles right up.
*[Not "vending machine technician." Vending machine.]
HIGHLIGHTS
Parking God:
Wolverine Devotee:
Also a Butt TD solo clip.
AWARDS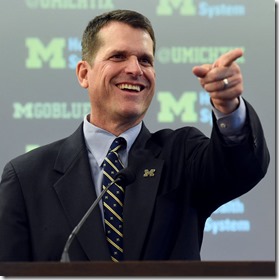 Known Friends And Trusted Agents Of The Week
you're the man now, dog
#1 Amara Darboh changed the complexion of the game with an outstanding tip-toe catch along the sidelines at the end of the first half. He had six other catches and blocked for a bunch of wide receiver screens, as well.
#2 Chris Wormley was the most consistent and dangerous of Michigan's defensive linemen, racking up 1.5 sacks and another half TFL. Wormley and the rest of the DL gave up one big Saquon Barkley run (mostly on Willie Henry and the linebackers) and shut everything else down, leaving PSU relying on the tempestuous Christian Hackenberg to move the ball.
#3 Jake Rudock threw one ugly interception. When not doing that he completed two-thirds of his passes for 256 yards. 6.7 yards an attempt isn't electric but since a half-dozen or more of those were wide receiver screens that Michigan used in place of a running game that may understate things. Also, Penn State has had one of the best pass defenses in the country to date.
Honorable mention: Jake Butt and Jehu Chesson had 66 and 69 receiving yards, respectively, and along with Darboh have established Michigan's receiving corps as a very good one. Henry, Hurst, and Taco Charlton helped out immensely, minus the Henry cut. Jourdan Lewis remains Jourdan Lewis; his KO return also helped seal the game.
KFaTAotW Standings.
9: Jourdan Lewis (#1 UNLV, #1 Northwestern, #1 MSU), Jabrill Peppers(#2 BYU, #2 Northwestern, #2 MSU, #1 Minnesota)
8: Jake Rudock (#3 Northwestern, #1 Rutgers, #1 Indiana, #3 Penn State), Chris Wormley(#2 Utah, #1 Oregon State, #3 Rutgers, #2 Penn State)
5: Jake Butt(#1 Utah, #2 Rutgers)
4: Maurice Hurst (#2 Maryland, #2 Minnesota),
3: De'Veon Smith(#2 Oregon State, #3 BYU), Ryan Glasgow (#1 BYU), Desmond Morgan (#1 Maryland), Amara Darboh(#1 PSU)
2: Ty Isaac(#2 UNLV), Willie Henry(#3 Utah, #3 MSU), Jehu Chesson(#2 Indiana)
1: AJ Williams (#3 Oregon State), Channing Stribling(#3 UNLV), Blake O'Neill(#3 Maryland), Drake Johnson(#3 Minnesota), Delano Hill(#3 Indiana).
Who's Got It Better Than Us Of The Week
This week's best thing ever.
Jourdan Lewis rips off a 60-yard kickoff return after Penn State draws within five, setting up a short field that Michigan drives for a game-sealing TD. Better is that he called his shot with Harbaugh beforehand.
Honorable mention: Darboh's tip-toe catch. #Buttdown. Harbaugh strippin' rage. Any number of sacks and TFLs.
WGIBTUs Past.
Utah: Crazy #buttdown.
Oregon State: #tacopunts.
UNLV: Ty Isaac's 76 yard touchdown.
BYU: De'Veon Smith's illicit teleporter run.
Maryland: Jehu Chesson jet sweeps past you.
Northwestern: Chesson opening KO TD.
MSU: the bit where they won until they didn't.
Minnesota: form a f-ing wall.
Rutgers: Peppers as Denard.
Indiana: Delano Hill seals it with a PBU.
PSU: Jourdan Lewis breaks their back on a kickoff.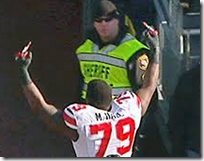 MARCUS HALL EPIC DOUBLE BIRD OF THE WEEK.
This week's worst thing ever.
Ohio State tests Michigan State's secondary twice. In a game of football. Against Michigan State. What are you even doing?
Honorable mention: Punt blocked. Any number of offsides or false start penalties. The touchdown Peppers allowed. Any number of infuriatingly bad calls. That fourth and ten conversion against great Lewis coverage.
PREVIOUS EDBs
Utah: circle route pick six.
Oregon State: Rudock fumbles after blitz bust.
UNLV: Rudock matches 2014 INT total in game 3.
BYU: BYU manages to get to triple digit yards in the last minutes of the game.
Maryland: Slog extended by deflected interception at Houma.
Northwestern: KLINSMANN OUT
MSU: Obvious.
Minnesota: The bit where the lost it until they didn't.
Rutgers: KO return given up.
Indiana: run run run run run run run run run run run run.
PSU: OSU's WHAT ARE THOOOOOOSE gameplan against MSU.
[After THE JUMP: defense back, Rudock maintaining.]