Year Of The Petunias
10/29/2011 – Michigan 36, Purdue 14 – 7-1, 3-1 Big Ten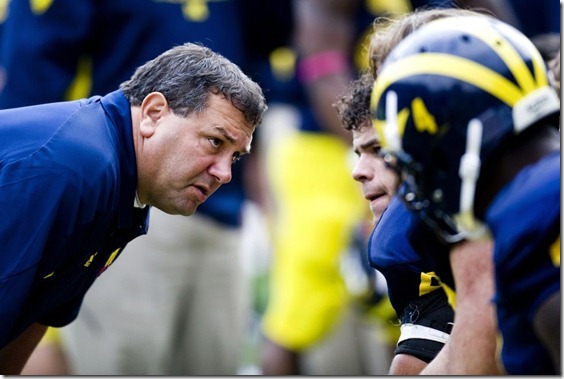 At some point, Michigan will find out what it is this year. I have no idea when that point will come.
We know they're better than they were last year. How much better remains frustratingly murky. You think you have the answer when Michigan is punked in East Lansing, but then the Spartans get throttled and Michigan beats Purdue and there they are again in the national rankings…
10. South Carolina
11. Virginia Tech
12. Clemson
13. Michigan
14. Houston
15. Penn State
…and you wonder what happened to the rest of college football. This team is transparently flawed, incapable of going ten pass attempts without throwing the ball to the other team, and one year removed from having a defense that couldn't slow down a band of coked-out lemurs. So of course they are on the cusp of the top ten, hanging out with Houston, South Carolina's dumpster-fire offense, and Penn State's bold experiment into quarterback-free football. College football 2011: contagious and 100% fatal.
With one loss and seven wins everything is on the table as long as Sparty manages to biff it once down the stretch (don't get your hopes up)… and no one knows if they're any good.
This must be what it felt like to be a Minnesota fan in the middle of the Glen Mason era. Consider: you were a national power, and then you were wretched forever. One 3-9 year counts as "forever" to Michigan fans. We are sheltered, sheltered people.
You start showing signs of life. One season you get off to a great start, and collapse. Okay. We got off to a great start! It's better than being wretched!
The next season you get off to a great start, and collapse slightly less. Okay. We are building something here.
The next-next season you get off to a great start, are ranked in the top 15, have an unstoppable ground game, and… well… is there going to be anyone on the schedule? No? No teams at all?
Ah, Michigan. Here we go. /dies
-----------------------------------
It wasn't like this before. Michigan was Michigan, fergodsakes. All victories were expected and all teams were inferior and all losses were inexplicable or unjust and there wasn't a question about any of this. Michigan was just better.
Evidence to the contrary was suspect and invariably proven—or at least argued to be—false. There was this call or this mistake or this thing, and if the game had continued until a victory was well and truly certain, the opponent would have left shattered into a thousand mournful pieces*. This mentality was so pervasive that Michigan fans still have a reputation for the above thought process even after the last five years.
I don't think like that anymore. At first I was like the materialized whale from The Hitchhiker's Guide To The Galaxy.
"Big Ten? What's that? I wonder if it will be friendly."
Now I'm trying to figure out whether I am the bowl of petunias…
The only thing that went through the bowl of petunia's mind as it fell was Oh No, not again.
…or if something novel is happening, something like not plummeting to my doom after materializing in an area where gravity is not my friend.
The Big Ten is not helping out here. At all. Michigan's conference wins are over Minnesota, Northwestern, and Purdue, teams which have lost to North Dakota State, Army, and Rice, respectively. Meanwhile, where is the proverbial other shoe? The nearest proximate shoe just lost to the Gopher team so bad they inspired GopherQuest. Gopher blog Fire Jerry Kill shows how this is possible by splitting out various quarterbacks' stats when they are playing Iowa vs Not Iowa. Here's MarQuies Gray:
OPPONENT  CMP/ATT YDS CMP% Y/A TD INT RATING
Not Iowa*    9/19 125 47.3 6.6 .5  .7  104.3
Iowa        11/17 193 64.7 11.3 1   0  179.5
And here's Steele Janz:
This is not much of a shoe.
The next potential shoe lost to the Purdue team Michigan just outgained two to one. They didn't score against the Boilers until there were ten minutes left. And they're coached by Ron Zook. Comparative scores are a dumb way to do anything because football is weird, but it kind of seems like football will have to be weird for those shoes to drop. There is a strong possibility that Michigan reaches ten games this season without playing a decent team other than 1) the one they beat thanks to a fluketasm and 2) the one they lost to in a trash tornado.
Then it's just Nebraska and Ohio State. Just.
--------------------------
The stakes here are simple and vast as the ground that may or may not be rushing up to meet us: a satisfying season. That's something Michigan hasn't had in almost a decade. 2006 left a nasty taste because of the way it finished. Michigan hasn't beaten Ohio State since 2003, hasn't done that and won a bowl since 2000. Expectations keep deflating but we still haven't hit the point where they cross the actual accomplishments of the football team.
I want to believe. I miss the days when accusations of Michigan arrogance were accurate. I just don't know, man. I don't feel the air rushing past my face, but it turns out I'm not very good at identifying certain doom rushing up from below.
*[Unless it was from the Pac-10 or Florida, in which case please take your 30-point victory and GTFO before we have to alter our mentality.]
Photos
Via Eric Upchurch and the Ann Arbor Observer:
Maize and Blue Nation also has a photoset, as does AnnArbor.com.
Bullets That Hope To Be In Orbit Or Something
Kovacs. I sort of had the Kovacs information but it was only one unconfirmed source so I held it and hoped it was not true. Now that it is obviously true I can tell you a couple things about it:
It is supposed to be an MCL sprain, which means he can barely move his leg at the moment and will be out a few weeks. When the coaches say he's "questionable" for Iowa they're in all likelihood…
…lying their boo-boos off. Kovacs did not practice Tuesday but no one noticed this because they threw Matt Cavanaugh out there in #32.
The Cavanaugh thing is the clincher after a season of mysterious fake-seeming injuries that conveniently explain things like why the national defensive player of the week immediately ate bench. Hoke will bend the truth for better PR or gamesmanship purposes. It's back to the Fort. This is a 180 from the injury-report-issuing Rodriguez, though IIRC Rodriguez would occasionally surprise by leaving off a guy who was not already known to be dinged up.
Anyway, the plan going forward is to take any Hoke statement about the injury status of a player with a grain of salt. So no, I don't believe Woolfolk was moving to safety before this happened.
We have to talk, scoreboard person. An artist's impression of the replays on the brand new scoreboards at Michigan Stadium:
The scoreboards are very big. The replays are even bigger, to the point where they are useless unless you're a helmet fetishist. Widen your shot, good sir, and the blessings of Bo will be upon you.
The next defense. After years of being an untenably young defense, Michigan has reached average-ish. Despite that they're slated to lose only four players next year, one of them a walk-on. With the swap at WLB and the seemingly permanent insertion of Blake Countess into the starting lineup the breakdown is like so:
Three freshmen (Ryan, Morgan, Countess)
A sophomore (Gordon)
Four juniors (Roh, Floyd, Demens, Kovacs)
Three seniors (Martin, RVB, Heininger)
And then there's Woolfolk, who is a starter as long as Kovacs is out. If only Rodriguez had recruited some dudes in the middle of the line you could project the returners to be non smoke-and-mirrors good. Even as it stands you've got a senior Campbell and hope for decent play from Washington, Rock, and a bunch of freshmen. They should be able to maintain their play next year.
The one true tiebreaker. Everyone's talking tiebreakers in the West division because it was looking like a bunch of cats in a sack at the end of the year before Iowa went out and ended GopherQuest. The Big Ten's are typically goofy, prioritizing head to head over a better measure of superiority: the record of your conference opponents.
The first tiebreaker should be the conference record of your opponents in the other division, which works for two- and three-way ties. Right now that looks like this:
Nebraska: 9-4 (Wisconsin (2-2), PSU(5-0), OSU (2-2))
Michigan: 6-7 (Purdue (2-2), Illinois (2-3), OSU (2-2))
MSU: 4-9 (IU (0-5), Wisconsin (2-2), OSU (2-2))
If the season does end in a three-way tie here* any system that would give the nod to the team that played Illinois and Purdue or IU and Wisconsin instead of Wisconsin and Penn State is a broken system. Instead the tiebreakers are all head to head and divisional record, which makes no sense. You've all played eight conference games and proven yourself equal—it's time to figure out who played the tougher schedule.
*[Say M beats Nebraska, loses one other, MSU loses to… uh… Iowa, Nebraska wins out with exception of M loss.]
Jake Ryan edge update. I have negative complaints this week. This is also known as praise. There were no sections confused by my "AAAARGH JAKE RYAN" outbursts because the most notable thing that happened in This Week In Jake Ryan's Edge Play was Ryan annihilating a sweep in the backfield by submarining a blocker on a blitz and tackling. +3, Mr. Ryan.
Quite a find there, especially considering that Michigan picked him up because he was an effective blitzing OLB in a 3-3-5 in high school. He could be a fish out of water in this scheme.
Michigan under-center running update. It… worked? Somewhat. I have no idea how to classify things like Fitzgerald Toussaint taking a toss play opposite that Denard jet action and motoring 59 yards. That's not really manball. It's not spread 'n' shred. It's gimmickball.
It worked, though. It looked like Michigan finally got that pin and pull zone operational, possibly because they identified an issue with Purdue's DEs. If they're easy to seal the pin and pull gets you the advantages of an outside sweep in a faster-developing play. The pulling linemen have less distance to cover.
The I-Form stuff did work to some extent. As we'll see below, the extent was such that every newspaper in the state is running a piece on how
1: Lo, Bo looked down from Football Valhalla and said "I am pleased, my son." 2: "It is the will of Old that the quarterback shall taketh the ball from the center by hand and turn his back to the line of scrimmage." 3: "Motion of the ball through the air, whether forwards or backwards, is an abomination to Old." 4: "Pitches are excepted."
Judging the effectiveness of the base offense will have to wait for the UFR to break down the yardage. I'll probably have to categorize the gimmickball separately.
Inverted veer. Rodriguez played with it some but never really put it in the offense for realz; Borges whipped it out against the Boilers to good effect.
That's a play that gets Robinson going north-south with a pulling lineman if the defense doesn't force a handoff, which Purdue didn't. That was to their detriment.
I probably won't complain about showing it against a weak opponent if/when it doesn't work down the road. Purdue was nowhere near the baby seal that Minnesota was. The game remained in contact until the third quarter. This is a different thing than knowing you can name your score after the first drive.
Taylor Lewan. @mgovideo tweeted "Taylor Lewan is undead" and I have nothing that can top that. Shoot him in the head, Gholston, or he's coming for you next year. Make sure to double tap.
Students who are not reading this: you suck. Weekly complaint about student section is lodged. No one reading this is included. It is your slothful classmates who must feel the lash.
Now, there are some extreme bottlenecks upon section entry that mean a lot of student who show up on time spend 15 minutes waiting in line before actually getting into the stadium. Vitriol towards the student section up to halfway through the first quarter should properly be directed at the athletic department's crappy logistics.
HOWEVA, when half of the upper reaches remain empty throughout a Big Ten game that's on various students who don't know what MGoBlog is. There's no reason to sell those people tickets at discounted rates if they're not even going to show up and be loud. The carrot and stick:
Assign points to students based on ticket scans. 5 for 20 minutes before the game, 2 for before kickoff, 1 for showing up at all. Validated tickets do not score.
Reduce the size of the student section by 10%.
Prioritize renewals based on points, not seniority. Also prioritize bowl lotteries based on this. Top 10% get half off. Anyone below some crappy cutoff gets no tickets.
I'd love to see a similar policy enacted for regular season ticket holders but that's infeasible since they're already pressing them for maximum cash and cannot easily replace people pissed off by something like that with other super rich dudes.
This is the cost of luxury seating: seeing the most expensive seats in the building half-full at best. This is most obvious at Yost, where the club seats are literally 40% full for every game.
Special K: die in a fire. I've linked to various Penn State blogs complaining about the environment at Beaver Stadium to provide ominous warnings about what our future is like, but I thought that would be in five years… not five games. Volume: ear-splitting. Choices: inane. Seven Nation Army: played one dozen times, including before opening kickoff. It's bad when I am tired of 7NA. I once listened to 7NA for a half-hour straight until someone yelled at me to stop.
HSR suggests another White Stripes song:
That works. He probably would have gotten one that does if he had chosen at random. There are more Stripes songs that are plausible than ones that aren't. Dead Leaves and the Dirty Ground. You Don't Know What Love Is (You Just Do As You're Told). Fell In Love With A Girl. Icky Thump. Conquest. Blue Orchid. Never has a local band had a better collection of killer opening riffs plausible for pump-up purposes. If the athletic department prioritized having their own thing instead of having the same thing everyone else does they might look into this.
Meanwhile, we're treated to "GET LOUD" and an animated train exploding on the videoboards. (Instead of replays, of course, because who wants to watch a football game anymore?) We are Michigan State. It took less than a season. I was all like "you go girl" to this Bando Calrissian comment:
Yesterday was the closest to a minor league baseball game experience I've ever had at Michigan Stadium.  The RAWK was out of control(and more often than not earsplittingly loud), the Rocket Man deal struck me as an unnecessary gimmick (play the Space, Bitches PSA and call it a day), that train graphic on the scoreboards, everything felt extraordinarily cheap and generic.  Very un-Big House-esque. 

And, here' s a fun fact:  One of the highlights of Homecoming has always been the alumni cheerleaders doing gymnastic tricks in the end zones during stoppages in play.  It's fun, and always gets the fans really into things during lulls in the action.  They were told this year they were not allowed to do flips and such on the field, or so one of them told a few of us in Alumni Band.  And it was true, they basically just sat and did nothing for the entire game.

A little bit at a time, the uniqueness of Michigan is being chipped away in favor of a generic, corporate, sterile experience.  Seems to me "revenue streams" and marketing gurus rule the day in DB's Athletic Department, and it really doesn't need to be that way.
Corporate ass-covering and focus-group research, all of it. What's happening to Michigan Stadium is reason #1 this site will always remain independent. This is what you get for hiring someone who made his living sending people things they didn't want in the mail.
Yeah, guy who doesn't care about any of this and complains about people who do, you're cooler than those who do. Pop that collar.
THE ONE GOOD THING: No dog groomers except once before the band came out.
Here
ST3 goes inside the box score:
With apologies to Denard, this section belongs to Fitzgerald Toussaint this week. In fact, I will refer to him as Filthgerald. Filthgerald gained 170 yards on 20 carries, scored 2 TDs, had a long of 59 yards, and averaged 8.5 YPC. Can someone explain to me again why he only got two carries against staee? Forget that last comment, I've moved on.
There is also a way-too-early BCS standings look. No Hoke for Tomorrow, unfortunately.
Elsewhere
Media, as in unwashed blog masses. Sap decals. Trends from MGoFootball. Maize and Go Blue with a game recap. MZone autopsies:
Yes, I'm so damn scarred by the previous three seasons that, after Purdue's initial drive, I felt a flash of deju vu all over again.  But Michigan stayed the course and eventually put Purdue away, pretty much by halftime and certainly before the 3rd quarter was over.

How refreshing.
TTB on Toussaint:
Fitzgerald Toussaint is hitting his stride.  Finally healthy after two years of long-term injury issues, Toussaint is showing what he can do.  He had 20 carries for 170 yards, including a spectacular 59-yard touchdown run (Michigan's longest run of the year).  He's averaging 6.1 yards per carry on the season.  Perhaps the best part of Toussaint's game is the way he finishes runs.  Despite not being particularly big, he always seems to churn his legs for an extra couple yards after contact.  His yardage total was the best by a Michigan running back since Michael Hart had 215 against Eastern Michigan back in 2007.
At this point, Michigan is grabbing wins like items at an Old Country Buffet; these things might not be of high quality, but this is America and MORE is better than anything else. Yes, I am comparing the quality of Big Ten competition to the lukewarm comestibles of a buffet chain.
The Purdue point of view is unenthused or bizarrely optimistic. The former:
Purdue's execution, especially when it was really needed was atrocious. Conversely, UM shored-up the issues that had been exposed v. MSU following their bye week...and played soundly all game.

Michigan seemed to want to test Purdue physically in the trenches and Purdue failed as they looked pensive, slow and soft when popped in the mouth. The end result was a sound defeat for Hope's squad, 36-14...but it felt much worse than that score.
Yes, the final margin was 22 points, but we were close through three quarters and the difference of a few plays swung the scoreboard wildly in their direction. Things got wildly out of control after a few key mistakes, as often happens in college football.
I'm just all like… it was 36-7 at the start of the 4th and Purdue had 200 yards of offense to Michigan's 510. That's not a game that swung on a few plays. Elsewhere in his post Hammer and Rails's T-Mill gives Michigan plenty of credit, so this isn't a lol delusional homer thing. I'm just surprised anyone could do the point-at-critical-plays thing after that.
Media, as in dying legacy organizations (and ESPN). Before we get into the scoffing, the Daily covers the jetpack flight in column-length detail.
The scoffing! Man, does everyone want to seize upon this as proof Brady Hoke Gets It, This Is Michigan, and This Is Not Last Year:
Just like that, Fitzgerald Toussaint proves the Michigan football team can resemble its old self
…against Purdue.
Sometimes I wonder if my brain has mutated to the point where I'm not even watching the same game as some of these people. This is about the MSU game:
With the backs providing little to no punch offensively, Robinson was forced to become Michigan's exclusive run threat. Partly because of that, he was also subject to immense pressure in the passing game, as he was sacked four times and eventually forced to leave the contest early due to injury.
My version of this paragraph is "With Al Borges inexplicably enthralled with the passing game, Robinson only got twelve carries to go with Toussaint's two. Because of something entirely unrelated that also impacted the ground game, he was also subject to immense pressure in the pocket. Later he left with an injury caused by a late hit."
Yes, this is the usual mumbling about media narratives that have no relation to reality. You're like 3000 words into this post and are clearly addicted. Suck it up. This is the point in Requiem for a Dream where your arm is a mass of black veins and you're still shooting up.
Martin leads resurgence of traditional Michigan defense against Purdue
…against… yeah, them.
This is a different Michigan team
…than the one that beat Purdue last year.
Wolverines' 'old-school' whipping of Purdue would've made Bo Schembechler proud
This one is a wow experience. I mean:
[Toussaint] transforms into a sledgehammer when he runs between the hash marks.
He's not Carlos Brown but come on, dude. And I challenge you to distinguish this from a seventh-grader's B- paper:
Even against a powder-puff Big Ten team such as Purdue, the Wolverines regrouped after surrendering a 48-yard pass on a simple slant-screen that shredded the defense for a touchdown in the opening minutes of the game. No one panicked on the sideline. Instead, the much-maligned unit discussed it and agreed the appropriate response called for equal parts inspiration and perspiration, but no more excuses.
Holy pants. Someone agreed this paragraph should be set down in print and copied thousands of times so its wisdom could spread throughout the land, no more excuses.
Even Wojo fell prey to some extent:
In finding running game, Michigan re-joins Big Ten title race

Ann Arbor— As the day's events unfolded, one thing became clearer and clearer. Michigan is back in the running, and it got there by getting back to the running.

The Wolverines pounded a weaker foe Saturday, which isn't a big deal unless you acknowledge how it happened, and what happened elsewhere in the Big Ten. Michigan bashed Purdue, 36-14, and did the job without everyone waiting around for Denard Robinson to do the job.
Michigan's rushing offense before playing Purdue: 12th nationally. Rich Rodriguez: not involved with the decision to throw two-thirds of the time against Michigan State.
Strategy matters, simple things unrelated to hearty grit toughness can provide huge swings, coaches make mistakes frequently, and no one at a newspaper ever watches a game a second time. Facts.