Upon Further Review 2010: Defense vs Penn State
Formation notes: After two games in which Michigan deployed a lot of 4 man fronts and mixed in some 3-4 and 3-3-5 looks Michigan was almost exclusively stack against Penn State. They did move Demens (and Roh/Fitzgerald) back at halftime. First half:
Second half:
Substitution notes: Martin played maybe the first two series before coming out, and didn't do anything in that time. He was replaced by a combination of Sagesse and Patterson. Black and Banks are now platooning regularly, with Banks still getting most of the snaps. RVB is the line's ironman. He never comes out.
At linebacker it was Demens and Mouton the whole way with Fitzerald getting a drive or three when Michigan thought Roh wasn't playing well. Cam Gordon and Thomas Gordon split time at spur. Rogers was replaced by Talbott for much of the game. Vinopal went the distance at FS.
On with it:
Ln
Dn
Ds
O Form
D Form
Type
Rush
Play
Player
Yards
O29
1
10
Ace trips
3-3-5 stack
Pass
3
PA Fly
Floyd
Inc
Play action bomb against three deep; McGloin sets up and throws deep to his tiny guy Smith. Ball is underthrown and Floyd is in decent position, though a long enough throw beats him. Floyd has a chance to intercept but doesn't look for the ball quickly enough and a throw that looks like it was to him hits the turf. Um. I have to: Floyd +1, cover +1, pressure -1.
O29
2
10
I-form twins
Base 4-3
Run
 
Off tackle
Banks
0
Banks(+2) gets immediately playside of the PSU RT and drives him into the backfield. Michigan's running some sort of stunt on the backside that looks pretty unsound and as a result Demens was swallowed by two OL; Mouton is walled off by another—none of this matters because Banks has driven into the path of the RB and tackled him at the LOS by himself. Bad omen for the future.
O29
3
10
Ace 3-wide
Base 4-3
Pass
3
Scramble
Demens
11
One DT drops off to chuck the RB, looking for a screen. Martin(-1) comes through to flush McGloin, but with only three guys rushing there's a gap to the other side of him and McGloin steps up, sees no one, and runs. Demens(-1) is the guy nearest to him and gave up the corner because he drifted too far inside on a TE crossing route. This is definitely his fault: C. Gordon is going with his guy all the way downfield. Martin gets the -1 for coming up the wrong side and giving up the lane.
O40
1
10
I-form 3-wide
3-3-5 stack
Pass
N/A
PA Throwaway
Van Bergen
Inc
RVB(+1, pressure +1) gets upfield of his blocker and immediately releases into McGloin, forcing him to toss it away.
O40
2
10
Ace 3-wide
3-3-5 stack
Pass
5
Slant
Floyd
16
Michigan shifts late to man coverage and Floyd(-2, cover -2) isn't even in the same zip code as Smith on a simple slant. He can't even make a tackle, giving up another eight yards after the catch.
M44
1
10
Ace 3-wide
3-3-5 stack
Run
 
Inside zone
Kovacs
4
Michigan moves late to a one-high by, sending Kovacs into the box, and the shift gets PSU in a bad playcall. Seems like a designed cutback and a really bizarre scheme: Demens is like a yard from Martin and gets hit by a tackle; Mouton is way back and is scraping to the nominal frontside of the play only to get blown up by the FB as he drags himself out of position. Kovacs(+0.5) is there in the hole as a result of the late move to tackle near the LOS but he grabs ankles and allows Royster to spin forward for a decent gain. I'm guessing I'm going to neg a lot of guys because of this weird setup but not yet. This was the "This Is Not A Stack" play.
M40
2
6
Shotgun 2-back TE
3-3-5 stack
Run
 
Pin and pull zone
C. Gordon
3
Completely bizarre play from C. Gordon(-0.5) here, who is the contain guy to this side. Instead of flowing down the line and keeping outside leverage somewhere near the LOS he takes a weird looping downfield angle that sees him five yards downfield by the time the RB gets outside; he also impeded Roh with his weird delayed move outside. RVB(+1) had driven his guy well upfield and forced an outside angle by the RB, which allowed Gordon time to recover and hold the gain down.
M37
3
3
I-form
Stack two deep
Pass
3
FB screen
Mouton
8
Three guys and still no one to sniff out the screen. Mouton(-1, cover -1) failed to read it and dropped very deep when he should have been staring right at it. Demens had a guy coming across his zone to drop into and then flows to tackle—without that this will go for a lot more. (RPS -1)
M29
1
10
Ace 3-wide
Stack two deep
Run
 
Power off tackle
Banks
5
Banks(-1) crushed two yards downfield by a double. Mouton comes up to hit a pulling guard and restricts the hole but there's nothing anyone can do to prevent Royster from burrowing behind his linemen for a decent gain.
M24
2
5
Ace trips
3-3-5 stack
Pass
3
Quick out
Banks
Inc
Banks(+1, pressure +1) knocks down the quick out at the LOS. Probably open for the first if not batted.
M24
3
5
Ace trips
Stack two deep
Pass
5
Flare
Roh?
7
Michigan sends five and RVB(+0.5) swims through an OG to get to McGloin, forcing a dumpoff that is so open I have no idea who I should even blame. Roh(-1) is the most likely suspect (cover -2, RPS -1)
M17
1
10
Ace
3-3-5 stack
Pass
3
Throwaway
Black
Inc
Michigan covers(+1) McGloin's first read and then Black(+1) is one-on-one with the RB as PSU slides their protection. He gets cut but manages to stay up and threatening, forcing a rollout and a throwaway (pressure +1)
M17
2
10
I-form 3-wide
3-3-5 stack
Run
 
Counter
Mouton
14
Double shoves Martin out of the hole; he shoots up under it but to no avail. Demens takes a step to the playside and is then engulfed by two OL because he's too damn close to the LOS to do anything about it. There's a hole and one blocker for Mouton to deal with; he shoots past the guy and is on the verge of a +3 for a monster play when he lets Royster through his tackle(-1 Mouton, -1) and pick up a huge gain thanks to a missed tackle(-1) from Vinopal(-2). RPS -1.
M3
1
G
I-form big
3-3-5 stack
Run
 
Power off tackle
Banks
3
Banks(-1) destroyed by a single block and pancaked, giving the edge. Kovacs(-1) blocked and does not keep contain, giving up the edge for Royster as well.
Drive Notes: Touchdown, 0-7, 7 min 1st Q.
Ln
Dn
Ds
O Form
D Form
Type
Rush
Play
Player
Yards
O44
1
10
Ace
3-3-5 stack
Run
 
Inside zone
C. Gordon
20
Another huge cutback lane. I'm not entirely sure who this is on because depending on assignment it could be any of Roh, Cam Gordon, and Van Bergen. Van Bergen is upfield as the unblocked backside guy and is cut by a TE pulling to the backside. Roh is flowing to the frontside and seems too close to Demens for that to be a good idea; Cam Gordon is either way too far outside or properly setting up to catch any bounces outside. -2 Roh for filling the same hole as Demens and -1 Gordon for being the guy shot past. Mouton actually made a nice read and flowed from the frontside of the play but for naught; Vinopal comes up and forces Royster to cut outside, where Rogers tackles. (RPS –1)
M36
1
10
Ace 3-wide
3-3-5 stack
Pass
 
Sack
Mouton
-11
An end around pass ends badly as Michigan covers(+2) both available receivers well and Mouton(+2) reads the end-around, gets out on the edge, and attacks. He'd sack but the guy's falling to the ground as he gets there anyway. Pressure +1.
M47
2
21
I-form 3-wide
3-3-5 stack
Pass
 
Corner
Floyd
27
The underneath coverage on this is indeed a debacle but the super debacle is JT Floyd(-4, cover -4) getting so completely lost in three deep coverage on a guy in his zone that he's not even the tackler on an underthrown, softly-tossed lob thirty yards downfield. What the hell is Floyd doing on a hashmark, facing inside, in a three deep, on second and twenty one? YOU HAVE HELP INSIDE. BWS picture-paged this if you hate yourself.
M20
1
10
Ace twin TE
Stack two deep
Run
 
Inside zone
Demens
19
Michigan horrendously misaligned as Penn State motions a TE over to give them two to the short side of the field. Michigan hardly reacts at all. So there's five PSU blockers to the short side and three Michigan defenders. Compounding this, Michigan just screws up. Demens(-2) runs to the backside when he's got Vinopal walking down and Mouton filling a backside lane, leaving no one to fill the frontside gap that he should have; there's not even a counter here, he just runs to the wrong side of the line. Banks kicked out and Roh(-1) blown up by the inline TE, Roytser into the secondary like that. (RPS -1)
M1
1
G
Goal line
3-3-5 stack
Run
 
Dive
?
1
Whatever. This isn't even M's to-date successful goal line package. RPS -1.
Drive Notes: Touchdown, 7-14, 1 min 2nd Q.
Ln
Dn
Ds
O Form
D Form
Type
Rush
Play
Player
Yards
O20
1
10
Ace twin TE
3-3-5 stack
Run
 
Counter
T. Gordon
3
Cam pulled for Thomas as SURPRISE, moving a deep safety to linebacker makes him confused. M adjusts to the motion this time, and Penn State runs a counter at it expecting an overreaction. Demens, who's still a yard behind his NT, gets caught with a step and sealed as the NT is Patterson and he does the usual.. Michigan does have two guys in the hole versus one blocker thanks to good reads by the backside folk. Blocker runs by Gordon to get Roh(+0.5) so T. Gordon(+0.5) hits at the LOS; they fall forward because there's no help.
O23
2
7
Ace 3-wide
Stack two deep
Pass
 
Out
T. Gordon
Inc
McGloin throws a decently open out well wide of his receiver. Third and short in all likelihood if accurate.
O23
3
7
Ace 3-wide
3-3-5 stack
Pass
 
Middle screen
Demens
5
They throw another screen; this time Demens(+0.5) is tasked with the tailback. He doesn't tackle but he does get into the play enough to delay the guy as he has to cut back behind Demens and the guy blocking him. RVB(+0.5) takes this opportunity to peel back and make a diving tackle attempt that's spun through but does slow Redd; Mouton(+0.5) and Demens converge to tackle short of the sticks.
Drive Notes: Punt, 7-14, 13 min 2nd Q.
Ln
Dn
Ds
O Form
D Form
Type
Rush
Play
Player
Yards
O26
1
10
Ace
3-3-5 stack
Pass
 
PA TE flat
C. Gordon
20
Cam Gordon(-2, cover -2) sucks in way too far, not only giving up the pass on the corner but not being anywhere near enough to tackle after the catch. Why on earth did they pull Thomas off for this?
O46
1
10
Ace twins twin TE
3-3-5 stack
Run
 
Power off tackle
Kovacs
9
Michigan again hugely, vastly misaligned as PSU brings in their WR/TE guy to be a second TE to the short side of the field, where be Kovacs; said Kovacs(-1) is blasted five yards downfield and JT Floyd(-1), the overhang guy, is met and blocked seven yards downfield. When Royster has to bounce because Mouton and Demens have cut off the inside there's no one out there. Banks(-1) was also single blocked and couldn't even slow Royster as he broke outside. (RPS -1)
M45
2
1
Ace 3-wide
3-3-5 stack
Run
 
Inside zone
Banks
7
Another cutback opened up by Banks(-1) getting washed down the line. I think. We come to this play late and I'm not entirely sure what's going on.
M38
1
10
I-form 3-wide
3-3-5 stack
Pass
 
PA TE flat
Mouton
10
Another play where I can't tell who's screwing up on a wide open pass in the flat. It's either Mouton or Kovacs. Minuses for both. Cover -2.
M28
1
10
I-form
3-3-5 stack
Run
 
Inside zone
Van Bergen
3
Roh has been pulled for Fitzgerald. Woo 3-3-5. Here RVB(+0.5) beats a guy, forcing another cutback; Black(+0.5) has slanted under his guy to the point where it has to go behind him, giving Kovacs(+0.5) the ability to read the cutback and make a weak ankle tackle at the LOS that could be run through but for Sagesse(+0.5) fighting to the ball and finishing it.
M25
2
7
I-form 3-wide
3-3-5 stack
Pass
 
PA throwaway
Kovacs
Inc
No one open (cover +1) as I think they were looking to go to the FB on the throwback but Kovacs(+1) reads the play and sits back on it, causing McGloin to chuck it OOB. Decent but not immense time.
M25
3
7
Ace trips
3-3-5 stack
Pass
 
Cross
Demens
6
Completely mistimed blitz from Floyd(-1) on the overhang sees him both tip it and leave late, so it's easily picked up. No one anywhere near McGloin (pressure -2) and he has plenty of time to find a crossing route as it nears the sticks. Demens is in the area in pursuit and tackles short of the first down, but only a yard short.
M19
4
1
I-form big
3-3-5 stack
Run
 
Power off tackle
C. Gordon
2
Demens(+3) shoots the gap between the NT and DE at the snap, blasting into the guard pulling around to provide a lead block, shucking him, and meeting Royster a yard in the backfield. Monster play, and a dead drive if he can get some help. Marvin Robinson(-1) comes up and wraps up Royster's shoulders; Cam Gordon(-2) takes an angle upfield and comes too far inside, running himself out of the play when Royster spins free. This is an amazing play by Royster, but Michigan should never have let this happen.
M17
1
10
I-form 3-wide
3-3-5 stack
Run
 
Counter
Sagesse
13
Sagesse(-2) crumbles to the ground against single blocking before the handoff. Doom. Demens is again too close to the LOS to have any hope of scraping past releasing OL (RPS -2) and Roh can take the outside shoulder of the leading guard all he wants but that doesn't mean there's anyone coming to help.
M4
1
G
I-form big
3-3-5 stack
Run
 
Power off tackle
Banks
3
Banks(-1) easily sealed by a single block, which allows another OL to pop out on Mouton without delay; everyone plays this right but this is an I form big against something other than a goal line package from the 3 (RPS -1).
M1
2
G
Goal line
Goal line
Run
 
QB sneak
?
1
They get it.
Drive Notes: Touchdown, 10-21, 3 min 2nd Q.
Ln
Dn
Ds
O Form
D Form
Type
Rush
Play
Player
Yards
M37
1
10
I-form 3-wide
3-3-5 stack
Pass
3
PA FB screen
Mouton
17
PSU just killing this coverage where Kovacs runs his ass off into a hole at the sideline 10-15 yards downfield. Michigan again rushes three and no one reads the screen, with Mouton(-1) the guy who's zone is closest; he compounds a deep drop by getting cut to the ground. Demens(-1) didn't read the direction of the releasing linemen and steps towards Royster, making certain he won't be able to track this down. Fitzgerald(-0.5, tackling -1) whiffs a tackle just past the sticks and gives up another six. (Cover -2, RPS -1)
M20
1
10
Ace 3-wide
Stack two deep
Run
 
Power off tackle
Banks
0
Banks(+1) takes on a double and holds at the LOS, eventually driving the OT over him back a bit and causing Royster to trip. Fitzgerald(+0.5) came down at a good angle to squeeze the hole tight. Royster seems to trip over legs that are there because Banks made a good play and Demens(+0.5) flows to the hole to finish the play at the LOS.
M20
2
10
Ace 3-wide
Stack two deep
Pass
3
Post
C. Gordon
Inc
Talbott now in at field corner, PSU goes after him and it does seem like he's got position—Talbott's at least on his back unlike certain other corners. Cam Gordon(+1, cover +1) gets a good drop and tips the pass, causing an incompletion.
M20
3
10
Shotgun 3-wide
Base 4-3
Pass
5
Corner
Vinopal
20
Guh. Michigan blitzes and C. Gordon(+1) sets up a blocker on the edge to the inside, juking by him to get a free run at McGloin, who tosses up a punt off his back foot. This punt is a slightly underthrown corner route. Ray Vinopal(-2, cover -2) is too far away from the receiver to make the slightly underthrown bit matter and waves helplessly at the ball as the receiver brings it in; they fall into the endzone. While McGloin's basically been handed scads of yardage by Michigan, he deserves some props here: his ridiculous back foot just having fun Wrangler Favre throw that should be easily intercepted is a fairly well thrown touchdown. FML.
Drive Notes: Touchdown, 10-28, 1 min 2nd Q.
Ln
Dn
Ds
O Form
D Form
Type
Rush
Play
Player
Yards
O24
1
10
Ace 3-wide
3-3-5 stack
Pass
4
PA Deep Hitch
Van Bergen
Inc
Roh blitzes into the interior and doesn't really get anywhere. Talbott(-2, cover -2) is beyond way off on this 15-yard deep hitch and this will be complete but RVB(+1, pressure +1) reads the play and closes in on McGloin, deflecting the ball and causing it to come up well short. Fortunate.
O24
2
10
I-form 3-wide
3-3-5 stack
Run
 
Inside zone
Patterson
1
Same play from PSU that was picture paged; here Michigan is again using Roh as an interior blitzer; his attack draws two blockers and allows Patterson(+0.5) the luxury of just one; he slants past that guy and forces a cutback from Royster. Mouton(+0.5) is now playing a regular linebacker thing, not whatever he was doing in the first half, and reads, meeting the FB at the LOS. He's cut to the ground but his body is in the right spot and Royster slows, at which point Kovacs(+0.5) grabs him and gang tackling happens.
O25
3
9
Ace 3-wide
Base 4-3
Pass
4
Deep hitch
Talbott
40
Michigan drops back into a zone coverage with C. Gordon escorting the slot guy deep. (I now agree with BWS totally: it was Demens responsible for the Iowa TD). Talbott's on Moye on the outside and is in great position to break up the pass or even intercept but he screws it all up, letting the ball through for the completion and missing a tackle, turning a three and out into many yards. Talbott -3, cover +1, pressure -2. Srs.
M35
1
10
I-form 3-wide
3-3-5 stack
Pass
 
Stop and go
Floyd
Inc
Roh out, Fitz in and they do the same thing again; this version of the 3-3-5 is mostly a 4-3 with one tiny DT. PSU runs a slant and go and Michigan is in three deep with Floyd(-3, cover +1) in what should be great position to make a play on the ball, but he again gets totally lost. He's running a yard away from the sideline, facing it, in a spot that no one would ever think useful. So instead of being in a spot to intercept on a bad decision he can only watch a receiver almost catch a poorly thrown ball he should be all over.
M35
2
10
Ace 3-wide
Base 4-3
Run
 
Power off tackle
Patterson
5
Patterson(-1) is doubled and gives a lot of ground quickly, eventually getting pancaked five yards downfield. However, the playside is jammed up because RVB(+1) drove his guy back and fought inside, closing off the running lane and forcing a cutback. Mouton responds as quickly as possible but with Patterson getting hammered like he does all he can do is hold the gain down.
M30
3
5
Ace 3-wide
Stack two deep
Pass
4
Rollout out
C. Gordon
7
Vastly too easy as C. Gordon(-1) does not react to the out fast enough and this is an easy pitch and catch (cover -1)
M23
1
10
Ace 3-wide
Stack two deep
Run
 
Down G
Floyd
4
Headed outside with the playside TE blocking down and the two guys inside of him pulling around. There's a WR/TE to that side, too. Kovacs(+0.5) is momentarily doubled and gets shoved out of the play, but does at least close off an interior cutback. Mouton charges up and gets cut but creates a pile; Floyd(+0.5) comes up hard to make a tackle. Royster tries to leap through it but doesn't make it.
M19
2
6
Ace 4-wide
Stack two deep
Pass
5
Out
Floyd
5
Floyd beaten on a quick out (cover -1) but is at least there to tackle.
M14
3
1
I-form big
Base 4-4
Run
 
Power off tackle
 
0
Michigan slants the line right and sends two linebackers into the gap right, which is exactly where PSU is going with the ball. DL get crushed out of the hole but that's what you expect; Mouton(+1) roars up into the hole to take on the outside shoulder of the pulling guard, which funnels the tailback to Demens(+0.5). Demens engages to tackle but it's 50-50 whether it's a first down or not until RVB(+1) comes in. RVB was well to the backside, shoved his blocker back, and shot through the same hole the linebackers hit to help. Nice job. (RPS +1)
Drive Notes: FG(31), 10-31, 10 min 3rd Q. This drive is basically good play and one 40-yard mistake by a freshman. If this is what was going on consistently I could live with it.
Ln
Dn
Ds
O Form
D Form
Type
Rush
Play
Player
Yards
O20
1
10
I-form 3-wide
3-3-5 stack
Run
 
Power off tackle
Van Bergen
3
Trying to go outside it seems. Line blocks down on the two DL, leaving RVB(+1) alone. He reads the play and heads upfield at the back, absorbing the pulling G and lead FB, and forcing the RB inside. There the RB meets a heap of bodies; Demens(+0.5) was responsible for creating the lack of gaps in the line. The delay allows a bunch of players to tackle.
O23
2
7
I-form 3-wide
Base 4-3
Pass
N/A
PA FB screen
Demens
7
This again. Another very slow read by the LBs; this time Mouton is up to take a cut near the LOS and forces the ball inside but Demens(-1, cover -1) is nowhere to be found and there's a lane the FB hits for first down yardage.
O30
1
10
I-form twins
Base 4-3
Run
 
Down G
Black
12
It looks like M is trying a similar slant to the one that got them the third and one stop on the previous drive but then Demens runs right into the middle of the line and Black runs upfield so I guess it can't be. It's pretty weird, though. Black(-1) heads upfield and is not blocked but does not sit down in an effort to combat the run, he just runs upfield, takes a shove from some OL, and is gone. Big gap. Mouton(-1) needs to get outside the pulling tackle but does not. Kovacs does what he can to funnel it inside against a blocker, and then RVB(-1), who stunted and flowed down the line the whole way, overruns Royster and turns this from like six into 11.
O42
1
10
I-form twins
3-3-5 stack
Run
 
Down G
Floyd
6 (Pen +10)
So Floyd is rolled up to the LOS and Kovacs is overhang. Banks and Floyd to one side of the field? Let's run right at it. Floyd(-1) starts executing a pass drop before the handoff and gives up the corner on a play that otherwise could have been stopped near the LOS. Umpire calls Sagesse(-1) for grabbing the C and preventing him from getting out on a linebacker. Need to be more subtle about it, eh?
M48
1
10
Ace 3-wide
3-3-5 stack
Pass
N/A
PA rollout wheel
Christian?
34
PA gets McGloin a billion years as RVB(-2, pressure -3) sucks into the playfake and removes any and all pressure. McGloin has forever. PSU runs a post-wheel combo against Christian, Gordon, and Johnson, IE three freshman, two of whom are playing their positions for the first time ever. Gordon gets beat but I don't really blame him; Christian(-1, cover -3) was late getting over. (RPS -2)
M14
1
10
Ace twins twin TE
3-3-5 stack
Run
 
Inside zone
Sagesse
4
RVB(+0.5) squeezes down on the pulling TE and there should not be much in the way of holes, but Sagesse(-0.5) gets booted out of the center, opening up a small crease that creates a decent positive gain.
M10
2
6
Ace 3-wide
Base 4-3
Run
 
Off tackle
Roh
5
Roh(-2) gets hooked and gives up the corner easily. Michigan seems misaligned, too, as PSU OL have incredibly easy angles to block Michigan LBs. (RPS -1) Floyd comes off a guy to tackle at the sticks.
M5
3
1
I-form big
3-3-5 stack
Run
 
FB dive
Sagesse
5
Sagesee(-2) is crushed, erasing the MLB; Banks(-1) slants inside a TE but takes a way upfield angle and can't close down the resulting hole. Kovacs is pulled outside by a pitch fake and Mouton eats a free release from a tackle.
Drive Notes: Touchdown, 17-38, 4 min 3rd Q
Ln
Dn
Ds
O Form
D Form
Type
Rush
Play
Player
Yards
O25
1
10
Ace 3-wide
Stack two deep
Run
 
Down G
Roh
5
Black(+0.5) does get sealed off but gives no ground and absorbs two blockers, leaving two on the edge against just one PSU guy. Roh(-1) is the outside guy and goes a little too far upfield, then gets chopped to the ground by the pulling guard. Demens is flowing from the inside and can't quite run Redd down as he breaks outside. Redd runs OOB after about five.
O30
2
5
I-form 3-wide
Stack two deep
Run
 
Inside zone
Black
1
Black(+2) comes underneath the RT and into the running lane. He forces the RB away from the gaping lane behind him caused by Patterson(-1) getting blown back three yards and forces Redd to leap into a cluster of bodies in an attempt to avoid Black's tackle. RVB(+0.5), who's shooting inside when unblocked now, helped knock him off balance.
O31
3
4
Ace 3-wide
Stack two deep
Pass
3
Rollout out
Talbott
5
Way too easy. No one within miles of McGloin (pressure -2) and the little out is open in front of Talbott(-1, cover -1)
O36
1
10
Ace twin TE
Base 3-4
Pass
 
PA sack
T. Gordon
-10
Michigan PA blitzing all the way with Thomas Gordon(+2, RPS +2) sent off the corner on a McGloin search and destroy mission. He gets upfield too quickly for McGloin to adjust and tackles solidly for a huge sack. (Pressure +3)
O26
2
20
I-form twins
Stack two deep
Run
 
Down G
Sagesse
6
Banks slants under his blocker and it takes a good adjustment from the pulling guard to wall him off. Sagesse(-1) is blown downfield immediately by the backside guard after getting scooped and the linebackers have to deal with a ton of blockers. Demens actually gets doubled, so he's doing well just to stand his ground. Fitzgerald(-0.5) overruns it, leaving Sagessse to come off his block seven yards downfield and tackle, which good for you but really the whole issue is that you're seven yards downfield.
O32
3
14
Ace 3-wide
Base 3-4
Pass
5
Corner
Floyd
Inc
Michigan sends blitzers and then sends a delayed LB once it's clear the TE is staying in. No one gets there (pressure -2). McGloin can throw a corner route; this one is well covered by Floyd(+1, cover +1) and the resulting throw is well high. Floyd was grabbing, but these days PI isn't PI unless it's called, same for holding. Rubbin's racin'.
Drive Notes: Punt, 24-38, 13 min 4th Q.
Ln
Dn
Ds
O Form
D Form
Type
Rush
Play
Player
Yards
M49
1
10
I-form 3-wide
3-3-5 stack
Run
 
Zone stretch
Van Bergen
2
They run at RVB for the first time in what seems like forever; he gets a push on the two OL over him(+0.5) that allows Fitzgerald(+0.5) to flow hard to the outside, absorbing the playside tackle and leading FB, and cutting off the outside. Cutback forced. This time Banks(+0.5) is flowing properly and is there to tackle with help from Mouton(+0.5)
M47
2
8
I-form 3-wide
Stack two deep
Run
 
Counter
Fitzgerald
3
Michigan blitzing here; Fitz and C. Gordon come from the outside. RVB(+1) gets inside a tackle and takes out the pulling guard as this is supposed to go right up the middle of the field. Royster takes it a gap outside into the B where Fitzgerald(-1) is supposed to be; he runs too far upfield and gives up a gap between himself and the RVB mess. Demens(+1) was dropping into a zone to prevent any quick slants behind the blitz. When he reads run he comes up quickly and makes a solid tackle(+1) two yards downfield; Royster falls forward for two more. Plus for the Demens drop because I believe his pass pro responsibilities came first because of the Gordon blitz and he did react quickly enough to hold this down to 3.
M44
3
5
Ace 3-wide
Stack two deep
Pass
4
Rollout hitch
Kovacs
14
Michigan finally covers the out but in doing so they open up the hitch inside of it. Kovacs(-1) is nowhere to be seen on a play with no deep routes and a rollout in a situation where a first down is a serious threat of game over (cover -2). I'm not sure if Demens is doing the right thing here since he seems to have the tailback and moves up towards the LOS. If he stayed back that's where he'd be. Also this could be Floyd or Mouton since they both end up covering the out. Any of these folks could be at fault. Just don't know. Do know that this is a pretty insane call for the situation. Let's have two deep safeties twenty yards downfield.
M30
1
10
I-form twins
3-3-5 stack
Run
 
Down G
Mouton
0
Mouton(+1) flows, hits the pulling G at the LOS, gets outside of him, and stands there, eventually drawing the affections of the FB. Floyd(+0.5) comes up to hit the FB, too, cutting off all holes; Demens(+0.5) has scraped from the inside and delivers the tackle, though there's a bunch of bodies and a lot of falling so it wasn't a difficult one.
M30
2
10
Shotgun trips TE
Stack two deep
Pass
4
Scramble
Black
4
PSU slides its protection and lets Black(+0.5) in on a tailback; he gets cut but does convince McGloin to start scrambling around; no one open (cover +1), McGloin decides to take off. Four Wolverines converge after a few yards.
M26
3
6
Shotgun 3-wide
Stack two deep
Pass
3
Flare
?
Inc
No one open (cover +1) and McGloin does something I don't think we've seen all day: checks down. Sad face. This is dead meat if caught and is poorly thrown anyway.
Drive Notes: FG(42), 31-41, 5 min 4th Q. PSU's last drive is academic and not charted.
Chart.
Chart.
Defensive Line
Player
+
-
T
Notes
Van Bergen
10
3
7
The solitary player to have a good day.
Martin
-
1
-1
I'm going to throw myself off a bridge.
Banks
5
6
-1
I'm picking it out right now.
Sagesse
0.5
6.5
-6
Not high enough.
Patterson
0.5
2
-1.5
Too high.
Black
6.5
1
5.5
Hey… wait, what? I guess so.
Washington
-
-
-
DNP
TOTAL
22.5
19.5
3
Lost out to a terrible OL.
Linebacker
Player
+
-
T
Notes
Ezeh
-
-
-
DNP
Mouton
6
5
1
Very difficult day; made that one awful missed tackle on Royster.
Roh
0.5
7
-6.5
Is not a linebacker. Is not a linebacker. Is not a linebacker.
C. Gordon
2
6.5
-4.5
Doesn't know WTF he's doing. Clearly inferior to…
T. Gordon
2.5
-
2.5
…but Cam played more than a guy who'd established himself as decent.
Leach
-
-
-
DNP
Moundros
-
-
-
DNP
Demens
6.5
5
1.5
Still picking guard out from his teeth.
Herron
-
-
-
DNP
Fitzgerald
1
2
-1
More PT because Roh is not a linebacker.
TOTAL
18.5
25.5
-7
Position moves a disaster.
Secondary
Player
+
-
T
Notes
Floyd
3
12
-9
Awful, awful, awful.
Rogers
-
-
-
Did he play at all?
Kovacs
3
4
-1
At least he's around zero.
Johnson
-
-
-
Did play a little but did not make an impact.
Talbott
-
6
-6
Played in place of Rogers.
Christian
-
1
-1
One exploitable play.
Avery
-
-
-
DNP, I think.
Ray Vinopal
-
4
-4
Obviously tiny.
TOTAL
6
27
-21
Worst ever.
Metrics
Pressure
7
11
-4
No pressure on PA.
Coverage
11
27
-16
An utter debacle.
Tackling
1
3
-2
This counts as good.
RPS
3
13
-10
Let's align our MLB two inches from the nose tackle.
[RPS is "rock, paper, scissors." Michigan gets a + when they call a play that makes it very easy for them to defend the opponent, like getting a free blitzer. They get a – when they call a play that makes it very difficult for them to defend the opponent, like showing a seven-man blitz and having Penn State get easy touchdowns twice.]
I'm going to dispense with the cute. This was a debacle. Michigan abandoned a defensive philosophy that hadn't exactly shone against Iowa but did put Michigan in a position where better play here or there from one player would have gotten redzone stops. They forced five three-and-outs and endured an avalanche of short fields and turnovers, looking sort of respectable against a veteran offense with solidly above average numbers. The Mathlete had their performance about three points worse than an average defense. They did this without Mike Martin.
Michigan gets a bye week. They play a team without a mobile quarterback running the same assortment of conventional power and inside zone plays they've faced. They:
Install Ray Vinopal at FS.
Move Cam Gordon to spur and displace the Johnson/Gordon combo.
Install a bizarre three-man line package that's somewhat like a stack but not really a stack.
All of these moves fail. Cam is the worst spur we've had all year because he's been playing it for a week and a half. Vinopal is clearly overmatched whenever called upon. And the 3-3-5 sees Michigan give up 41 points to a team that was 82nd in yardage, 99th in scoring, and starting a backup walk-on quarterback. Penn State scores on all but two of nine real drives. 41 points on nine real drives. Without a single turnover.
Every single move made in the bye week is a detriment, and two people have now told me that at half time the adjustment made to Kenny Demens's alignment was a result of Demens himself asking for it. Michigan badly regressed after a panicked bye week adjustment that saw them slide to the 3-3-5 and fail at it, which is exactly what happened in 2008. This doesn't even cover it…
…because the chart doesn't know Robert Bolden was out.
Michigan needs to pick one thing and do it. Right now what are they? Are they a stack? Are they a 4-3? Are they a 3-4? The answer to all of these questions is "no."
You know who did this? You know what is going on here? Do you know the thing that is happening to Michigan's defense?
"They're going to have to learn about us, OK? Let them try to stop a pro-style [defense], which has multiple personnel groups and multiple formations. Let's see how they are going to do. They've had their advantage because I've come into recruiting late. Well, now it's Xs and Os time. Let's see who has the advantage now."
We've been Weis-ed. This is the equivalent of running a spread option against Georgia Tech and then abandoning it a quarter into the season. Michigan is running around with ten freshmen playing meaningful time and not one of them has any idea what they're supposed to be doing down to down. Greg Robinson has never had a successful college defense except for his one year at Texas where he just went with the flow before moving on, and his pedigree comes from the NFL. GERG E. Coyote, man.
So… your firing stance after the review of the game?
Even stronger. Michigan needs to get a proven collegiate defensive coordinator by paying ridiculous money and boot at least two and probably all of the other defensive assistants so he can bring in whoever he wants, and he needs an iron fist. There are two possibilities here: either GERG thought this stack was a good idea and needs to be fired, or GERG cannot maintain control over the gameplanning despite what happened in 2008 and needs to be fired along with everyone else.
GTFO.
Got a better example of the stack incoherence that got Kenny Demens eaten?
Yeah:
One step, he reads it, he tries to get back, he's way too close to the LOS and any release from an OL eats him.
How much brunt do the players bear?
Quite a bit, obviously. I mean: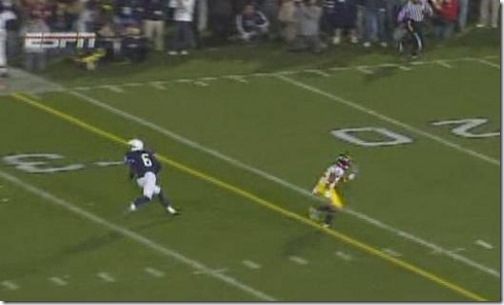 JT Floyd had three instances of the worst coverage I've seen in my life. The one where he correctly read a stop-and-go only to run himself to the sideline five yards in front of the WR is even worse than this one, which is heroagagdddgsagasfying as is. In its glory:
McGloin threw about four terrible passes that a secondary with "players" "somewhat near" the "opponent" coulda/shoulda intercepted. On zero of them was the coverage within yards. Floyd's regressed badly and while Michigan's secondary was horrible with him they're not going to be much more horrible without him.
I won't get on anyone else too badly since we all knew the NT was death minus Martin and the other guys with big shiny negatives are freshmen who shouldn't see the field until they're redshirt juniors (Vinopal, Talbott) or second year players who've been jerked around into positions they aren't suited to and don't know very well (Roh, Cam Gordon). It's obvious why they're bad. This is Floyd's third year and he's not good.
It's symbolic that this is the play where it all went to hell:
Demens has that dead to rights if he can just get some gang tackling help. Marvin Robinson whiffs, Cam Gordon vacates the only area Royster can go, and Royster makes a terrific play to spin outside for the first down. Great play, but you can't spin past three guys without something having gone horribly wrong. That's a true freshman and a redshirt freshman who was a wide receiver last year and a safety last week. FFFUUUUUUUU.
Heroes?
Ryan Van Bergen.
Goats?
Greg Robinson, everyone in the secondary, Not Mike Martin, and whoever decided Craig Roh should play linebacker.
What does it mean for blah blah blah?
Everyone will score every time they touch the ball this year and when Greg Robinson is fired after the season Michigan will hire a Tecmo Super Bowl cartridge to run their defense.