Upon Further Review 2013: Offense vs MSU
ACCIDENTALLY APROPOS ERROR NOTES: Since the NCAA decided to replace their stat pages with much worse stat pages I've been using ESPN's items—still worse than the thing the NCAA just replaced but better. Their drive pages have been consistently erroneous all year, but my irritation just evaporated thanks to this magically accurate error in re: Michigan's drive immediately following Taylor's interception:
CORRECT, intern or robot or whoever. Correct. Except that drive started at the MSU 41, but we forgive all transgressions for spiritual correctness. The best kind of correctness.
FORMATION NOTES: So I just called MSU's stuff 4-3 over but I should point out that everyone is within ten yards of the LOS on damn near every snap. This is M's opener.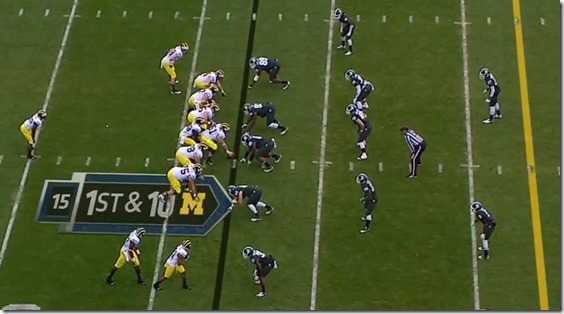 This was completely typical. For the most part, MSU did not try to match corners, they just ran their D. They would occasionally move guys down and whatnot, but mostly this was like watching magic. MSU has acquired a variety of guys big time programs didn't want and plays them more aggressively than the most athletic defense in the country, whoever that might be, and apparently no one can do anything about it. It is boggling.
MSU did on occasion flip to man press on the corners; this is designated with "press."
While it was the same personnel, when MSU shaded a guy outside the hash I called this a nickel. As always, with opponent formations I'm not trying to describe personnel.
SUBSTITUTION NOTES: Gardner until last three plays, Toussaint almost the whole way save one, maybe two snaps on which Derrick Green didn't seem any better at pass blocking.
Line was Lewan/Bosch/Glasgow/Magnuson/Schofield with some limited exceptions featuing Kalis entering as a sixth OL. Paskorz got some snaps at TE; Butt got most of the inline snaps. When Funchess was inline it is noted below; he was inline for every play on Michigan's final drive but mostly split out. No Dileo; WRs were Gallon, Chesson, and a little bit of Jackson.
[After THE JUMP: otters, so many otters]