Hoopsageddon Rounds 7-8: The Benchening
[Scheduling note: As of now Brian's on play 11,481 of 19,000 of the Indiana UFR so that will be a bit delayed. So here's some #content]
Here it began. There it continued. And then it went on. Now we are on the final two rounds of our gimmicky Big Ten players preview. How things stand: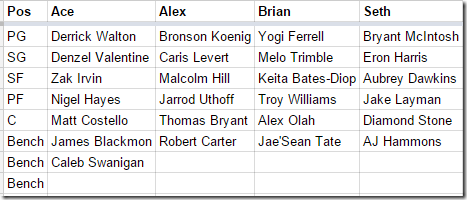 By the way we did these picks before last week so nobody had any game information go on. Alex is up.
--------------------------------
ALEX—ROUND 7, PICK 2: Tre Demps, SG, Northwestern
TEAM: PG: Bronson Koenig (UW), SG: Caris LeVert (UM), SF: Jarrod Uthoff (IA), PF: Malcolm Hill (IL), C: Thomas Bryant (Ind). Bench: Robert Carter (C/PF, Md), Tre Demps (SG, NW)
Caris never comes off the floor. Demps only takes the end of half/game heaves for my team and that's it.
[Jump for TWO MORE MICHIGAN PLAYERS we took horray!]