Hockey Preview 2013: Goalie, Outlook
Goalie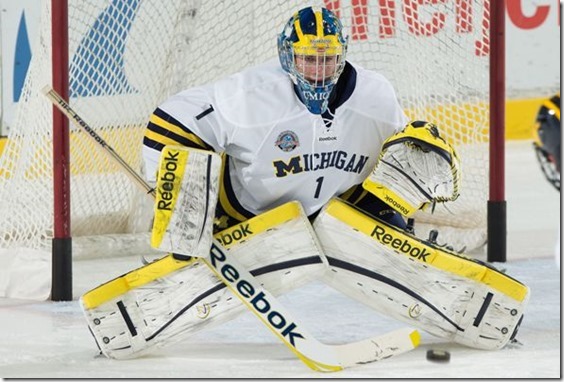 please Tiny Jesus, bless this goalie with your holy save percentage
This was a mess for the first 30 games last year, and was so immediately. Michigan blew a two goal lead in the opener, falling to RIT in overtime as Jared Rutledge gave up 5 goals on 26 shots. Four of those goals were somewhere between weak and horrible. Steve Racine backstopped a 7-2 win the next night, and the rotation was on in earnest.
Both struggled; to my eyes, Rutledge was a roving assemblage of holes just waiting to burst open. When he moved across the crease it was like portions of his body just phased out. Racine looked much more solid, but was a little snakebit and had one or two WTF breakdowns per game.
Both guys puttered along with ugly save percentages until a 4-1 loss to Western spurred Red to try the old "put in a 5'6" walk-on to spur the team to greater heights" gambit. Adam Janecyk entered. The team shut out Western the next night, and thus embarked Tiny Jesus Quest 2.0. That, like almost everything else last year, failed. It turns out that there's only one Shawn Hunwick.
Michigan turned back to Rutledge for a pair of wins against utterly inept Michigan State—a team that had bombed him for 7 goals back in November—and a humiliating 13-goals-allowed weekend at Notre Dame before finally, mercifully re-inserting Racine for his first start since December. Racine let in six goals on 60 shots as Michigan swept OSU. The next weekend Michigan held Ferris to two goals in two games. Northern got four. And so forth and so on. By the end of Michigan's somewhat stirring run to the CCHA final, Racine had gone ten straight games without giving up more than three goals and had just about forced his season-long save percentage over .900. His SV% over Michigan's 9-1-1 run to finish the season was .921—very good.
The Difference. Michigan's save percentage the rest of the season was an abominable .873. The difference that would have made:
GOALS ALLOWED, HYPOTHETICAL SEASON-LONG SUCK: 143
GOALS ALLOWED, HYPOTHETICAL RACINE .921: 89
REALITY: 130
It's kind of a big deal that Steve Racine is the guy he seemed like in the last ten games and not the guy he seemed like in his first 12. Is he? I have no idea. Goalies can go entire NHL seasons without establishing a true performance level. You only get reliable this-guy-can-play data by extending your data over two or three years. Anyone telling you anything about Racine definitively is having you on.
Racine's big, Michigan has a recent pedigree of developing goalies, and the good bit was at the end. If he's not getting jerked around—and he will be allowed to sink or swim until at least midseason—hopefully he's closer to the end bit than the starting bit.
Backups. Rutledge fled back to the USHL for a breather year, and while Michigan is holding the door open they've added Zach Nagelvoort in this class and possible draft pick Hayden Lavigne in the next. The door is open, and crowded, and if Rutledge wants to play I don't think he's coming back.
This year, Nagelvoort is the guy. We've actually got a hello post for him because he committed back in April and there was actual data on him—most hockey commits don't get pub here because the posts on them would consist of "this is his name, that's all I know." Nagelvoort is a lot like Racine, as he had a blazing year-end run after a midseason trade (he was stuck behind another D-I goalie), going 8-1-1 with a SV% of .957. His season-long SV% was .936. He's a flier with very few games under his belt and probably won't play much unless Racine struggles.
Outlook
LEAD
While I can't predict the outcome of a few question marks, here are a the things I'm relatively confident I can project:
The give-a-damn level will skyrocket. GAD level started to incline when Copp was installed as the top line center, and now he's got an A. With some less committed folk out the door and JT Compher and Tyler Motte in, Michigan will have one backchecking, two-way, effort player on the ice at all times.
Mac Bennett is going to blow up. A senior with a ton of talent, he'll be given ice time levels rarely seen in Yost Ice Arena. He'll anchor the top pairing and power play, rush the puck with much greater frequency, and be All Big Ten, easy.
Pain and woe will be the watchwords of the second defensive pairing. The third pairing will probably be fine with many options and Mike Szuma holding it down against checking lines. But the options on the second pairing include two mediocre players and two freshmen with decent, but not great, profiles.
The power play will suck. Who's got the talent to run it? I don't see anyone. Last year it was "let Trouba shoot"; this year it's back to the salt mines.
5x5 scoring depth will be good. Michigan won't have a blazing top line that kills all comers but they will be solidly positive as their two-way work helps. The second line should be solidly above average, and they'll get nice production out of Motte or Kyle or Moffatt as you go down the roster. It'll have to be, because only Bennett projects to offer a lot of points from the defense.
This will be a rebound year. Well yeah.
The Verdict
How much of a rebound depends heavily on Racine and the two relatively ready freshmen defensemen. If Racine is a barely-above-.900 guy and Downing and De Jong are better suited to the bottom pairing, it's an NCAA bubble team fighting tooth and nail to get a bid. If Racine is a .920 guy and Downing/De Jong can solidify the top four defensemen, Michigan will cruise into the tournament as a two or strong three.
M did not do themselves many favors with a brutal schedule, and will start off sloppy and shaky. The BC opener, to be played without Guptill, is a Bad Idea, and Michigan's record won't impress too much early. Once they get into the rather easy Big Ten section, they'll win enough games to be a three-seed going into the NCAA tournament.