Fun With Quotes: Dantonio Edition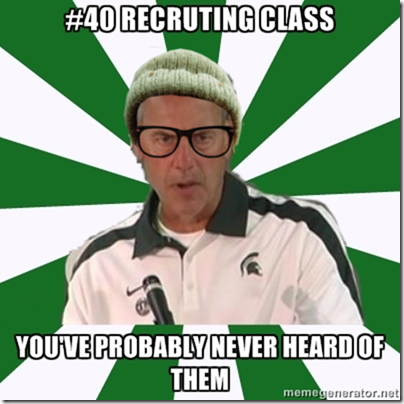 This week in football coaches make obvious statements about how recruiting rankings are not guarantees:
Michigan State's Mark Dantonio wary of star rating systems used to classify recruits

"If you come in as a four‑star recruit, really doesn't serve any purpose," Dantonio said.
Last year in football coach talking about a guy in his recruiting class:
"For the third straight year, Michigan State gets the top player, perceived top player by the media in the state of Michigan."
(This was Aaron Burbridge, who turned out to be MSU's only receiver not toting bricks around for hands. The previous two were Lawrence Thomas, last seen playing FB/TE/DL/horrible mutated fly-man, and the wildly overrated but still long-term starter and NFL draft pick Will Gholston.)
I mean you guys at some point we're going to get all the football coaches in a room and carefully explain to them that we don't think the rankings are iron-clad guarantees, either, and that if they could just take that as a given we could all talk about something else for once. In any case, Dantonio won't have to walk a fine line between being a hipster about rankings and trumpeting his acquisition of the top player in the state this year.